Mount Pulaski Courthouse at center of life in town
The Mount Pulaski Courthouse, where Abraham Lincoln once practiced law, has always been at the center of life in the town. This historic site on the city square is one of the only two surviving Eighth Judicial Circuit courthouses in Illinois. As most of the residents of Mount Pulaski can tell you, in its second floor courtroom you can stand on the same floorboards where Lincoln once stood.
The citizens are proud of their courthouse and willing to do whatever it takes to keep it open to the public. In 1992, when state budget problems caused a cut in staff and the building was closed, the community decided to take action.
| | |
| --- | --- |
| [Mount Pulaski courthouse] | [The late Harry Hahn of Mount Pulaski, Abraham Lincoln impersonator who traveled widely in the role of our 16th president, stands in front of the Mount Pulaski Courthouse. Picture courtesy of Steve Hahn.] |
Volunteer Waneta Stephens remembers when former mayor Larry Montgomery said he couldn't sit by and see the main site in Mount Pulaski closed. He asked for volunteers from the community and got them, including Mrs. Stephens and her husband, Tom, and Wallace Kautz. After being closed for seven months, the graceful, two-story Greek revival building reopened to visitors on Dec. 1, 1992. It has been staffed by volunteers ever since.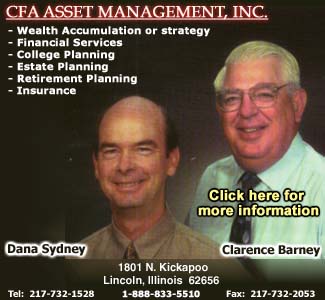 Today 35 volunteers, who put in about 100 hours a month, keep the historic Lincoln site open from noon to 5 p.m. Tuesdays through Saturdays. They guide visitors through the six first-floor offices of the elected county officials, explaining what kind of business was conducted in each place.
Folks could register deeds or register to vote in the county clerk's office, check on property lines at the surveyor's office, pay taxes at the treasurer's office, conduct legal matters with the circuit court clerk, learn what was happening in education at the school commissioner's office, or check on stray cattle at the sheriff's office.
The offices are furnished with artifacts of the period, although the furniture is not original to the site. Unfortunately, most legal documents drawn up while Mount Pulaski was the county seat were destroyed in an 1857 fire.
The building was erected in 1848, when Mount Pulaski was the largest and busiest town in Logan County. The townspeople themselves raised $2,700 to construct the courthouse, with the state of Illinois chipping in the final $300. It was a busy site from 1848 until 1855. Waneta Stephens says that when the circuit court was in session twice a year, the building was so crowded one man stationed himself in the window of the courtroom and called out the news as it happened to the crowds on the lawn below.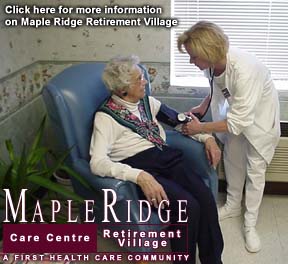 In the 1850s the railroad came to the county, but not to Mount Pulaski. Lincoln was founded on the railroad line in 1853, and in another two years county and circuit court business was being conducted in a new courthouse in the bustling new city.
The citizens of Mount Pulaski converted their building into a schoolhouse. A new school was built in 1878, and the old courthouse was adapted again, this time for use as city offices. The basement became a jail. About 1889 it was altered once more to house the town's post office, with the second floor serving as a library and civic center.
Not until the 1930s was the building recognized as a historic part of the Lincoln tradition. The town deeded the building to the state of Illinois, and it was restored to the way it was when Lincoln practiced law in the second-floor courtroom. The only completely original part of the building today is the floor in that courtroom.
The courthouse site itself conducts three special programs during the year. An 1890s Open House is set for October 21, with costumed volunteers, lighted candles, and period music afternoon and evening. On the first Saturday in December, there is old-time Christmas music, with cider and coffee. On Lincoln's birthday, there is always a speaker.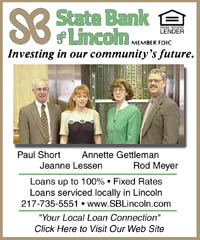 When community events occur, the courthouse also plays a part. At the Mount Pulaski Fall Festival, scheduled the weekend after Labor Day, the Women's Club displays 35 to 50 quilts, both old and new, in the courthouse.
At Christmas on Vinegar Hill, the Saturday before Thanksgiving, 800 to 900 people come to Mount Pulaski for a townwide antique and craft show. Restaurants and churches serve meals, and the city is decorated for Christmas. At the courthouse, maps showing event locations are available, along with music, coffee and hot cider. Just recently, the grand march for the junior-senior prom was on the grounds at the courthouse, the lawn crowded with parents and other relatives.
The restored building underwent a $250,000 renovation four years ago and is structurally in good shape, according to site manager Richard Schachtsiek, so the Mount Pulaski Courthouse State Historic Site on the city square is ready to take its place in the lives of the townspeople for many more years.
---
Chamber announces e-commerce workshop
The number of American households on the Internet grows each day. Many American businesses large and small are learning that if they want to communicate with and market to their newly occupied customers, then they must also have an online presence. Several Logan County businesses have recognized the potential of e-commerce and are willing to share their stories with others.
The Lincoln/Logan County Chamber of Commerce is sponsoring an e-commerce workshop on Wednesday, May 24. It will be from 7:30 to 10:30 a.m. in the second floor conference room of the Union Planters Bank building, located at the corner of South Kickapoo and Clinton streets. Registration is $10 and payable in advance to the Chamber.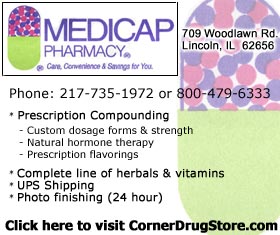 Mark Smith, economic development director for Lincoln and Logan County, says the purpose for the e-commerce workshop is threefold. First, it will let interested people better understand what e-commerce is and is not. Next, website construction professionals will offer tips and advice on building a website. Finally, local business owners will detail how e-commerce has and will benefit their bottom line. There will be ample time for questions.

Presenters include local technology professionals Jim Youngquist from Computer Consulting Associates and Bill Thomas from Teleologics. Local business owners who will be sharing their online successes include Robert and Kay Coons from R & K Sutlery, Lance Rainforth from Abe's and Greg Brinner of ReMax/Hometown Realty.

For questions on the workshop or to register, contact Mark Smith at the Chamber of Commerce, 732-8739 or econdev@lincolnillinois.com.
---
Mount Pulaski Historical Society preserves the past
The people of Mount Pulaski are proud of their heritage. They have recruited volunteers to keep their historic courthouse site open, and they have also established a Historical Museum and Research Center to tell the story of their town and the rest of southeastern Logan County.
The museum, founded by the Mount Pulaski Township Historical Society, opened in April of 1997 on the west side of the square. It moved to its new home at 102 Cooke St., on the south side of the square, in December of 1998.
The new home is really two buildings: the old Romer building, which was once a saloon (the town once had 29 of them), and the Danner building, former home of the First National Bank of Mount Pulaski. Both buildings were donated by attorneys Thomas and Homer Harris of Lincoln, who had a law office in the old bank building for 22 years. With a matching grant from the Looking for Lincoln project and a great deal of volunteer help, the two buildings are being restored.
The museum holds memorabilia of all sorts, including a land grant signed by president Andrew Jackson in 1829, a top hat brought from England by the Capps family in the 1820s, and a sword used in the Black Hawk War. Uniforms from the Civil War, World War I and World War II will soon be on display.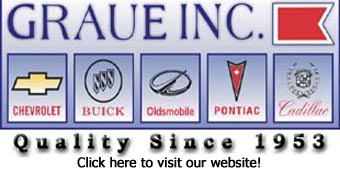 "Lots of things are coming in all the time from old families in the area," said Romelda Johnson, the staff member who keeps the museum open Tuesday through Saturdays from noon to 4 p.m.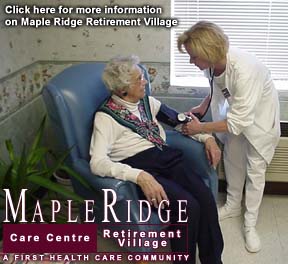 Memorabilia from two of the town's best-known people are in the museum. Vaughn De Leath, a nationally known singer in the early days of radio and the composer of hundreds of songs, was born Leonore Vonderlieth in Mount Pulaski in 1894. She became known as "The First Lady of Radio" and sang frequently on NBC.

[Steve Hahn, son of the late Lincoln impersonator Harry Hahn, has donated pictures and other Lincoln memorabilia to the Mount Pulaski Historical Museum.]

Items about Lincoln impersonator Harry Hahn, who died in February of this year, have been contributed by Hahn's son Steve. Hahn spent 39 years acting the part of Lincoln, traveling all over the United States and visiting the White House at least twice, according to his son. The museum exhibits a quilt made by the grade school children of Mount Pulaski as a memorial to Hahn.

Staff members like to tell visitors why Mount Pulaski used to be known as Vinegar Hill. At one time all the towns in the area were "dry" except Mount Pulaski. It was mainly a German town, with folks who knew how to hold their liquor and also how to brew it. People used to come by train from all over – Springfield, Lincoln, Decatur – to buy liquor. When the conductor asked them what they were going to put in the jugs they carried, they told him, "vinegar." So the conductor stopped calling out "Mount Pulaski" and instead announced they'd come to "Vinegar Hill."

[

Joan Crabb]
---
Library announces summer reading program

The Lincoln Public Library's summer reading program is again kicking off with a bang. Children who are planning to read a specified number of books this summer are encouraged to bring their parents to the kickoff on Saturday, June 3, from 9 a.m. to noon at the Lincoln Park District Recreation Center. There will be games, snacks and the summer reading sign-up until noon. At 9:30 a.m., The Timestep Players will present the program, "Just for the Fun of It."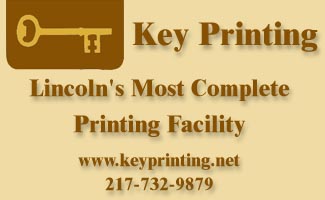 For more information about all the great children's programs being offered by the library this summer, call 732-5732 or stop by the Lincoln Public Library at 725 Pekin St., across from Latham Park.
---
Herb guild finds thyme to get together
The last Tuesday of each month, a group of women gather in the Jefferson Street Christian Church to indulge their senses, greet friends, further their education and share their passion. The source of all their interest is herbs.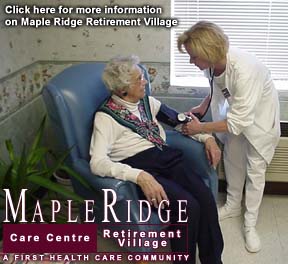 Since 1994, the Logan County Herb Guild has been meeting and sharing their love of the same multi-purpose plants their ancestors relied on hundreds of years ago. They each have a favorite herb – whether it's bee balm or basil, sage or thyme, rosemary, tansy, parsley or maybe mint. They discuss new plants they've discovered are considered herbs, like dianthus and hawthorn. They pass pots of freshly picked herbs around the room, taking in the heady scents and discussing their names and uses. They indulge their taste buds with new recipes using herbs, like rosemary lemonade, pesto pizza and lavender cookies.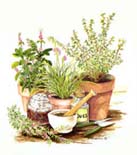 Karen Lowery, a lifelong gardener, founded the guild in 1994. She placed an ad in the local newspaper, inviting anyone interested in forming such a group to attend a meeting. To her surprise, about 30 women showed up. The informal group has been meeting ever since, first at each other's homes and now at the church.

"We've had a lot of neat programs over the years. It's been fun, that's the main thing. If you can make a club fun, with little work, that's the key," she said.

Lowery, who is also a member of the newly formed Mount Pulaski Herb Guild, said the local interest in herb gardening is really increasing.

"I think there's a real interest in gardening. Interest is always picking up. We have a lot of members that just come about every third meeting. I think once people get hooked in herb gardening, they find out how relaxing it is and how they feel when they use them instead of salt or sugar. It's good for the mind and body both," she said.
At a recent guild meeting, Lowery, dressed in period costume as a pioneer woman, gave a rousing talk about the history of herbs and what plants our ancestors brought from their homelands and how they used them. Even though she has been gardening all her life, her enthusiasm and interest in herb gardening is refreshing and contagious.

Lowery said the guild is not only an educational experience but something all ages can enjoy.

"We have members in their 20s and 90s, a wide span of ages, and when we have our meetings, there's no generation gap. That's the neat thing about plants and herbs, it bridges all generations," Lowery said.

"I like the historical aspect of herbs. Our forefathers were pretty savvy about plants. We got away from our roots, but we're starting to get back to it. Like coneflowers, which people use and grow now, the Native Americans used – good benefits," she added.

Lowery, who confesses to planting "tons of things," has about 60 different varieties of herbs, including an abundance of the sweet-smelling though very invasive lemon balm, but has a special affection for bee balm, or monarda, and English thyme. Her herbs are contained in six 10-by-3-foot plots, a large 100-square-foot garden, along the house, in the pasture and just about any place there is a bare patch of dirt around her rural Beason home. Wildflowers are tossed into the gardens to give an added boost of color to the herbs.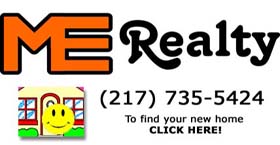 The herb guild, which now has 22 official members, meets the last Tuesday of each month at the Jefferson Street Christian Church. Dues are $12 a year, which cover the cost of a monthly newsletter. The public is invited and usually an average of 30 people attend the meetings.

Guest speakers often give programs on topics such as cooking with herbs, making herbal vinegars, crafts, dried flower arranging and beneficial bugs for the garden. The group also travels to Clark's Greenhouse in rural San Jose for their May meeting, which includes a plant swap and tour of the business. Some years the group holds a summer garden walk and tour of several members' gardens. The guild also sponsors a couple of trophies at the Logan County Fair, has given the Herb Companion magazine to the local library and demonstrates uses for herbs at the annual Railsplitter Festival.

"We try to get out a little bit in the community," she said.

Lowery, who said her grandmother sparked her interest in gardening when she was a small child, holds a zoology degree and teaches biology and four environmental science classes at Bloomington High School. In between teaching and chauffeuring her 13-year-old son to sports events and practices, she tends to her wildflowers, herbs, perennials and a few vegetables at her rural home and also gives lectures and programs at local nurseries and other events.

"I use herbs for culinary purposes and also use a few medicinal. I've always had an interest in herbs. It started with my interest in cooking. I also love the way they smell," she said. She favors thyme, which can be used as a ground cover, for its tiny flowering habit and scent, and basil. Her other favorites include chives, parsley and cilantro. "I also used them for ornamental uses. Even now, I have a small bouquet of purple

chive flowers on my dining room table," she said.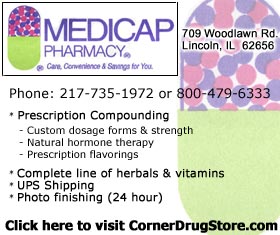 "I've enjoyed meeting other people who share my interests in herbs and gardening. We've all learned together. We talk about how at our first plant exchange, we didn't have much stuff and how different it is now, how much more we all have to exchange and how much we've learned. It's fun to see how we've grown together," she said.

The herb guild will sponsor its first annual plant sale, which is their yearly fund-raiser, from 8 a.m. to noon, May 20, at Cooper's home, at 140 Campus View Drive. More information about the guild or its programs may be obtained by calling her at 732-9788.
---
Annual bird count logs beautiful birds
"Is that a beautiful bird, or what?" The beautiful bird, an indigo bunting, continued catching insects in the grass, giving the 18 bird-watchers a chance to focus their binoculars and see its feathers glimmering iridescent blue in the sun.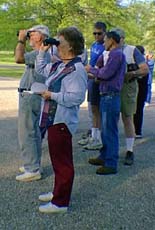 The small, brown bird feeding nearby was not so cooperative. He flew away before anyone could get a positive identification.
"I think it was a Savannah sparrow, but I can't be sure," leader Steve Coogan said. "We'll have to log it as a 'question-mark' sparrow."
The birders who met in Kickapoo Creek Park at 7 a.m. Saturday were able to positively identify another 31 species, along with brief sightings of a "question-mark" thrush and a couple of "question-mark" warblers. Coogan, an ardent naturalist who lives in Latham, added the 32 species to the five other migrating warblers he had seen earlier at Skunk Hollow. These birds, and the ones he would see later that day, would be reported to the Illinois Department of Natural Resources, Division of Natural Heritage, as part of the annual spring bird count.
The bird count helps state naturalists keep track of the species moving through on migration as well as those birds coming back to this area to nest.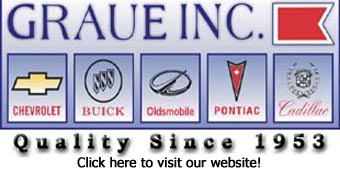 This year both the number of participants and the number of species identified were lower than usual. "We usually see about 50 species and have about 35 people present," Coogan said.
Coogan thought the decrease in the number of species was because of the early warm weather. Many migrating birds are insectivores, and if flowers and trees bloom early, insects and the birds who eat them arrive – and move on – early, too. In addition, Coogan said, trees have already leafed out, making birds harder to spot.
With this in mind, Coogan set next year's official bird count day as the last Saturday in April. The day was not a disappointment to the birders, though, who ranged in age from 9-year-old Benjamin Conrady to senior citizens.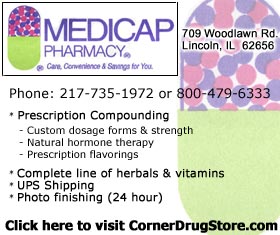 A handsome gray catbird sat on a low limb and serenaded the group with a series of tweets, whistles and warbles, ending with a raucous screech that some people think sounds like a cat. The bird is a mimic, like its cousin the mockingbird, which is now occasionally seen in the Lincoln area.
A phoebe was seen building a nest, mostly of mud, on a rafter under a shelter. Canada geese protested the birders' approach to the creek where the geese were swimming, perhaps looking for a nest site.
Something small and twittery caught the attention of a sharp-eyed birder, and half a dozen others thought it was worth wading through poison ivy to see the black-throated green warbler he'd spotted. The warbler sat in a small tree preening its feathers, providing an excellent view of a bird that would not be back until the fall migration.
"I've never seen a warbler so cooperative," Coogan said. "This is a gift."
In the open area of the park, meadowlarks sang and an eastern kingbird sat on a small tree, ignoring the birders and occasionally diving down into the grass or swooping through the air to catch an insect.
"That bird is one of the tyrant flycatchers," Coogan said. "They can be mean birds. I've seen them mob hawks."
Donna Hellman, wife of park ranger Don Hellman, said she knew all about those mean birds. "Last year we had a pair nesting at the edge of our property. When I mowed I had to wear a hard hat because they would dive-bomb me."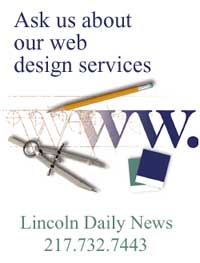 The birder everyone agreed had the sharpest eyes, Mark Tebrugge, spotted a medium-sized, bright yellow bird in the top of a sycamore. Everyone agreed it was an oriole, but the question was what kind? Field guides came out of pockets and backpacks. The bird was yellow, not orange, so it ought to be a female. But it was singing, which made it more likely to be a male. Then the bird turned, displayed its black bib, and the puzzle was solved. It was an immature male orchard oriole, which will turn russet red next year.
It was a beautiful bird.
---
American Red Cross classes offered in May
Upcoming American Red Cross classes will be offered at the Logan County office at 125 S. Kickapoo St. in Lincoln.
A Community First Aid and Safety class will be Wednesday, May 17, from 6 to 10 p.m. and Thursday, May 18, from 5 to 10 p.m. The class will cover adult CPR, child and infant CPR and first aid.
A Challenge class will be Saturday, May 20, from 9 a.m. to noon. People who have previously been certified in the above classes may demonstrate their skills and be recertified.
Preregistration is required. For further information, call 732-2134 between noon and 4 p.m. any weekday.
---
ALMH accepts applications for summer teen volunteers
Applications are currently being accepted for this summer's teen volunteer program at Abraham Lincoln Memorial Hospital.
Teen volunteers work throughout the hospital, performing a variety of duties in many different departments. To be eligible for the program, teens must be an eighth grade graduate and must complete an application form that includes personal references. All teen volunteers must also complete the training session scheduled on Friday, June 9, from 9 a.m. to noon at the hospital.
Applications are available at ALMH from Barbara Dahm, director of volunteer and special services. Applications should be filled out and returned in person to the volunteer office as soon as possible. A brief interview will be conducted at that time. For more information, call 217-732-2161, ext. 184.
---
Atlanta 4-H club invites youth from town to join
The members of the Atlanta Town and Country 4-H club invite eligible youth from town to join. Jeff Jones, the club reporter, says, "4-H isn't just for people who live in the country. There are lots of things for a guy or a girl from town to do." Activities include cooking, growing flowers, woodworking, small engines, arts, crafts and herb gardening. For more information, people can call 217-648-2973.
---