NEWS

PEOPLE
COMMUNITY
ENTERTAINMENT

FEATURES
The Arts
REVIEWS
EDITORIAL
COMMENTARY
ADVERTISEMENTS


Register your name among the many others with the LDN User Registration!
CONTACT US
LDN is best viewed with
Internet Explorer 5.0.
posted daily OVER THE NOON HOUR (CDT)

---
Part 1
Sew Many Friends offers materials, classes for needleworkers
[NOV. 2, 2000] "A hobby that took over my life" is the way Ivy Koritz describes quilting. And she admits to being a "fabriholic." So it seems only natural to find her behind the counter at "Sew Many Friends," the quilt and sewing shop at 127 S. Kickapoo. The new store, which belongs to Ivy and her husband, Dick, of Clinton and Sue and Butch Bidwell of Lincoln, carries all sorts of quilting supplies, as well as 500 to 600 bolts of fine-quality fabrics. "But we'd like to have more," Ivy says. "We fabriholics want a bolt of everything on the market."
---
Part 2
Presentation at Oasis aims to help people understand Medicare
[NOV. 2, 2000] On Tuesday, Joni Castleman, coordinator for Services in the Neighborhood for Seniors (SINS), visited Lincoln's Oasis Center to explain Medicare 2000 and answer questions. This was the last in a series of three informational sessions presented at the Oasis.
---

[click here for top stories for the day from around the world]
---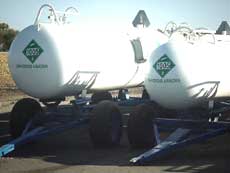 RURAL REVIEW
Part 2
Fall fertilization
in full swing
around Logan County
Now that the crops are out,
fertilizer dealerships get back to work
[NOV. 2, 2000] Logan County enjoyed a very bountiful harvest this year. But if area farmers intend to enjoy a bountiful harvest next year, they must start preparing their fields now.
---
---
Habitat continues work at 316 Sherman St.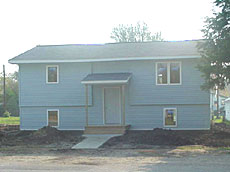 [NOV. 2, 2000] With much of the exterior completed, work continues on the inside of the current Logan County Habitat for Humanity construction site. Most work takes place on Mondays and Saturdays. Anyone with a desire to assist should just show up any time after 8 a.m. either of these days. The goal for this site remains Christmas. There's lots to do if the family to receive this house is going to be able to celebrate Christmas in it. This is an opportunity for you and your business, friends or group to express the spirit of the holidays to our fellow man.
---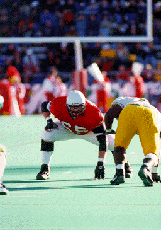 SPORTS TALK
Jeff Mayfield interviews Andy King
Former LCHS player now king of the ISU
trenches
Part 1
[NOV. 2, 2000] The last few weeks the LDN has been taking an up-close-and-personal look at former Railer athletes that are now engaged in collegiate athletic warfare. One such performer is former Railer lineman Andy King. Andy now occupies the left tackle position for the Illinois State Redbirds. After a slow start, the Redbirds have won three in a row and still plan to make some noise in their final three games of the year. Andy credits coach Renner and his staff in Lincoln for creating a don't-quit, never-say-die attitude that forged itself into an expectancy of winning all the time. Last year that virtually happened, as the Redbirds advanced all the way to a 1-A national semifinal berth. The LDN recently spoke with Andy via the telephone from his Bloomington apartment…
---
LC men meet defending champs
in basketball opener
[NOV. 2, 2000] Lincoln College's men's basketball team played its opening game against the defending national champions, Southeastern. The game was at Southeast in Iowa. The final score was Southeastern 92, Lincoln College 69.
---
---
Writer opposes anti-ballistic missile defense system
Bush wants to build
---
Hartem team places fifth
in national FFA competition
[NOV. 2, 2000] The Hartem FFA Ag Issues team placed fifth out of 27 teams at the recent National FFA Convention competition. The team members — Kate Wrage, Matt Duckworth, Sarah Struebing, Nick Reinhart, Anthony Jones, Nic Coers and Natalie Coers — presented a forum on genetically modified organisms.
---
Stone Marketing gets business certification with state
[NOV. 2, 2000] Stone Marketing Images, Ltd., a marketing and publishing firm, is proud to announce they are certified with the state of Illinois as an official Women Owned Business and listed as a small business.
'Appliances — What's Hot and What's Not'
[NOV. 2, 2000] Holiday shopping often encourages us to search out and purchase the newest appliances that we can find in the stores. But what really is new, what works, what doesn't and what safety features should we consider before we buy? "Appliances — What's Hot and What's Not" will be presented on Thursday, Nov. 16, from 7 to 8 p.m. at the Logan County Extension Unit office, 980 N. Postville Drive in Lincoln.
---
World/national news coverage
---
Hear it here!
The Faks Machine: Mike Fak and Jim Ash host a community call-in show. Their show airs on Lincoln Daily News over the Media One link every Wednesday night beginning at 7 p.m.
---