Living downtown
New trend fills apartments
on South Sangamon Street
[OCT. 6, 2000] Years ago, living downtown meant "living above the store," a matter of economy and convenience for families just getting a start in business. Later, when "the store" prospered, the families would move to a home in a residential neighborhood. While living downtown was practical, it wasnít generally considered fashionable.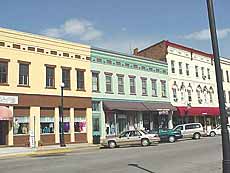 Today itís a national trend, according to local contractor Dale Bassi, and it can provide economy and convenience or living quarters as elegant as any you will find in a strictly residential district. For example, Bassi reports, builders in Bloomington are fixing up apartments "left and right" in the downtown area. "They tell me there is no lack of demand for downtown residential living quarters, as long as they are of good quality and have the expected amenities," he said.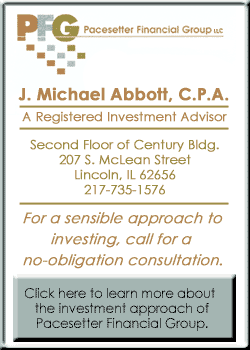 Apartments on Lincolnís South Sangamon Street are proof that living downtown is popular here as well. Bassi and his partner, Dr. Larry Crisafulli, have no trouble finding renters for the apartments they are constructing on the second floors of the two buildings they own, 201 and 205.
Across the street, in the 100 block, the Steffens family has renovated the upper floors of three buildings to create 12 apartments, all currently rented, and Larry and Bette Steffens are building a new 4,000-square-foot home for themselves above the Pink Shutter Thrift Shop.
In addition, about the first of November, Steffens will open the first bed-and-breakfast the city has had in recent years, and a second bed-and-breakfast suite is in the works. Both will be luxurious, with living rooms, big bedrooms and Jacuzzis, and both will be downtown, "above the store."
(To be continued)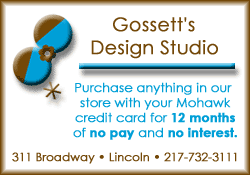 Domestic violence program and candlelight walk scheduled for Oct. 12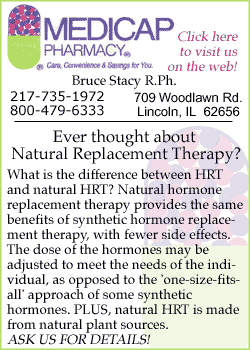 [OCT. 5, 2000] The Logan County Domestic Violence Task Force will have a candlelight walk on Thursday, Oct. 12, beginning at 7 p.m. at Washington Monroe School. Participants will walk from the school to the Logan County Courthouse, where Judge Donald Behle will speak and make introductions for the domestic violence presentations. There will be an interpretive dance, dramatic readings and a display of silhouettes of domestic violence victims, known as the Silent Witnesses. Everyone is welcome to participate in the candlelight walk and attend the presentations at the courthouse. The H.Y.P.E. group (Helping Youth in a Positive Environment) from Lincoln Junior High School will provide child care in the gymnasium at Washington Monroe School. Also, the Silent Witnesses will be on display in the courthouse rotunda throughout the day on Oct. 12.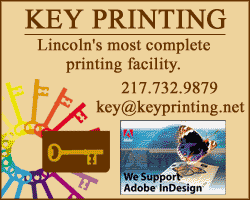 Community throws farewell party
for Bartmann Nursing Home
[OCT. 4, 2000] Don Ponder, a Lawndale business owner, wanted to give Bartmannís a giftóa wonderful farewell party to help ease the heartache that comes with closing a long-established business. So he gathered his friends and associates together and did just that on Friday, Sept. 29.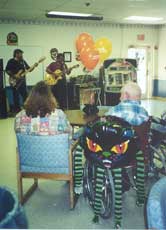 The celebration took place in the activity room, which was lavishly decorated with a fall theme. M & M Vending of Lincoln provided a jukebox filled with a variety of old-time hits for all the facility to enjoy for the entire day. Don Ponder donated chicken; Kevin Smith provided the grill and barbecue sauce; Steve Taylor and Dave Naugle cooked the chicken for the noon meal. Department heads provided side dishes.
The Gary Osborn band and Dave, also provided by Ponder, played for two hours in the afternoon. Staff and residents had a great time taking turns singing and dancing with the band. Nearly 45 families, residents and staff members participated in the meal and festivities.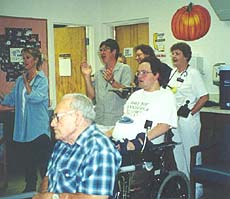 Thanks to everyone who donated their time and talents in providing a very special day for the residents at Bartmann Health Care Center. An extra special thank you goes out to Don Ponder for organizing and coordinating the event. Everyone at the facility appreciated this gift and his incredible generosity.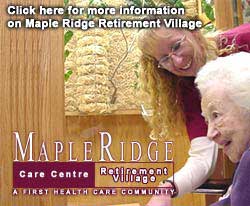 Bartmannís, managed by The Tutera Group, is a long-term health care facility that has served the community for over 50 years. The facility will be closing on or before Nov. 30.
[Bartmann's news release]