NEWS

PEOPLE
COMMUNITY
ENTERTAINMENT
Crosswords - UPDATED!
FEATURES
The Arts
REVIEWS
EDITORIAL
COMMENTARY
ADVERTISEMENTS


Register your name among the many others with the LDN User Registration!
CONTACT US
LDN is best viewed with
Internet Explorer 5.0.
posted daily OVER THE NOON HOUR (CDT)

New Holland's 125th anniversary celebration
---
Hear it here!
Tonight: Friday, Oct. 6 - Lincoln Railer football at SH-Griffin
Hosted by LDN
Audio link provided by Media One
Game time is 7 p.m. The broadcast begins at 6:45.
---
Part 1
Living downtown
New trend fills apartments
on South Sangamon Street
[OCT. 6, 2000] Years ago, living downtown meant "living above the store," a matter of economy and convenience for families just getting a start in business. Later, when "the store" prospered, the families would move to a home in a residential neighborhood. While living downtown was practical, it wasn't generally considered fashionable.
---
Part 2
A funny thing happened
on the way to the Rose Bowl
By Jeff Mayfield
[OCT. 6, 2000] Actually, it's not all that funny. Illinois' dream college football season has hit a partial derailment. Now they have a bye week to try and right the ship and avoid a total train wreck. I tried to warn those who were caught up in the early euphoria. In fact, the LDN said if the Illini somehow managed to go 8-4 again, we would just mail that in to the NCAA home office and move on to basketball. I had questions about our defense. They did play an inspired first half against Michigan, but in the Big Ten you must string two halves together! There is a great opportunity to get well against Iowa, but then the schedule stiffens in a hurry. This week the LDN does all it can do to keep the faith and to will the Illini back to...
---
Lady Lynx soccer team wins at East Peoria
[OCT. 6, 2000] Lincoln College's Lady Lynx soccer defeated Illinois Central in East Peoria yesterday, 5-0.
---
Part 3
St. Louis has more to offer
By Penny Zimmerman-Wills
[OCT. 6, 2000] ST. LOUIS: Whether you want to try your luck at one of six riverboat casinos, shop for antiques or dance the night away, St. Louis has all this and more. It's hard to get bored in this city on the Mississippi River.
---
New pulmonary rehabilitation program starts at ALMH
[OCT. 6, 2000] A new pulmonary rehabilitation program has been implemented at Abraham Lincoln Memorial Hospital to improve the quality of life for people who suffer from chronic lung problems, such as emphysema, asthma, chronic bronchitis, cystic fibrosis, pulmonary fibrosis and other lung-related diseases.
---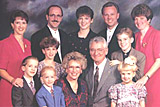 Lincoln AFLC church hosts a gospel music concert by The Chosen Ones
[OCT. 6, 2000] The Chosen Ones will be in concert at 7 p.m. Saturday, Oct. 7, at Good Shepherd church, which is located at 1140 North State St. in Lincoln.
---


[click here for top stories for the day from around the world]
---
---