posted daily OVER THE NOON HOUR (CDT)


New Holland's 125th anniversary celebration
---
The Depot Ribbon Cutting

The Restaurant at the Depot, 101 N. Chicago Street, Lincoln celebrated their Grand Opening with a ribbon cut by the Chamber of Commerce members and ambassadors.

The restaurant hosts lunch and dinner blending beautiful antique elegance with subtle traditional train motif.
---
The question is...
[OCT. 7, 2000] "Do high schools need to adopt a uniform-type dress code?"
---
Railers do the unexpected
By Rick Hobler
[OCT. 7, 2000] No one expected the LCHS Railers to be beat the State-ranked Sacred Heart Griffin Cyclones last night. Most everyone expected that the Railers would be blown away by SHG's high powered offense and shut down by its stingy defense. Many expected the Railers to concede the game before it started after a series of deflating losses over the last several weeks. But that's not what happened at all. Instead, the Railers did the unexpected last night.
---
High school volleyball report: Lincoln vs. Normal
[OCT. 7, 2000] Lincoln Community High School's girls volleyball team played Normal Community High School here in Lincoln on Thursday, Oct. 5. Normal beat Lincoln 15-3, 19-17.
---
Part 2
Living downtown
New trend fills apartments
on South Sangamon Street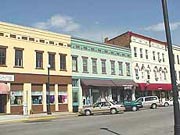 [OCT. 7, 2000] Years ago, living downtown meant "living above the store," a matter of economy and convenience for families just getting a start in business. Later, when "the store" prospered, the families would move to a home in a residential neighborhood. While living downtown was practical, it wasn't generally considered fashionable. Today it's a national trend, according to local contractor Dale Bassi, and it can provide economy and convenience or living quarters as elegant as any you will find in a strictly residential district.
---
Main Street Lincoln plans
annual Business Nexus
[OCT. 7, 2000] Main Street Lincoln will host the annual Business Nexus on Friday, Oct. 13, from 5 to 7 p.m. at The Restaurant at the Depot in downtown Lincoln. The program is being sponsored by Logan County Bank, State Bank of Lincoln, Union Planters Bank, Illini Bank and the city of Lincoln. This year's Business Nexus, themed "Developing Your Dream," will not only open the door for potential owners but also challenge business leaders to pursue additional successes. Anyone interested in community growth, opening a new business or expanding a current operation should plan to attend this informative and free event.
---
Logan County FY2001 budget
Totals of requested increases
[OCT. 7, 2000] A list of budget requests were heard by the Logan County Board Finance Committee on Aug. 11, 16 and 17. These requests will be compiled by the auditor and matched with the anticipated revenue for the 2001 fiscal year (Dec. 1). The finance committee will then review these numbers, make necessary adjustments and prepare a recommendation to the entire County Board in the next month. There will be a public meeting entirely devoted to budget matters in the future.
---
Part 4
St. Louis has more to offer
By Penny Zimmerman-Wills
[OCT. 7, 2000] ST. LOUIS: Whether you want to try your luck at one of six riverboat casinos, shop for antiques or dance the night away, St. Louis has all this and more. It's hard to get bored in this city on the Mississippi River.
---
Rotary contributes to Zimmerman Scholarship Fund
for students planning healthcare careers
[OCT. 7, 2000] The Lincoln Rotary recently presented a check to Betty Zimmerman and F.G. "Woody" Hester, president and CEO of Abraham Lincoln Memorial Hospital, to be directed to the Dwight F. Zimmerman Scholarship Fund.
United Way of Logan County hopes to raise $104,000
[OCT. 7, 2000] The United Way of Logan County 2000-2001 campaign began Sept. 11 and runs through Nov. 17. The United Way hopes you will consider a pledge, a payroll deduction or a one-time donation.
---
SPIRITUAL LIFE
Bigger and better
Germanfest planned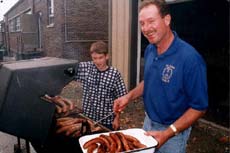 [OCT. 7, 2000] Germanfest, sponsored by St. John United Church of Christ, will be bigger and better in its second year, according to chairman Wayne Mara. Heading the list of additions are a second tent and a craft fair. The event this year will be from noon to 6 p.m., Saturday, Oct. 21, at the church, 204 Seventh St. in Lincoln.
---

Court reports
[OCT. 7, 2000] The Law and Courts page includes a new set of weekly court reports, marriage licenses and dissolutions. The Lincoln Daily News does not list the names of the individuals unless convicted and age 18 or older.
---

[click here for top stories for the day from around the world]
---
---
Hear it here!
Next Friday, Oct. 13 - Lincoln Railer football at Taylorville
Hosted by LDN. Audio link provided by Media One.
---