NEWS

PEOPLE
COMMUNITY
ENTERTAINMENT
FEATURES
The Arts
REVIEWS
EDITORIAL
COMMENTARY
ADVERTISEMENTS


Register your name among the many others with the LDN User Registration!
CONTACT US
LDN is best viewed with
Internet Explorer 5.0.
posted daily OVER THE NOON HOUR (CDT)

---
They came in droves…for a friend
[OCT. 10, 2000] When Dave Klockenga had a heart attack last Aug. 4, leading to surgery for four bypasses, little did he realize how many friends he had. He was ordered to work no more than three hours a day, but there was so much to do, and the three hours turned into 12 to 15 per day. He had 1,400 acres of crops to harvest — what would you do?
[complete story] [click here to see photos]
Good neighbors abound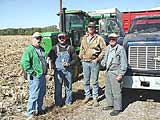 [OCT. 10, 2000] On Monday, Oct. 9, a dozen neighbors with their harvesting machinery pulled into the James "Jay" Renfro 900-acre farm to do the neighborly thing.
---
Chicago expert says District 27
schools can be renovated
[OCT. 10, 2000] A member of an architectural firm that has renovated many Chicago schools told Lincoln residents he saw no reason that two schools in Elementary District 27 could not be renovated. "I didn't see anything that scared me. I didn't see anything that I thought could not be renovated," said Bill Latoza, member of Bauer/Latoza Studio on South Michigan Avenue.
---
Part 4
Living downtown
New trend fills apartments
on South Sangamon Street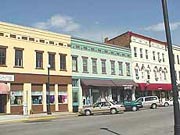 [OCT. 10, 2000] Years ago, living downtown meant "living above the store," a matter of economy and convenience for families just getting a start in business. Later, when "the store" prospered, the families would move to a home in a residential neighborhood. While living downtown was practical, it wasn't generally considered fashionable. Today it can provide economy and convenience or living quarters as elegant as any you will find in a strictly residential district. Jon Steffens' first-floor living space on Pulaski Street is an example of the elegance that can be achieved while living downtown.
---
Public notice
Filing dates for nomination petitions for city offices
[OCT. 10, 2000] The office of the city clerk in Lincoln will be open for filing petitions for nomination for the Feb. 27, 2001, consolidated primary election, with petitions accepted from 9 a.m. to 5 p.m. on the following dates: Dec. 11, 12, 13, 14, 15 and 18.
---
Volleyball results: Olympia vs. Normal
[OCT. 10, 2000] Olympia High School's women's varsity volleyball team defeated Normal Community High School in Normal yesterday afternoon. The final scores were 15-9, 6-15, 15-10.
---
What's up with that?
[OCT. 10, 2000] Look, up in the sky. Is it a bird, is it a plane…. hey, what is that thing?
---
How to solve (some) problems
without really trying
[OCT. 10, 2000] Problems, problems. Everyone has problems. By this time in 1492, Columbus had encountered plenty of problems connected with his voyage of discovery and had many more problems ahead. Initially, he dealt with planning and financing an innovative, daring project. Then he had to convince the crews of three ships to keep sailing west when there hadn't been any land in sight for three weeks. In spite of fighting, shipwreck, spoiled food, arthritis, foul weather and eventual disregard from his backers, he managed to make four trips to a previously unknown land — and back — using primitive navigation methods. Single-minded determination helped, but he must have had a few good problem-solving methods besides.
---


[click here for top stories for the day from around the world]
---
Hear it here!
The Faks Machine: Mike Fak and Jim Ash host a community call-in show. Their show airs on Lincoln Daily News over the Media One link every Wednesday night beginning at 7 p.m.
Next Friday, Oct. 13 - Lincoln Railer football at Taylorville
Hosted by LDN. Audio link provided by Media One.
---