posted daily OVER THE NOON HOUR (CDT)
ANNOUNCEMENTS
Lincoln plans for Halloween
Maple Ridge and Lincoln Park District host celebration
[OCT. 27, 2000] Maple Ridge Care Centre and the Lincoln Park District are preparing for their annual Halloween celebration. The celebration is open to children up through grade school and their parents. The care center and the local park district host these events so that children can meet Maple Ridge residents and because this event is safer than going from door to door.
The celebration begins at Maple Ridge Care Centre at 4 p.m. on Monday, Oct. 30. The care center will be decorated, the staff and residents will be dressed up in costumes, and children can visit various booths and the dining hall.
At 6 o'clock on the same Monday evening, the celebration will move to the Lincoln Park District, where festivities continue until 8 p.m. Children can collect candy and trinkets. Also, there will be a costume contest.
If you have questions, please call Maple Ridge Care Centre at 735-1538 or the Lincoln Park District at 732-8770.
---
Neighborhood trick-or-treating hours set
[OCT. 27, 2000] The official hours for neighborhood trick-or-treating in Lincoln this year are from 5 to 8 p.m. on Tuesday, Oct. 31.
---
[OCT. 27, 2000] Rumors have been flying around that there was a big drug bust at the Lincoln Community High School yesterday and that even a teacher was arrested. Be assured that this is NOT true. Pat Zurkammer, secretary to the principal, summed up the situation, "They're rumors; basically that's it. They're rumors."
Lincoln Daily News spoke with the city police chief this morning. He explained that the Lincoln Police Department did walk K-9s through the building and the parking lot. Fifteen cars were searched, but no arrests were made.
---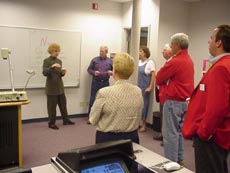 Heartland Community College Lincoln Extension Center celebrated their recent remodeling and renovations with a ribbon cut Thursday, Oct. 26. Lincoln/Logan County Chamber of Commerce and Heartland representatives gathered at the college at 620 Broadway St. in Lincoln. The cut was followed by a tour of the facility, including their state-of-the-art interactive television classroom and public computer area.
---
Local Harvest of Talents
feeds the world's hungry

An interview with Pat Snyder

By Jeff Mayfield

[OCT. 27, 2000]

Have you ever wondered if anything done in Lincoln could ever possibly impact the world? One local woman feels like she may have been groomed her whole life to take on a mission with that kind of proportions. For about 17 years, Pat Snyder and a host of members of the Lincoln Christian Church have been reaching out and touching the world. Their sacrificial labors have netted over $600,000 to help needy, starving children and people mired in crisis at home and abroad. This Saturday, Oct. 28, the church will host its annual Harvest Day beginning at 7 a.m. Everyone in Lincoln and in the surrounding area is not only welcome to attend but greatly encouraged to do so! This is one way for sure that Lincolnites can reach out and touch the world!
---


[click here for top stories for the day from around the world]
---
Update
---
HALLOWEEN PICTURE!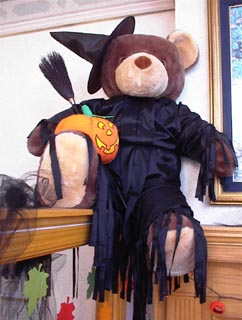 A huge bear dressed for the season supervises work in Jane Wright's State Farm Insurance office on Chicago Street. The bear will morph into a Thanksgiving person and then a Christmas creation before he is won by some lucky customer in an end-of-year drawing.
---
Part 1
Halloween isn't just for
kids anymore
[OCT. 27, 2000] Adults everywhere are carving pumpkins, hanging black bats and white ghosts from porch ceilings, and attending or hosting bashes where they serve ghoulish concoctions and compete in costume contests.
---
An interview by Jeff Mayfield
Former Railer leads Illinois College into playoff contention
Part 2
[OCT. 27, 2000] I have heard it said that you couldn't learn anything from being involved in a losing program. That if you play for a team that loses every game you are probably just wasting your time. John Allison couldn't disagree more with that kind of thinking. Playing for a Railer program that showed little success for all the efforts expended did not seem to faze Allison all that much. In fact, he says it made him appreciate the game of football all the more. The perseverance, the patience and the discipline made him a better player. And this season he has helped lead the Illinois College Blueboys to a 6-1 record at posting time. That might not give you visions of a national championship, but it is on pace to become the greatest record in IC history. John and I recently met in my office, while he was on fall break, to discuss the amazing season that he has helped put together.
---
Volleyball: LCHS vs. Mount Zion
[OCT. 27, 2000] Yesterday, here in Lincoln, Lincoln Community High School's ladies volleyball team beat Mount Zion 15-8 and 15-4. Lincoln now has a record of 25-10-1, and Mount Zion's record is evenly balanced at 19-18.
Volleyball: Mount Pulaski vs. Greenview
[OCT. 27, 2000] Mount Pulaski High School's ladies volleyball team blew away Greenview yesterday in Manito. The final score was 15-2 and 15-1.
---
---
New crossword
'Indian Summer!'
[OCT. 27, 2000] At night the frost is on the pumpkin, but during the day, the air is warm and humid. Ahhhhh!
---
'Keeping the Faith'
[OCT. 27, 2000] "Keeping the Faith" is probably one of a hundred romantic comedies to come out this year and make it to the local video shop. But unlike the other 99, this one is a thirty-something film with a priest and a rabbi falling in love with the same girl!
---
Writers group changes meeting date to Nov. 14
[OCT. 27, 2000] Because of the general election, the Lincoln Writing Club has changed the date of their monthly meeting from Nov. 7 to Nov. 14.
---
World/national news coverage
---
Hear it here!
The Faks Machine: Mike Fak and Jim Ash host a community call-in show. Their show airs on Lincoln Daily News over the Media One link every Wednesday night beginning at 7 p.m.
---