NEWS

PEOPLE
COMMUNITY
ENTERTAINMENT
Crosswords - UPDATED!
FEATURES
The Arts
REVIEWS
EDITORIAL
COMMENTARY
ADVERTISEMENT
Classified Ads
Quick Coupon Clip-Outs


Register your name among the many others with the LDN User Registration!
LDN is best viewed with
Internet Explorer 5.0.
Lincoln, IL
posted daily aT NOON (CDT)

---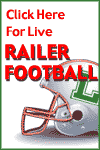 - Hear it here tonight! -
The Lincoln Railer football game at Chatham-Glenwood High School will be broadcast right here on LDN via Media One Broadcasting system. Game starts at 7 p.m.
Be there!
- Sponsored by LDN and Media One
---
Family Fun Day at Latham Park


[SEPT. 8, 2000]

A

Family Fun Day will take place this Saturday, Sept. 9, at Latham Park from 3 to 8 p.m. Everyone is invited to come out and have lots of fun.
---
RURAL REVIEW
Elevator prepares for
bountiful harvest
[SEPT. 8, 2000] The country grain elevators in every small hamlet of Logan County are a hub of activity this time of year. These unassuming skyscrapers of the prairie are more than oversized storage sheds. Instead, they are an integral part of the farm business and represent a major component of the local economy.
---
Bird banger report
City police will be setting off more of the explosive devices tonight from about 7:15 to 7:40 to scare off flocks of birds in Mayfair. "They were not as bad last night. They've begun dispersing," reports Chief Ludolph. The new shipment of ammunition has arrived, and police previously received enough additional ammunition from another source to continue through tonight. Since the new order is in, the war will continue through the weekend.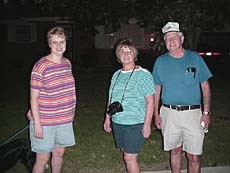 [Tammy Bacalow visits with neighbors Pat and Wilmer Birk as the second evening of battle against the birds comes to a close. "This has been really good for Mayfair. It has brought the neighbors closer together. Neighbors are meeting neighbors," says Pat Birk.]
---
TOP STORIE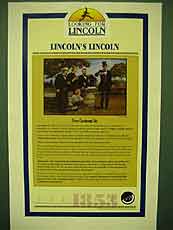 S
Looking for Lincoln,
off and running
[SEPT. 8, 2000] Members of the community came together the evening of Wednesday Aug. 30, to discuss successes and future plans for the newly formed Looking for Lincoln project. Looking for Lincoln is the latest part of the Illinois Heritage Tourism package initiated by the state of Illinois. The local project is sponsored by the Abraham Lincoln Tourism Bureau of Logan County and is led by Thressia Usherwood. The project is intended to boost economy by bringing tourism to Illinois communities with historical ties to Abraham Lincoln.
---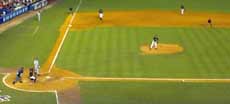 Part 2 - At Yankee Stadium
East Coast swing takes LDN to New York and to Boston
By Jeff Mayfield
[SEPT. 8, 2000] Last week I cracked the door of my life and gave you a peek into my baseball pilgrimage. This week I will do something I've never done before: share my annual baseball trip with the general public. For years I have visited baseball stadiums around the country. If I visit a city for the first time on business or pleasure and a baseball game just happens to be scheduled there while I'm in town…I figure that God wants me in attendance for some special reason. I might have an experience like Terrance Mann and Ray Kinsella did in "Field of Dreams" (in fact, I'll be sharing with you in an upcoming piece about my recent visit to that mystical field). At any rate, a few years ago I hooked up with former Lincoln resident Gary Klockenga, and he's been accompanying me on these adventures ever since. We have made something like five trips, and someday, if time permits, I will share with you what we have found. This year's trip took us to New York and to Boston where we encountered games with serious playoff implications. This week the LDN heads east…
---


[click here for more news from around the globe]
---