Lincoln Daily News.com
601 Keokuk Street
Lincoln, IL 62656

TEL: 217-732-7443
FAX: 217-732-9630

Lincoln Daily News publishes daily news about the Lincoln/Logan County area on the Internet at www.lincolndailynews.com. (We are not a print publication). All subscriptions are free!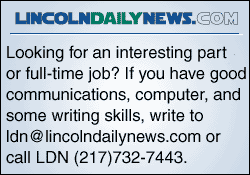 Our mission:
The mission of Lincoln Daily News is to tell the stories of Logan County in a contemporaneous manner, with lively writing and a predilection for simple truth fairly told. Lincoln Daily News seeks a relationship with the good people of Logan County that is honest, neighborly and never patronizing. Lincoln Daily News presents news within a full context that contributes to understanding. Lincoln Daily News is more interested in the marketplace of ideas than the competition of personalities. Without shrinking from the bold delivery of unvarnished fact, Lincoln Daily News operates from the premise that God's creatures deserve the presumption of right motive. Lincoln Daily News eschews malice and cynicism; it approaches every person with dignity and every subject with equanimity. In short, Lincoln Daily News informs, stimulates and entertains.
Content:
The articles published in Lincoln Daily News are the result of research and interviews. Any opinions expressed are those of the writers.
Corrections:
Please contact us by phone, fax, mail or e-mail with any information about mistakes, typos or erroneous information. If the error is in an item which is still in the paper, we will correct it online immediately. All corrections will be shown on the "Corrections" page.
Our services:
Lincoln Daily News provides daily news, sports, features and commentary on Lincoln, Logan County, and the surrounding area.
To promote local businesses, we offer display advertisements at very reasonable rates, and links to business Web sites.
Classified advertising for businesses and individuals is available for all the standards categories. Submit your ads at our LDN office via phone, fax or in person.
"Happy ads" are a special feature to enable our readers to celebrate birthdays, graduations, anniversaries and other good news. Call us for details.
For employment information, contact Lincoln Daily News at their offices.


Our staff:
Managing editor: Jan Youngquist ldneditor@lincolndailynews.com
Copy editor and writer: Mary Krallmann
mkldn@lincolndailynews.com
Technology assistants: Tyler Havlin
thldn@lincolndailynews.com
Don Buckner
---
Thanks for articles, public action
on bird problem in Mayfair
9-7-00
To the editor:
September 6, 2000
Just a note to thank you, Joan Crabb, for the good articles you wrote about the" Bird Situation" in the Mayfair Addition here in Lincoln. It is a serious health situation and we are thankful Mayor Ritter and the City Council acted so quickly on this matter. As you know the program starts tonight and my husband Wilmer and I are anxious to get rid of the problem birds in the area. On behalf of the residents of Mayfair, my husband and I want to especially thank our Alderman Mike Montcalm and Joe Stone. They worked very hard to get this ordinance amended so that something could be done quickly. Wilmer and I also want to thank the residents of Mayfair for their strong support on this issue. Without their help we wouldn't have been successful...
Thanks again,
Wilmer and Patricia Birk
---
Article about a friendly neighborhood was appreciated
9-5-00
Jim,
What a delightful article ... so warm and friendly ... touching and very enjoyable.
Maxine Seggelke
Lincoln
---
Texan responds to commentary about liquor licenses, senior citizen programs
9-1-00
To the editor:
Here in deep South Texas we have OPEN city meetings on items such as these. You are right, he said, she said will be opinionated due to the "interests" of each incidvidual. Local residents elect local officials and the last I heard "WE THE PEOPLE" still govern.
Ok, so that is bull. Even though we have the open meetings here in Texas, the politicians go ahead and do what they want anyway. I believe it will be the same there.
The above statements in no way reflect on Lincoln's city rulers nor on it's community, I think the same goes on everwhere throughout our States.
Very interesting article through and I look forward to the responses.
George McKinney
Pharr, Texas
---
Newcomer wants to get acquainted
with community issues
9-1-00
To the editor:
Hello,
Great job!!! We are new to the community. Actually we haven't moved to Lincoln yet. We don't close on our house until the end of September. Your online paper is a great way for me to get to know the community and some of the issues.
Please continue to bring to light any community issues that deserve attention. Do you have any ideas or issues that may be able to cultivate interest in the minds of my civics students?
Jeff Cooper
---
Thanks for coverage of book sale
8-29-00
To the editor:
Thanks for your fantastic coverage of the Library's book sale. We really appreciate all of your support.
Richard Sumrall
Lincoln Public Library
---
Please send your letters by e-mail to ldneditor@lincolndailynews.com or by U.S. postal mail to:
Letters to the Editor
Lincoln Daily News
601 Keokuk St.
Lincoln, IL 62656
Letters must include the writer's name, telephone number, mailing address and/or e-mail address (we will not publish address or phone number information). Lincoln Daily News reserves the right to edit letters to reduce their size or to correct obvious errors. Lincoln Daily News reserves the right to reject any letter for any reason. Lincoln Daily News will publish as many acceptable letters as space allows.