NEWS

PEOPLE
COMMUNITY
ENTERTAINMENT
Crosswords - UPDATED!
FEATURES
The Arts
REVIEWS
EDITORIAL
COMMENTARY
ADVERTISEMENT


Register your name among the many others with the LDN User Registration!
LDN is best viewed with
Internet Explorer 5.0.
Click here to make Lincolndailynews.com your default homepage
Lincoln, IL
posted daily OVER THE NOON HOUR (CDT)

---
Peaker plant on city agenda again

[SEPT. 14, 2000]

I

f Lincoln and New Holland approve its requests, Spectrum Energy Inc. hopes to break ground for its electricity generating plant near New Holland sometime in October, Matthew Hortenstine, attorney for the group, told the Lincoln City Council at its work session Tuesday evening. Called a "peaker plant," the three small generators would run only at peak times when demands for electricity exceed the amount of power that is available from the current grid.
---
Investing
in the future
[SEPT. 14, 2000] If you stop by 513 Broadway next week looking for Edward Jones Investments, you'll be too late. The millennium year marks a move into the future for the local office, with a new facility located on the northeast corner of Kickapoo and Pulaski.
---
Preserving your PC – Part 3
Something for nothing?
[SEPT. 14, 2000] The Internet has enhanced and blessed the lives of many. The ability to communicate and obtain information in an instant without great expense has brought even long-term computer holdouts and computer deniers to purchase systems to gain access to the great riches offered on the net. And internet users have found one other blessing of the internet age: access to the treasure of their imaginations — free programs and software.
---
For the love of Pete...it's only
a game
[SEPT. 14, 2000] Now that the fall sports season is upon us here in Lincoln and Logan County, I thought it might be good to review why sports programs even exist to begin with. I should point out that I am not an expert in this field. I am not a sports psychologist, although I'd love to play one on television. I have no credentials. I am not endorsed or sanctioned by the ISHA, the NCAA (thank God, talk about the kiss of death...) or the NBA. I have never received expressed written consent for any accounts or depictions of any games by Major League Baseball. However, I do think I have as much experience in this one little area of life and more than most of my 40-plus-year-old counterparts. I have noticed a disturbing national trend when it comes to scholastic sports competition. Before we begin covering this year's plethora of games in our region, the LDN will try to remind athletes, coaches, parents and fans the reasons that we participate. I hope that from this point on, Lincoln will be known as the town that bucked the trend...that in our area, kids learned the fundamentals, developed character and skills like teamwork, and also that they had a lot of fun along the way.
---
LC hosts Parkland for volleyball
[SEPT. 14, 2000] Lincoln College's volleyball team lost to Parkland College of Champaign yesterday (Wednesday). The game scores were 15-8, 15-2 and 15-9. Coach Tina Roger-Smith defended her Lady Lynx, saying, "We actually are making progress. We played pretty well with the exception of our serving. We simply had trouble getting our serves in for points. We sided out well, we just couldn't score. The scores don't really reflect the closeness of the match."
---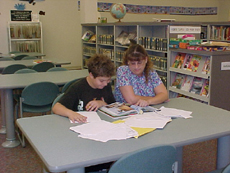 Library's tutoring center begins Sept. 25
[SEPT. 14, 2000] The Lincoln Public Library District announces that the Prime Time Learning Center will begin on Sept. 25 for grades three through eight. Tutoring center sessions are scheduled by appointment on Monday through Thursday from 3:30 to 6 p.m. This is a free service provided by the library.
---
'Rock for Life' to raise
funds for pregnancy center
[SEPT. 14, 2000] "Rock for Life," a fund-raiser for Living Alternatives, the Crisis Pregnancy Center at 5 Arcade Building, will take place on Saturday during the Rail Splitting and Craft Festival at the Logan County Fairgrounds.
---


[click here for more news from around the globe]
---