NEWS

PEOPLE
COMMUNITY
ENTERTAINMENT
Crosswords - UPDATED!
FEATURES
The Arts
REVIEWS
EDITORIAL
COMMENTARY
ADVERTISEMENT

Register your name among the many others with the LDN User Registration!
LDN is best viewed with
Internet Explorer 5.0.
Click here to make Lincolndailynews.com your default homepage
Lincoln, IL
posted daily OVER THE NOON HOUR (CDT)

---
-- Hear it here --
You can hear Lincoln Railer football games broadcast live right here. Tonight the Railers play Springfield Lanphier. The broadcast starts at 6:45 p.m., with game time at 7 p.m.
---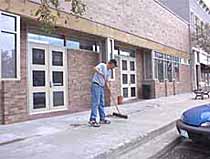 TOP STORIES
Barricades come down on Heartland's facade
[SEPT. 15, 2000] The folks in downtown Lincoln got their first view of Heartland Community College's "new look" yesterday when the wooden barricades protecting the front of the building at 620 Broadway came down. Although the new facade still needs a little work, including an awning and light fixtures, Heartland staff members think it's a big improvement.
---
HEALTH & FITNESS
ALMH offers new
pulmonary rehab program
[SEPT. 15, 2000] Everett Kennett of Lawndale suffers from emphysema. Thanks to the new pulmonary rehabilitation program at Abraham Lincoln Memorial Hospital (ALMH), Everett's life just got easier. Everett joined the pulmonary rehab program to increase his stamina with activities. "I wanted to be able to go hunting this fall without being short of breath," he said. Everett feels he will meet that goal. Everett stated that when he first started pulmonary rehab, he was very apprehensive about working on the treadmill; now it is his favorite thing to do.
---
Something for nothing?
(Second section)
[SEPT. 15, 2000] The Internet has enhanced and blessed the lives of many. The ability to communicate and obtain information in an instant without great expense has brought even long-term computer holdouts and computer deniers to purchase systems to gain access to the great riches offered on the net. And Internet users have found one other blessing of the Internet age: access to the treasure of their imaginations — free programs and software.
---
Part 2
For the love of Pete...it's only
a game
By Jeff Mayfield
[SEPT. 15, 2000] Now that the fall sports season is upon us here in Lincoln and Logan County, I thought it might be good to review why sports programs even exist to begin with. I should point out that I am not an expert in this field. I am not a sports psychologist, although I'd love to play one on television. I have no credentials. I am not endorsed or sanctioned by the ISHA, the NCAA (thank God, talk about the kiss of death...) or the NBA. I have never received expressed written consent for any accounts or depictions of any games by Major League Baseball. However, I do think I have as much experience in this one little area of life and more than most of my 40-plus-year-old counterparts. I have noticed a disturbing national trend when it comes to scholastic sports competition. Before we begin covering this year's plethora of games in our region, the LDN will try to remind athletes, coaches, parents and fans the reasons that we participate. I hope that from this point on, Lincoln will be known as the town that bucked the trend...that in our area, kids learned the fundamentals, developed character and skills like teamwork, and also that they had a lot of fun along the way.
---
LC soccer: A win over Johnson City
[SEPT. 15, 2000] Lincoln College's men's soccer team met Johnson City's soccer team yesterday in Oberland, Kan. For the first time ever, Lincoln defeated Johnson City!
VB report: Lady Lynx vs. Sauk Valley
[SEPT. 15, 2000] Yesterday, Lincoln College's Lady Lynx volleyball played Sauk Valley at home. Sauk Valley beat the Lady Lynx, but each game was close: 15-10, 15-12, 15-8.
---
Emden hosts citywide garage sales this weekend
---
---


[click here for more news from around the globe]
---
Breastfeeding Support Group meets Sept. 21
[SEPT. 15, 2000] The Breastfeeding Support Group will meet at Logan County Health Department on Thursday, Sept. 21, at 12:30 p.m. This support group will meet monthly on the third Thursday from 12:30 to 1:30 p.m. and is open to any woman, pregnant or breastfeeding, who wants to receive information, support and encouragement with breastfeeding.
---
Can we rely on the news?
---