Red Cross blood drives in August
NAPA Auto Parts sponsored blood drives at the Lincoln Sports Complex on Aug. 1 and 15. Another blood drive will be at the Mount Pulaski Christian Church on Aug. 22. The hours will be from 11 a.m. to 5 p.m.
During July, the following people reached goals in their blood donations: Glenn McCrea and Connie Haseley, seven gallons; Robert Pharis, six gallons; Shawn Bertolino, five gallons; Phillip Richmond, two gallons; and Myrna A. Aper, one gallon.
---
Girl Scouts announcements
---
Websites with lots of ideas that Girl Scout leaders, families or kids can use:
See the website for Girl Scouts, Land of Lincoln Council, at http://www.girlscoutsllc.org/.
You can send questions and suggestions to the council by clicking here: gsllc@girlscoutsllc.org.
Also, see the national Girl Scouts site at http://www.girlscouts.org/.
---
From Roy Logan, program coordinator
5K run
On Saturday, Aug. 25, Lincoln Park District will host the 13th annual 5K run in conjunction with the Lincoln Art and Balloon Festival. Race time is 8 a.m. The run begins and ends at the Park District at 1400 Primm Road. Dan Slack, a veteran cross-country record-holder for LCHS, is our race coordinator. T-shirts are given to all participants, and awards are given to the top three finishers in each age category. Refreshments are provided. Registration forms are available at both the Rec Center and the Lincoln Chamber office.
---
Over 200 classic Chevrolets and their proud owners filled the Mount Pulaski square on Thursday, July 5. Almost 600 people toured the Mount Pulaski Courthouse that day. Many went up to the historic courtroom to see a presentation by Don Russell.
The Vintage Chevrolet Club of America had their national event that week in Springfield. As part of the activities, the club members visited both Lincoln's New Salem and Mount Pulaski. Since there were so many cars, they were divided into two groups: pre-World War II and post-World War II. The cars were beautiful and the people friendly. Almost all states were represented and there were visitors from five foreign countries.
R. Schachtsiek, site manager at the courthouse, says: "My compliments to Doug Johnson and his hard-working crew for all their effort that day. It was a great day for Mount Pulaski and the courthouse. I also wish to thank Jo Richner and Don Baker for helping at the courthouse that day."
Another group, about 20 ladies, visited the courthouse on July 21. They plus all the Chevy club members put July's attendance at over 700 people.
Coming up in September, during Mount Pulaski's Fall Festival, there will be a special display in the courthouse to honor the 50th anniversary of the Korean War. Richard Teike has helped provide posters and other items used in the display. On Saturday, Sept. 8, from 10 a.m. to 5 p.m. a re-enactor will be present to explain the uniform, equipment and weapons used by American forces in Korea. People are invited to stop in at the courthouse to learn more about America's "Forgotten War."
In July the following courthouse volunteers worked 125 hours: D. Aper, D. Baker, M. Borgerson, K. Boyd, D. Brooker, J. Cavestani, A. Davis, M. Downing, H. Fine, V. Harbarger, P. Hawk, M. Johnson, W. Kautz, J. Martin, J. Maske, J. Richner, C. and L. Schahl, D. Smith, E. Stahl, T. and W. Stephens, and C. Van Rheedan.
---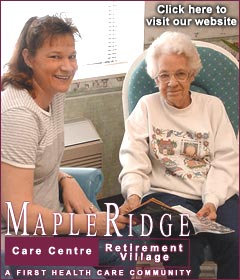 The Oasis, Logan County's senior citizen center, at 501 Pulaski St. in Lincoln, is open weekdays (except holidays) from 9 a.m. to 4 p.m. The center also is open on Friday and Sunday nights for table games. Dominic Dalpoas is the executive director. Activities are open to all Logan County senior citizens, regardless of membership.
Bingo and the Oasis
Thursday, Aug. 16, at 1 p.m. the Extension Service will sponsor the nutrition bingo games. Please join us for a "cool" afternoon.
Your health and your blood pressure
Friday, Aug. 17, from 10 to 11:30 a.m. you may have your blood pressure checked at the Oasis.
Bingo at the Illinois State Fair
This weekend, Aug. 18 and 19, the Oasis is managing the bingo activity at the fair in Springfield. Please help support our first-time endeavor. Stop by the Illinois Building and say "hi."
Computer classes
There are a few openings available for the beginning computer and word processing classes scheduled for Aug. 20 at 1:30 and 2:30 p.m. Call for a reservation. The fee is only $3.
Special Speakers Bureau program
Illinois Assistive Technology representative Sherry Edwards will be at the Oasis on Monday, Aug. 20, to discuss technology devices that can help seniors live more independent lives. A few of the featured items are writing aids, magnifiers and communications devices. Please join us at 10 a.m. at the Oasis.
Garden Club
The special tour scheduled for Tuesday, Aug. 21, will be at Julie Gerardot's garden. Departure is at 9 a.m. from the Oasis.
Flea market Aug. 25-26
There are still a few spaces available for flea market vendors at the Lincoln Art & Balloon Festival. Please call or come in to secure your space for only a $40 nonrefundable registration fee.
Americana room
The Oasis is starting a new project in order to honor armed forces men and women. Please bring materials for display at the Oasis, such as pictures (or copies), newspaper articles and other items in your collections.
Game winners
Daytime pinochle winners were Ruth Aper on Aug. 3 and Madeline Moore on Aug. 7. Friday night game winners were Mildred Newberry for pinochle; Betty Burger, Ann Gregor and Tom Garrison for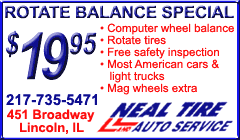 5-in-1; and Harley Heath for pool. Sunday night winners were Betty Burger and Henry Warnisher for rummy and Harley Heath for pool.
Newsletter
Friends of the Oasis members receive bimonthly newsletters by mail. For more information, people can call the Oasis at 732-6132 or 732-5844.
---
Hot weather slows visitation at Postville Courthouse
Temperatures in the 90s with high humidity may have slowed visitation at Postville Courthouse in July. Visitors may have thought the historic courthouse would be hot and stuffy, which would be historically correct. However, the courthouse has been cool and comfortable due to modem air conditioning.
"So do not stay away because of the heat," says Richard Schachtsiek, site manager. "If you have visitors, you can expect to bring them to tour Postville Courthouse in cool comfort. Over 100 people enjoyed the cool interior and learned about attorney Abraham Lincoln, Postville Courthouse and the 8th Judicial Circuit last month."
August will be much busier due to the Lincoln Art & Balloon Festival on Aug. 24-26. Postville Courthouse is actively involved in hosting two special events during the festival. A Porsche-only charity car show will be on Saturday, Aug. 25, from 10 a.m. to 4 p.m. About 20 Porsches will be on display. At 3:15 Lincoln Mayor Beth Davis will choose her favorite cars and present three award plaques. During the day there will also be a display of scale-model production and racing Porsches inside Postville Courthouse.
The 1800s Craft Fair will be at Postville Courthouse on Sunday, Aug. 26. This popular event, which draws over a thousand people, goes from 10 a.m. to 4 p.m. There will be many returning artisans and craftsmen demonstrating period skills and crafts, such as blacksmithing, wood turning on the "Great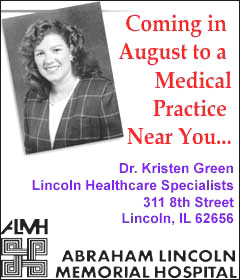 Wheel," bobbin lace making, basket making, traditional music and much more. New this year will be Civil War-era dance demonstrations from noon to 3 p.m. Area dancers will demonstrate dances popular in the mid-1800s and ask spectators to join in. Another new activity will be Lee Slider performing as "Phineas Fairhead, Practical Phrenologist." If you do not know about phrenology, come by Postville Courthouse and learn about it.
The volunteers listed below braved traveling in the heat and humidity to work 110 hours in July: S. Bartelmay, B. Behrends, D. Freeman, J. Handlin, S. Johnson, C. Kelley, C. Klink,
N. Kleinmann, K. Leesman, L. Leonard, B. Marvel,
R. Meyer, H. Oltmanns, M. Ott, W. Post, D. Short, M. Smith, L. Snyder, R. Sullivan, G. Wibben.