They looked like the team that I hoped they would become way back in the preseason.
In a short wire report of the game, you will notice that the Illini were led by Sergio McClain's 15 points, followed by Cory Bradford's 13 and Robert Archibald's 12. But if that's all you know about Illinois' impressive 92-60 thrashing of the Nittany Lions, then you've only missed the point.
What is the point, you might say.
Well, I'm glad you asked. As this reporter saw it…almost total unselfish basketball!
I submit as Evidence A for the people that the Illini recorded 22 assists on 31 field goals, which is an astonishing ratio.
As Evidence B, I would submit the vastly improved play of center Robert Archibald, who recorded another double-double with his work on the glass.
For Evidence C you're going to have to trust me and dig deeper than most area reporters had time to tell you. Yes, Frank Williams had another awesome game…seven points, seven assists, four steals and only one turnover. However, his greatest contribution was the suffocating defense he played on the Big Ten's leading scorer, Joe Crispin. In fact, Crispin was completely shut out and shut down by halftime and finished the day only 3-of-14 from the field for 13 points (wish people could have limited me to only 13 a game…I would've been happy to be a disappointment in double figures every night!).
But in order to see Evidence C more clearly, get out your magnifying glass. And think, if you will, of Sean Harrington. Sean scored six points and had a rebound and an assist…not necessarily numbers that would make him a candidate for the Wooden award. But…as much of a glove as Frankie was on Crispin, I think Harrington frustrated him even more…coaxing Joe into an air ball and a couple of shots that were way off the mark. Right before the half Harrington made a great defensive play and then banged in a long 3-pointer just before the buzzer to send the delirious Illini nation into pandemonium.
For Evidence D I would have to display Penn State's dismal 34 percent field goal shooting for the game. It's even worse when you consider that the Lions' starters were a woeful 9-for-43 for 21 percent.
For Evidence E I would direct your attention to the Illinois bench. Bench contributions were not limited to their 35 points and 17 rebounds; they brought energy and fed the fire of momentum.
For my closing argument, on top of all these other reasons, I have to tell you that Illinois shot a season-best 60 percent from the field on 31-of-52 shooting. Good shooting covers a multitude of sins…I think that's in the Bible somewhere. The Illini's stifling, tenacious defense never let the Lions out of their den…Case closed!
Illini notes
Cory Bradford extended his NCAA-record streak to 83 games with at least one 3-pointer. He also passed former Illini great Nick Anderson and moved into 21st place on Illinois' all-time scoring list with 1,175 points for his career.
Lincoln's Brian Cook continued his inspired play of late by getting into double figures again with 10 points and three rebounds. He also is among the league leaders in blocked shots. Staying out of foul trouble will key his and the Illini's effectiveness over the next few games.
Illinois' sellout crowds are making their presence felt. Personally, I've been going to games at the Assembly Hall since 1975, and I'm FINALLY starting to feel like we might be getting closer to having a home-court advantage. In my limited opinion, there is nothing better than game day…period!
We were told that the officials received a mandate from the NCAA home office to clean up the game this season. I may have missed it…but, was the Big Ten exempt from that ruling? I probably should be careful, since the LDN has nationwide connections and I might get fined like Mark Cuban of the Dallas Mavs, but I'm sorry, I just don't see it. The game desperately needs to be cleaned up, especially in the paint, but call me skeptical…or better yet, call me when it actually happens!
The Illini schedule takes another turn toward the difficult with the next two games on the road. Illinois is at Michigan on Jan. 25 and at Penn State on Jan. 31. A split would put us in pretty good shape, but of course we're pulling for a rare road sweep. The Illini don't return to the Hall until Feb. 3.
Brian Cook made a triumphant return to Roy S. Anderson gym to help encourage the Railers in their exciting victory over Lockport. Cook had to share the spotlight with some kid named Payne.
[The Illini's game Saturday against Penn State brought out the best in both the team and its supporters. LDN photographers were there taking lots of pictures of our local sports hero Brian Cook. Cook was right in there turning in his usual superior performance.]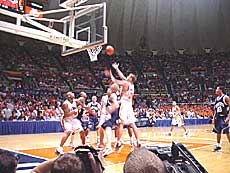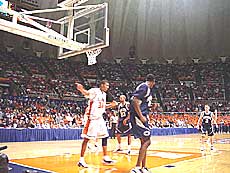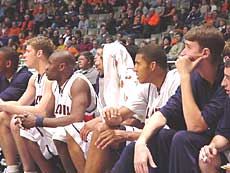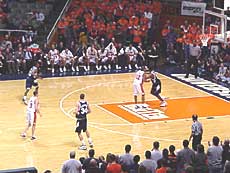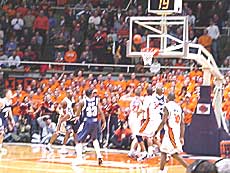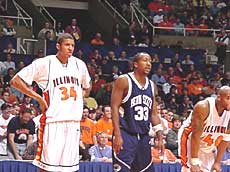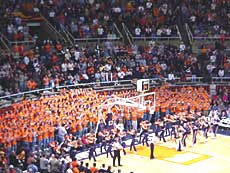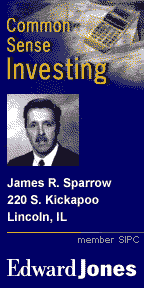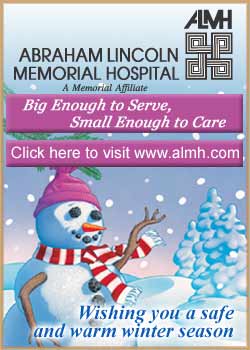 The game was played on the campus of Northwestern University in Evanston. The Wildcats are known for having the wildest fans in the conference, and they play in the smallest arena. Welsh-Ryan holds just under 8,200, but on this night Illinois appeared to have at least 50 percent of the fans in attendance. Theirs were the loudest cheers of the night on two occasions: first, when Cory Bradford nailed his only 3 of the night, to extend his consecutive game streak to 82 games; second, late in the game when Frank Williams did yet another Michael Jordan impersonation and drove to the hoop for a 3-point play, a move which sealed the victory for Illinois against their in-state conference rival.
Fellow sophomore Williams led Illinois in scoring with 16 points, recorded eight rebounds and handed out five assists. Williams, who returned to action after a one-game absence due to injury, paced the Illini on both ends of the court. Illinois dominated Northwestern on the boards, outrebounding them 42-18 for the game, and improved to an overall record of 14-4; 4-1 in the Big Ten.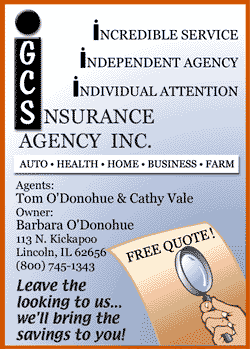 Coach Bill Self was not pleased with the effort at the conclusion of the game. "I thought we did OK in spurts, but overall, we did not play well," Self concluded in the post-game interview.
Self, who received his first technical foul as Illini coach on Saturday, also had a heated exchange with referee Randy Drury toward the end of the game after an apparent clean block by junior Robert Archibald.
Self went so far as to say, "I think the wrong team won tonight, Northwestern played much harder."
Illinois will have to play much better if they plan to beat teams like Michigan State (Feb. 6 game in Champaign), Purdue (Feb. 10 game at Purdue) and Wisconsin (Feb. 13 game in Champaign).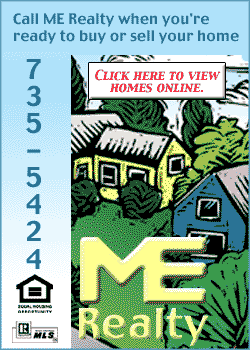 Cook seemed very happy in the post-game interview and had encouraging words for his former Lincoln Railer teammates: "Tell them to hang in there and play tough defense. One thing Lincoln basketball is known for is defense." Cook also felt future Illinois State Redbird Gregg Alexander would have no trouble adjusting to college ball and looked forward to a future Illinois vs. Illinois State basketball game as part of the soon-to-be-revived Illini Classic in years to come.
Assistant coach Bill Gillispie, when asked about the progress and personality of Cook, said, "Brian is a great kid, and he is doing awesome. He has a real chance to be one of the greatest to ever play for Illinois."
Cook, like any great player, shared criticism of his own game, stating, "I need to get more consistent; that is what I am striving for."
Illinois will return to action on Saturday against Penn State (game time is 2 p.m.) and is two games into a six-game stretch where they are considered a clear favorite in each game. A real possibility exists that Illinois will be 8-1 in the conference when preseason favorite Michigan State strolls into town on Feb. 6.
Illini game notes:
Senior center Marcus Griffin did not play because of a bruised tailbone but will return to action Saturday. Self stated that Griffin could have played if needed.
Sean Harrington continues to struggle, playing just nine scoreless minutes.
Illinois made 13 of 16 free throw attempts for 81 percent, a strong improvement from recent games, including a pitiful 7-17 showing against Iowa.
Northwestern enjoyed their first sellout of the season.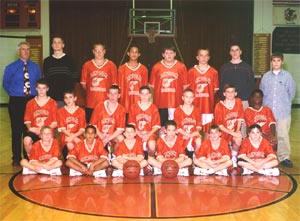 Q-So, Don, you actually started coaching in the middle '80s.
A-Yes. I started during the '86-'87 season.
Q-Tell us about win number 150.
A-It was last night [Tuesday] versus Argenta. We won 48-20. Chris Gossett led the way with 20 points and five rebounds. Nathaniel Hoffert had 10 points and five assists, and Joey Anderson had 10 points and seven rebounds. Jeremy Hamlin and Mitch Brewer also turned in outstanding efforts in the victory.
Q-What's your record, coach?
A-That makes us 11-5.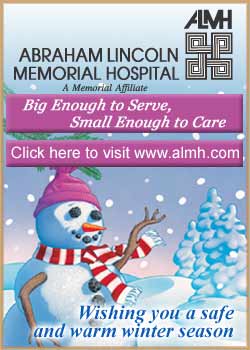 Q-You told me before the season began that you thought you guys would be pretty solid, and it sounds like you're right on track.
A-There's a couple of games, like always, that I thought we should have won, that we didn't. We end up over at Maroa tomorrow night [Wednesday], and I think we will fare well there. Our regional and sectional tournaments are definitely winnable.
Q-Where will they be played?
A-Green Valley.
Q-What's our seed?
A-We're the No. 2 seed. The No. 1 seed is Williamsville, but when you compare common opponents, we have a good chance to go deep in these playoffs. If we don't get any bad breaks, we ought to be all right!
Q-What's the farthest your team has gone in the past?
A-We've won three regional titles.
Q-So the win over Argenta brought you to what career record?
A-I am now 150-121. (Ed. note: That makes for a .554 winning percentage.)
Q-What would you say has been the highlight of your 14 years at the helm?
A-All the kids. I got to coach kids like Greg Mote, Brian Cook, Geoff Alexander, Paul Ross and, this year, guys like Chris Gossett and Nathaniel Hoffert, just to name a few. We've been lucky to have some good kids come through the program here.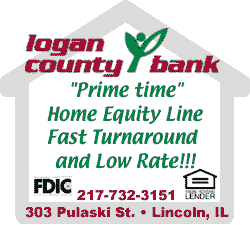 Q-And you seriously are thinking about hanging up your coaching sneakers after this season?
A-Yes. I'm about 99.9 percent sure that I won't be back next year. You find yourself coming home tired from work, practice and games. With my schedule we don't even get done at night until 7:30 or 8, and you just get home late. After doing it for 14 years, you begin to get tired. Probably time for somebody else to try it.
Q-It has been a long haul, but it sounds like you've enjoyed it.
A-You don't do it unless you enjoy it…well, you know that. It has definitely been fun.
Q-To what do you attribute your success?
A-I couldn't have done any of it without the loving support of my wife, Marla. Also, my daughter, Amy, is the Trojans' biggest fan…she's also my biggest fan. Our family celebrates the victories and we mourn the losses together.
Q-You've had some interesting assistants this year as well, haven't you?
A-Yes. My son, Ryan, and a friend, Brian Aussieker, helped me out this season. I've pretty much turned over talking to the kids to them. The kids really respond well to them. Instead of me yelling at them or telling them something, I have Ryan and Brian handle a lot of that for me. When tempers begin to flare up, I take the player out and have Ryan and Brian talk to them. They are both calmer than I am. They can talk on the players' level a little bit better than I can. They get them calmed down and ready to go back in. That's been a big help, and those two coaches have really worked hard.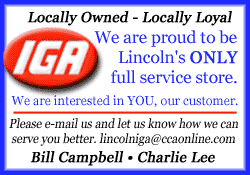 Q-Since you have been doing this for more than a decade, in your opinion, what is the state of junior high basketball?
A-I think it's a faster paced game now...you know, you used to walk it up the court and get into a half-court set. Now you run by trying to get into transition early. A lot of the set plays that we run, we get from the high school or from the colleges or from camp. Kids today have a better understanding of what you're trying to do. I think you need to be a lot more aggressive on defense, and I think most everybody is. It used to be that a lot of teams would sit back in a 2-3 zone, and rarely do you find that any more. I've never had a problem with the parents, and that really hasn't changed. I don't know that the kids have changed much either. At the junior high age it's all new to them, and they're still really interested and willing to listen. The administration has been great…I've gone through a couple of principals, and I've always had their backing. Right now Curt Nettles has been really supportive, and he's been great to work with. On this level the emphasis has been more on teaching…no one has ever come to me and said, you know, you've got to win, or anything like that. That's remained pretty consistent over the years too.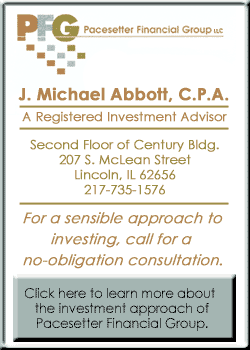 Q-What does the future look like for the Trojans?
A-I think we've got six sixth graders who will be coming on over next year. There should be plenty of opportunities for any of them who are willing to work hard over the summer and ready themselves for next season.
Q-Any final thoughts?
A-Over the 14 years I can't remember ever having a big-time problem with any parent or school official…so from that standpoint it has been good. It's been a lot of fun for me and an opportunity that I never thought I'd have.
Closing comments from Jeff
Unless you have ever coached, you can't possibly know the time commitment, the sacrifices and the stress that coaches endure. As a member of that fine fraternity, I can tell you that coaches earn their pay…BUT, if they don't get satisfaction out of teaching or from brightening the lives of their players, everyone loses. On behalf of the LDN, we salute Don Williams on win number 150 and on a stellar career for the Lincoln Junior High Trojans!
(If you would like the spotlight to shine on your favorite junior high sports program, call the LDN with info on how to get ahold of your coach, as it is our desire to cover EVERY school that our loyal readers care about!)