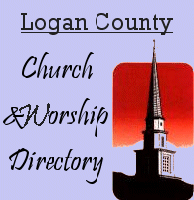 Lincoln Christian Church
204 N. McLean
217-732-7618
Preaching Minister:
Tom Gerdts
Worship:
8:30AM & 11:00AM
Trinity Episcopal Church
402 Pekin St., Lincoln
217-732-7609
Pastor: James Cravens
Worship:
7:30 & 9:45AM Sunday
9:00AM Tuesday-Friday

Full Gospel Evangelistic Center
426 N. Monroe St.
217-735-3148
Senior pastor: O.S. Owens
Associate pastor:
Steve Owens
Worship:
11AM & 6PM Sunday
Sunday School:
10AM Sunday
Bible study:
7PM Wednesday
Solid Rock youth group:
7:30PM Wednesday
(in Fellowship Center)
website: http://www.FullGospelRevival.org
Immanuel Lutheran Church ELCA
1409 Pulaski St., Lincoln
217-732-6777
Pastor Joe Bleakley
Worship:
9:00AM Sunday

Zion Lutheran Church
Lutheran Church-Missouri Synod
205 Pulaski St., Lincoln
217-732-3946
Pastor Mark Carnahan
Pastor Kirk Cunningham
Worship:
8:00 & 10:30AM Sunday
7:00PM Wednesday
Radio, WLLM-AM 1370:
8AM Sunday
TV, Cable Channel 15:
10:00AM Sunday
5:00PM Monday
First United Methodist Church
302 Broadway St., Lincoln
217-732-2204
Pastor: Larry Maffett
Worship:
Sept-May: 8:30 & 10AM
June-Aug: 9:00AM
website: www.gbgm-umc.org/
lincoln1stumc/index.html
United Pentecostal Church
1422 Pekin St., Lincoln
217-732-4662
Pastor: David Mitchell
Worship:
10:45AM & 6PM Sunday
Sunday School:
10AM
Bible Study:
7PM Wednesday
To inquire about listing your congregation's worship information, please e-mail us at ldn@lincolndailynews.com or call us at 217-732-7443.
---
Ceremony celebrates Lincoln years of the
Niebuhr family of theologians and teachers
[JUNE 26, 2001] A family of prominent Christian thinkers and teachers were the honorees at the Saturday dedication of a historical marker at St. John United Church of Christ in Lincoln. Two members of the Niebuhr family were present to hear their predecessors lauded.
The Rev. Gustav Niebuhr moved to Lincoln in 1902 as pastor of St. John's Evangelical Church and administrator of Deaconess Hospital. One of his sons, Reinhold, became internationally known as a compelling speaker, Christian realist, political activist and author of the Serenity Prayer. Reinhold Niebuhr taught at Union Theological Seminary in New York for 32 years. His brother H. Richard Niebuhr, a noted theologian and ethicist, taught at Eden Seminary, was president of Elmhurst College and taught at Yale Divinity School for 31 years. Their sister, Hulda Niebuhr, who specialized in Christian education, taught at New York University and McCormick Seminary in Chicago. And H. Richard's son, Richard R. Niebuhr, retired in 1999 after 44 years on the faculty of Harvard Divinity School.
Lord, grant me the serenity
To accept the things I cannot change,
Courage to change the things I can,
And the wisdom to know the difference.
Living one day at a time;
Enjoying one moment at a time;
Accepting hardship as the
pathway to peace.
Taking, as he did, this sinful world as it is,
Not as I would have it.
Trusting that He will make all things right
If I surrender to his will;
That I may be reasonably happy
in this life, and supremely happy
with Him forever in the next. Amen.
— Reinhold Niebuhr
"Imagine the conversations that must have been held around Gustav and Lydia Niebuhr's Sunday supper table," the Rev. Laurie Tockey, chaplain of Lincoln Correctional Center, suggested to the audience of about 150 people. "If only all of our children could be nourished at such a table." Tockey performed the official unveiling of the marker, which was subsequently placed on the Maple Street side of the church.
Hulda, Reinhold, H. Richard and their brother, Walter Niebuhr, were confirmed at the local church. Reinhold Niebuhr was also ordained and served an interim pastorate there.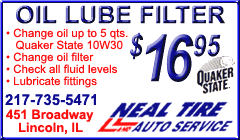 Gustav Niebuhr of Princeton, N.J., New York Times national correspondent in the field of religion, spoke of the moment his namesake and great-grandfather heard a sermon and felt called to the ministry, although he had previously not been a particularly religious person. With his call not only was the patriarch's life transformed but the lives of his future family as well. "It's an example of the power of the word," Niebuhr said. "What happened through this family really impacted the world."
Niebuhr is the grandson of H. Richard and the son of Richard R. Niebuhr. Also present for the dedication was Toby Sifton of New York, grandson of Reinhold Niebuhr through his daughter Elisabeth.
Master of ceremonies for the dedication ceremony was Margaret Peifer, chair of the Friends of the Niebuhrs committee which raised funds for the marker, wrote the original text and planned the celebration. The Illinois State Historical Society and St. John United Church of Christ were co-sponsors.
Lynn Spellman, researcher for the committee, recounted the history of the Niebuhrs in Lincoln. Chaplain Henry Johnson of Logan Correctional Center recalled the actions of the committee, including prior placement of another historical marker. That marker, at Central School, commemorates the first poem written by Langston Hughes.
Congratulatory messages were delivered by Lincoln Mayor Beth Davis, Lincoln Elementary District 27 Superintendent Robert Kidd, Abraham Lincoln Tourism Bureau Director Thressia Usherwood and Illinois State Historical Society Executive Director Tom Teague. The Rev. James Cravens of Trinity Episcopal Church and the Rev. Richard Reinwald of St. John United Church of Christ, the host church, offered prayers.
Rounding out the program were two solos by Joye Anderson, assistant store manager at Lincoln Christian College, recitation of the Serenity Prayer by students of Central School teacher Joe Hackett and presentation of the colors by Boy Scout Troop 6, whose first Scoutmaster was Walter Niebuhr.
Niebuhr memorabilia on display included blueprinted notecards and a Scrabble set once owned by Sister Adele Hosto, Lydia Niebuhr's sister who was consecrated a deaconess at the local church and worked for many years at Deaconess Hospital, later Abraham Lincoln Memorial Hospital. Books and articles by Gustav Niebuhr, his four children and grandson, and Adele Hosto revealed the prodigious literary efforts of the family.
A caravan to Old Union Cemetery, where Gustav, Lydia and Hulda Niebuhr and Sister Adele Hosto are buried, completed the occasion.
---
Local couple witness dedication
of Bahá'í World Centre
[JUNE 23, 2001] By means of a satellite feed at the Springfield Bahá'í Centre, Ann and David LaForge of Lincoln viewed the May 22 dedication of the 19 terraces leading up Mount Carmel to the Shrine of the Báb at Haifi Israel. This is the Bahá'í World Centre. Mount Carmel is also held sacred by Jews, Christians and Muslims.
The Bahá'í faith encompasses all the nine revealed religions of the world. Beliefs include unity, oneness of mankind, equality of the sexes, investigation of truth, and that science and religion must go hand in hand.
Mount Carmel is located in the most turbulent area of the world and is dedicated to peace and the unification of all mankind.
[David LaForge]