Lincoln Daily News.com
601 Keokuk St.
Lincoln, IL 62656

TEL: (217) 732-7443
FAX: (217) 732-9630
Lincoln Daily News publishes daily news about the Lincoln/Logan County area on the Internet at www.lincolndailynews.com. (We are not a print publication.) All subscriptions are free!
Our mission:
The mission of Lincoln Daily News is to tell the stories of Logan County in a contemporaneous manner, with lively writing and a predilection for simple truth fairly told. Lincoln Daily News seeks a relationship with the good people of Logan County that is honest, neighborly and never patronizing. Lincoln Daily News presents news within a full context that contributes to understanding. Lincoln Daily News is more interested in the marketplace of ideas than the competition of personalities. Without shrinking from the bold delivery of unvarnished fact, Lincoln Daily News operates from the premise that God's creatures deserve the presumption of right motive. Lincoln Daily News eschews malice and cynicism; it approaches every person with dignity and every subject with equanimity. In short, Lincoln Daily News informs, stimulates and entertains.
Content:
The articles published in Lincoln Daily News are the result of research and interviews. Any opinions expressed are those of the writers.
Corrections:
Please contact us by phone, fax, mail or e-mail with any information about mistakes, typos or erroneous information. If the error is in an item which is still in the paper, we will correct it online immediately. All corrections will be shown on the "Corrections" page.
Our services:
Lincoln Daily News provides daily news, sports, features and commentary on Lincoln, Logan County and the surrounding area.
To promote local businesses, we offer display advertisements at very reasonable rates, and links to business websites. Call (217) 732-7443 or e-mail ads@lincolndailynews.com.
"Happy ads" are a special feature to enable our readers to celebrate birthdays, graduations, anniversaries and other good news. Call us for details.
For employment information, contact Lincoln Daily News at their offices.


Our staff:
In the office
Managing editor: Jan Youngquist
ldneditor@lincolndailynews.com
Administrative assistant, writer: Jean Ann Carnley
Copy editor, writer: Mary Krallmann
Technology assistant: Don Buckner
Advertising sales and promotion staff
Marty Ahrends : mjldn@lincolndailynews.com
Mike Fak : mfldn@lincolndailynews.com
Nicki Green: ngldn@lincolndailynews.com
---
'Safe Stops' help children in emergencies
4-17-01
Dear Editor:
The Healthy Families Task Force would like to thank the people of Lincoln for their support of the "Safe Stop" program. A "Safe Stop" is a home or business where a young person may receive emergency assistance when a family member is not available. A "Safe Stop" emblem is posted in a window or door where it can easily be seen. The Lincoln Police Department screens all applicants as well as provides the educational connection in the schools.
We currently have 15 "Safe Stops" located in our community. Abraham Lincoln Memorial Hospital, CEFCU, Jenkins Insurance, Lincoln Christian Church, MKS Jewelers, Abe's Carmelcorn Shoppe and West Lincoln-Broadwell School are our non-residential "Stops." The rest are located in residential homes throughout Lincoln. We would like to request that parents look for the red stop sign emblems in areas where their children walk, ride bikes or play. Discuss the locations of these "Stops" in your area and when they should be used.
It is because of the volunteers and organizations who devote their time, effort and dollars that Lincoln is a community many choose as their home. It takes many committed people to run the agencies and organizations that make Lincoln special. One person can make a difference. We are still in need of more places to help. Become a "Safe Stop!" Applications are available at the front desk at Heartland Community College or by contacting Rich Montcalm at the Lincoln Police Department.
Louella Moreland
"Safe Stop" Chair
Healthy Families Task Force
Healthy Community Partnership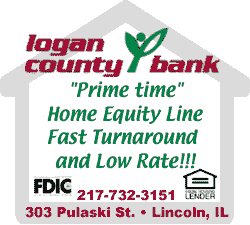 ---
Mount Pulaski mayor favors district representation
4-14-01
To the editor:
Mount Pulaski had 53 percent voter turnout in the April 3 election. All four precincts passed the advisory referendum on the county board being elected by districts by a large margin. (622 "Yes" to 84 "No").
Currently the Mount Pulaski, Chestnut and Latham areas are not represented on the county board, and we have not been for some time. Changing the process of electing board members to districts would ensure all areas of the county would have a representative in the future.
My reasons for districts are:
1. Board members more in touch with constituents.
2. Running for election would be easier for potential candidates, as you would campaign in a smaller area.
3. Qualified people in the outlying areas of the county would not be discouraged from running because of overwhelming number of Lincoln area candidates.
4. Less than 5 percent of all other counties in Illinois are elected at large.
5. And most important, all 44 precincts in the county passed this advisory referendum with a "Yes" vote — 3-to-1 overall.
If you take an interest in local government, please contact the county board members and let them know how you feel. Also, attend the Logan County Board meeting at the courthouse on Tuesday, April 17, at 7 p.m. and watch the board make their decision on this important issue.
Sincerely,
William C. Glaze
Mayor of Mount Pulaski
---
Please send your letters by e-mail to ldneditor@lincolndailynews.com or by U.S. postal mail to:
Letters to the Editor
Lincoln Daily News
601 Keokuk St.
Lincoln, IL 62656
Letters must include the writer's name, telephone number, mailing address and/or e-mail address (we will not publish address or phone number information). Lincoln Daily News reserves the right to edit letters to reduce their size or to correct obvious errors. Lincoln Daily News reserves the right to reject any letter for any reason. Lincoln Daily News will publish as many acceptable letters as space allows.