Clarence D. Dunham, 79, of Sebastian, Fla., a former Lincoln resident, died at 7:35 a.m. Friday, May 18, 2001, at Indian River Memorial Hospital in Vero Beach, Fla.
Dunham will be cremated. A memorial service will be at a later date at Fricke-Calvert-Schrader Funeral Home in Lincoln.
Dunham retired in 1983 as a supervisor for Eaton Corp., a division of Cutler-Hammer.
He was a U.S. Navy veteran of World War II.
He was born June 26, 1921, in Springfield to Albert and Grace (Hudspeth) Dunham. He married Judith A. Moore in Springfield on June 6, 1971.
Surviving Dunham are his wife, of Sebastian, Fla.; one son, Ronald E. Frakes Jr. of Lincoln; one daughter, Sheila R. Roberts of Fort Meade, Fla.; five grandchildren and three stepgrandchildren; and two sisters, Alberta Altig of Latham and Beulah Atwood of Petersburg.
He was preceded in death by one daughter, Julie Marie; four brothers; and three sisters.
He was a member of American Legion Post 263 in Lincoln. He was also a member of Moose Lodge 1822, Vero Beach Veterans Inc. and a life member of Veterans of Foreign Wars 10210, all of Vero Beach, Fla.
Memorials may be made to American Legion Post 263 in Lincoln, American Cancer Society, American Heart Association or the Cerebral Palsy Association.
Click here to send a note of condolence to the family of Clarence Dunham.
---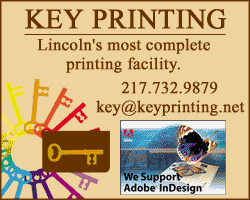 Lelvyn Evelyn Quisenberry, 94, of Lincoln died at 12:15 p.m. Friday, May 18, 2001, at St. Clara's Manor.
There will be no funeral services for Mrs. Quisenberry.
She was a retired grade school teacher.
She was born Sept. 24, 1906, at White Heath, to Clarence and Lulu (Fritchley) Leathers. She married Austin Bradley in Decatur. He preceded her in death. Her second marriage was to Wayne Quisenberry, who also has died.
Two brothers, Donald and Verlin "Babe" Leathers, and one sister, Elsie Thorpe, also preceded her in death.
Mrs. Quisenberry was a member of Fedelis Alpha sorority.
---