The chamber is accepting entries from businesses, industry, governmental agencies, schools, civic and not-for-profit groups, and religious, youth and charitable organizations. There is no charge to enter, and cash prizes will be awarded.
The evening parade features marching bands, lighted floats and vehicles, and military marching units. Groups are encouraged to use motorized vehicles in an attempt to reduce the number of walking entries. "We're also looking for a business or a group to sponsor the Santa Claus float," says chamber director Bobbi Abbott. "The parade's final entry is the Santa float, and it needs to be impressive!"
Interested participants may call the chamber of commerce at 735-2385 or e-mail chamber@lincolnillinois.com for an entry form or further information.
The public is invited to attend the free seminar from 7 to 8 p.m. on Wednesday, Oct. 17, or from 10 to 11 a.m. on Saturday, Oct. 20, at Heartland Community College, 620 Broadway St. in Lincoln.
At the seminar, financial consultant Bridget Schneider will discuss the importance of careful investigating, investment opportunities, avoiding high-risk investments and being sure you are not losing too much money to taxes or "old-fashioned" life insurance policies.
Reservations are required and will be made on a first-come, first-served basis. Please contact A.G. Edwards at (217) 732-3877.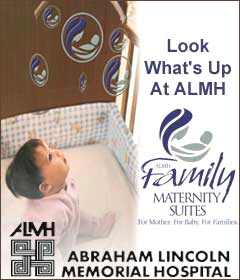 OJT highlights
• Assists employers with training costs
• May last up to six months, depending on skills required to master training
• Minimum paperwork (monthly invoice)
• Full-time, permanent work opportunity required
• Minimum wage of $7 required for reimbursement
• Employers may refer candidates
• IETC will assist with candidate recruitment if desired by employer
• Candidates must meet qualifications for assistance
• IETC will determine candidate eligibility
If you are interested in learning more about the On The Job Training Program, please contact Jan Gleason or Rod Lewis at (217) 735-5441. The local Illinois Employment & Training Center is at 120 S. McLean, Suite B, in Lincoln.
Monday, Oct. 1 — Economic Development Council meeting, chamber conference room, 5 p.m.
Tuesday, Oct. 2 — Chamber board of directors meeting (note new date), 11:45 a.m.
Wednesday, Oct. 3, through Friday, Oct. 5 — IACCE fall conference
Thursday, Oct. 4 — Domestic abuse candlelight walk, Logan County Courthouse, 6:30 p.m.
Friday, Oct. 5 — Chamber ambassadors meeting, chamber conference room, noon
Friday, Oct. 5 — LCHS homecoming parade, 2:30 p.m.
Tuesday, Oct. 9 — Marketing Committee meeting at Grapes & Grounds, 8:30 a.m.
Thursday, Oct. 11 — Government/Education Committee meeting at Al's Main Event, 7:30 a.m.
Friday, Oct. 12 — Columbus Day (chamber office open)
Wednesday, Oct. 17 — Third Wednesday morning mixer, Al's Main Event, 7:30 a.m.
Friday, Oct. 19 — Membership and Mixer Committee meeting at The Depot, 4 p.m.
Saturday, Oct. 20 — German Fest at St. John United Church; 1850s open house at Mount Pulaski Courthouse
Tuesday, Oct. 23 — Abraham Lincoln Tourism board meeting, 5 p.m.
Thursday, Oct. 25 — Chamber Executive Committee meeting at Blue Dog Inn, noon
Saturday, Oct. 27 — Harvest of Talents at Lincoln Christian Church
Tuesday, Oct. 30 — Chamber Ag Committee meeting at Al's Main Event, 7:30 a.m.
The Chamber of Commerce is a catalyst for community progress, bringing business and professional people together to work for the common good of Lincoln and Logan County.
Bobbi Abbott, Executive Director
Lincoln/Logan County Chamber of Commerce
303 S. Kickapoo St.
Lincoln, IL 62656
(217) 735-2385
chamber@lincolnillinois.com
www.lincolnillinois.com
The Gold Medallion program addresses consumer demands by identifying studios that meet their expectations for personal service, knowledgeable beauty advisers and pleasing atmosphere. These award-winning studios set the standard for service quality among the 2,300 independently owned retail outlets nationwide.
"Our Gold Medallion program distinguishes studios that meet the highest standards of excellence Merle Norman represents," said Art Armstrong, president of Merle Norman Cosmetics. "We're delighted to present the Gold Medallion Award to the Lincoln, Ill., studio, which offers unsurpassed personal service."
Merle Norman herself was a pioneer in understanding the importance of customer service. Her long-standing policies of "Try Before You Buy" and "Free Makeovers" were the cornerstones upon which she built a cosmetic empire from an auspicious start making cosmetics on the kitchen stove in her Ocean Park, Calif., home.
"As the owner and proud recipient of the award, I'm honored to be recognized as a Gold Medallion studio," says Julie Tarter. "Being customer-oriented is the best way to compete in business, and I'm excited that Merle Norman Cosmetics recognizes my studio as one that meets the expectations of my customers."
Julie has owned the Lincoln store for five years and is planning an anniversary and Gold Medallion celebration for October.
[News release]