Although they visited Lincoln only once as girls, Kate Maxwell and her sister, Brookie, were well aware of the importance the house at 184 Ninth St. held in their father's memories. This was the family home when his mother died during the Spanish influenza epidemic of 1918. Maxwell was only 10, and for him "The worst that could happen had happened, and the shine went out of everything" ("So Long, See You Tomorrow").
Blinn Maxwell, the author's younger brother, and his wife, Inez, both of Oxnard, Calif., also attended the dedication. Blinn Maxwell was two days old when his mother died, and he lived in the house on Ninth Street for only two weeks. After that he was raised by his aunt and uncle Maybel and Fred Coffman at 331 N. Union St. Blinn Maxwell spoke of his brother's love for Lincoln and for the people here.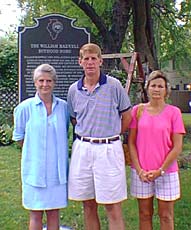 [Photos by Lynn Spellman]
[Annette, Bill and Lauri Bates]
Family members present from Lincoln included Annette Bates, Bill and Lauri Bates, and Ted and Marlene Perry. Annette Bates is the namesake of her paternal grandmother, William Maxwell's aunt.
Emcee for Saturday's dedication ceremony was David Welch of Lincoln, who researched and wrote the wording of the plaque and conducted the fund-raising drive. Erecting this marker to Maxwell is appropriate, he said, because the author put Lincoln on the literary map and because of his lifelong affection for this house. Welch quoted from a letter Maxwell wrote him in early 2000. At 91 the writer could still say, "At night in my thoughts I often walk through the house."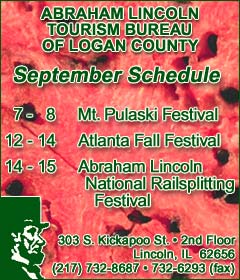 Barbara Burkhardt, Maxwell scholar on the faculty of University of Illinois-Springfield, noted that in his works the home often becomes the outward expression of inner relationships. The house on Ninth Street was the first of several houses Maxwell endowed with meaning. The town of Lincoln assumed symbolic significance as well. "He molds Lincoln into a distinct, beloved place of America's literary landscape," Burkhardt said. She recalled the many rapt listeners as Maxwell read from his works on the day he received the PEN/Malamud Award at the Folger Shakespeare Library in Washington, D.C.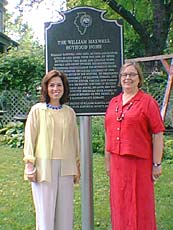 [Barbara Burkhardt and Barbara Jones]
Rounding out the speakers was Tom Teague, executive director of the Illinois State Historical Society, which approved the text and arranged for casting the marker. Teague noted that his organization is private and that historical markers in Illinois are privately funded. Welch said about 40 people contributed.
In 1997 Maxwell donated his papers to the library of the University of Illinois in Urbana/Champaign. Barbara Jones, U of I rare-book librarian, and Gene Rinkel, curator of special collections, attended the ceremony. Rinkel said boxes of letters and manuscripts continue to arrive as Kate and Brookie Maxwell, both of New York, sort through their father's effects.
Welch presented an advance reader's copy of Maxwell's "All the Days and Nights" to Tim and Tami Kennett, owners of 184 Ninth St., in appreciation for their cooperation. The celebration ended with a luncheon at The Restaurant at the Depot.
Ameren is seeking regulatory approval for its agreement to purchase Peoria-based Cilcorp and its subsidiary, CILCO.
"Now is the time to begin developing a strong relationship with CILCO customers," said Gary L. Rainwater, president and CEO of Ameren. "Throughout our 100-year history, we have prided ourselves on our commitment to our customers and the communities we serve. Power Player is one example of that commitment."
For more information or a grant application, visit http://powerplay.ameren.com or call Ameren toll-free at (877) 426-3736, Ext. 46441.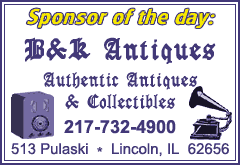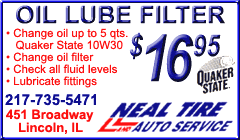 Grants will be awarded on a first-come, first-served basis. Applications must be postmarked no later than Oct 31. Grant requirements include the following:
• Players must be 14 years of age or younger.
• Teams may not be sponsored by a school.
• Teams must be based within the CILCO service territory.
• The submitter must be at least 21 years old.
• An endorsement letter from an official of each team's league must accompany each application.
• Teams receiving the grants are required to affix the embroidered Ameren Power Player patch on the players' uniforms.
[Dayle Eldredge]