Mostaccioli, spaghetti olio e aglio, spaghetti Feb. 15
Lincoln Church of God, 1415 Fourth St., has special events planned for the next two Friday evenings.
• The first, Italian Fest, is on Feb. 15, beginning at 5:30 p.m. The menu includes salad, rolls, baked mostaccioli, spaghetti olio e aglio, spaghetti, dessert and drink. Carryouts will be available.
The cost is $5 for adults and $2 for children 10 and younger. All funds will help the church youth attend summer camp. Please call 732-8989 for advance tickets or see a church member to purchase before Feb. 13.
• On Friday, Feb. 22, the church will host their Teen Taco Bash, with free food, fun, games, activities and prizes. All teens are welcome. Please call the church, 732-8989, if you plan to attend.
---
YMCA art program reaches out to youth
The YMCA Art Outreach program is designed to reach youth of junior and senior high ages, giving them a positive outlet to express themselves and to keep them off the streets during the hours when they seem to get into the most trouble — after school.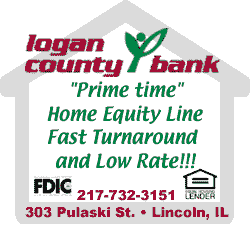 The YMCA accepts referrals from schools, churches and the court system for any at-risk youth that might benefit from the organization's programs. The Y sets up contracts with area youth, addressing where they are having problems. The youth must maintain the contracts in order to continue in the program at no charge.
Five AmeriCorps volunteers who are experienced in several areas of the arts have helped with the program this year and have been great assets.
Regular classes have been offered since last September. The program began with a six-week mosaic tile class. At first the class met in Mrs. Sisk's art room at Lincoln Junior High School, which was convenient for the junior high youth to attend right after school, but it wasn't long before the program outgrew the art room.
The group needed a place for classes and space for studio work — a place to call their own. The YMCA found that place at the old Odd Fellows Gym. At first the group used the girls' dressing room upstairs at the entrance of the gym. The walls were lined with shelves to the ceiling in order to hold art supplies that have been bought, donated and pulled out of the trash. (Yes, trash beside the road or in a dumpster is picked up if it might have potential for being turned into artwork.) So the class outgrew the new space rapidly and soon started occupying the boys' dressing room.
Now the program has one room for storage of all the supplies and a small work area, potentially to house a small printmaking press for etching and a mat cutter. The youth will be taught how to mat and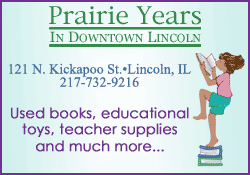 frame their own artwork. The other room is used as a working studio.
Since September, the art program has offered five other classes: cartoon animation, painting, mixed media, papermaking and photography. Prospective spring classes are on ceramics and printmaking.
A photography class is on hold until a program sponsor and a darkroom can be found so that the class can move on to the next level. The YMCA would be grateful to anyone who has any old 35 mm SLR cameras, tripods, filters or lenses to donate to the program.
The program is always looking for any useful donations — the possibilities are endless. Even though you think it might be trash, you might want to think again and call Shanda at the YMCA, 735-3915. It just might be a treasure to the art program.
And if you see a woman in a blue van pulling things out of the trash, just remember it is for a good cause.
[Provided by the YMCA]
---
Havana has plans in the works for their first Civil War ball, on Saturday, Feb. 16. Everyone is welcome to come and experience the music and dancing from the 1860s. The event will be at the old gym, located at the corner of Pearl and Market streets.
The Prairie Aires, a group that plays traditional music, will provide the music for the evening.
Doors will open at 7:30, and dancing will continue for two hours.
There will be a small fee. Light refreshments will be served.
Come as you are. Period dress is optional.
[Bonnie Knieriem]
---
From Mike Geriets
An informational meeting on Feb. 7 at the Lincoln Park District was set up to explore the possibilities of having a remote control race league. This is how it came about...
I received a remote control truck for Christmas and was totally surprised to see how many kids and adults in this community have remote control vehicles. Not only that, but it was one of the hot Christmas items bought this past year. I know I have really enjoyed toying around with mine. I then bought my fianceé one as well. It seems a lot of my friends have them, and some have been tucked away in storage for many years. I have seen them get out the old dusty boxes, charge their batteries and get back to the sport.
What surprised me is that there is no structure to racing with friends, and it ends up being a free-for-all wherever you are racing. I then started seeing and hearing about actual competitive racing all over the nation. I did find out that the closest racetrack to Lincoln is in Jacksonville, Ill. With that in mind I approached friends of mine, Marcia Greenslate, director of the Lincoln Park District, and Roy Logan, program director. I expressed interest in possibly starting a league. Roy stated that Steve Klemm of Picture This Photography is also a fan of R/C vehicles and bought one for himself and his son. Steve, Roy and I met and scheduled the public interest meeting.
Remote control racing would help get youth involved in some type of a structured activity. It is a good way of promoting something positive in this community, along with having something that could be great for the entire family. It doesn't take a lot of money. You can purchase vehicles for less than $50 and still have fun This is a great way to teach our youth and adults some fundamentals of racing while having structure, along with providing a certain level of competition as well.
If there is a strong show of support, the Lincoln Park District may assist in forming a league and provide a track for racing as well.
[Submitted by Mike Geriets]
---
YMCA has Fun Days when school is out
"School's Out Fun Days," offered by the local YMCA, are just the right answer for both parents and their children ages kindergarten through sixth grade. Parents can preregister their children to attend these special days and go to work knowing that the children will be kept busy and safe on days when school is not in session.
Kids especially enjoy their day off from school, as they have lots of opportunity to socialize and play games with their school friends. Youngsters will also enjoy the benefits of a variety of planned special activities and lessons at each Fun Day. Some of the special activities are singing fun songs, enjoying story time, experiencing science lessons, art activities and lots of fun large-motor play. Various guest speakers visit from time to time to share healthy nutrition programs and other interesting information with the children.
All of the School's Out Fun Days are at the YMCA activity center, 721 Wyatt Ave.
Here are the Fun Day themes for the rest of the school year (along with the elementary districts where school is out on those days):
Tuesday, Feb. 12 — "Valentines Galore" (Chester-East Lincoln, West Lincoln-Broadwell)
Monday, Feb. 18 — "American Presidents" (District 27)
Monday, March 4 — "Creatures That Crawl" (C-EL, WL-B)
Friday, March 15 — "Creatures That Climb" (WL-B)
Monday, March 25 — "Creatures That Fly" (District 27)
Tuesday, March 26 — "Colors of Spring" (District 27)
Wednesday, March 27 — "Geometric Shapes" (District 27, C-EL, WL-B)
Thursday, March 28 — "Crazy About Fractions" (District 27, C-EL, WL-B)
Friday, March 29 — "Easter Fun" (District 27, C-EL, WL-B)
Monday, April 1 — "April Fool's Fun" (C-EL, WL-B)
Friday, April 12 — "Flower Power" (District 27)
Wednesday, May 29 — "Sports Fun" (C-EL)
Thursday, May 30 — "Community Helpers" (District 27, C-EL, WL-B)
Friday, May 31 — "Summertime Fun" (District 27, C-EL, WL-B)
---
On Jan. 30 the Lincoln Rotary club made its biggest stride in membership history by inducting 10 new members. The ceremony was handled by longtime Rotarian Bob Albert. Sponsors of the new Rotarians were also recognized for their efforts.
President Marty Ahrends has made a commitment to Rotary International to increase the size of the Lincoln club by 24 members during her year in office. She has challenged all members to bring one new member into the club before April 1.
The Lincoln Rotary club meets at noon on Wednesday at the Lincoln Depot Restaurant.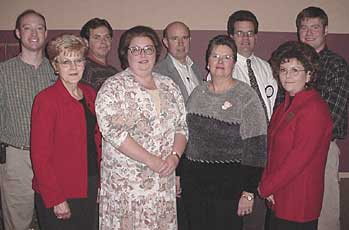 [New Rotarians, from left to right: Jim Coop, Mary Bruns, Jim Ash, Cynthia Kelly, Guy Burke, Dayle Eldredge, Frank Adubato, Georgina Tisdale and Darren Humphries. Also inducted into membership was Bill Gossett.]
---
Logan County Pinewood Derby results
Well over 200 kids participated in the first Logan County Pinewood Derby for area Cub Scouts. All went very well.
Countywide champions were Corey Janssen from Pack 107 in first place, Jordan Cooper from Pack 122 in second place and Ethan T. Graue of Pack 101 placing third.
The derby was set up with triple elimination at the den and pack level. Each den had first, second and third places. Each pack also had first, second and third, with their first- and second-place winners going on to the finals.
The racing began at noon and lasted until 7 p.m.
Placings in each pack:
Pack 99
1. Cameron Harnacke, 2. John White,
3. Mat Merreighn

Pack 101
1. Ethan T. Graue, 2. Evan Aughenbaugh,
3. Ben Beavers

Pack 107
1. Corey Janssen, 2. Kyle Shanle,
3. Rigoberto Ernst

Pack 111
1. Jarrod Grover. 2. Billy Grover, 3. Jamie White

Pack 112
1. Zach Everson, 2. Buck Rifner, 3. Jeff Owen

Pack 118
1. Kyle Jones, 2. Carey Jones, 3. Adam Burge

Pack 122
1. Austin Curry, 2. Jordan Cooper,
3. Donald Klumpp

Overall champions
1. Corey Janssen, Pack 107;
2. Jordan Cooper, Pack 122;
3. Ethan T. Graue, Pack 101
The Logan County Cub Scouts plan to do it again next year, with Mount Pulaski possibly being the next hosts.
[Provided by Chris Graue, Pack 101]
---
March 19 general primary election notice to the elderly and people with disabilities
Citizens who are not registered to vote and cannot leave their home, hospital, nursing home or other institution because of a permanent physical disability can arrange for voter registration by contacting a deputy registrar or the county clerk's office.
Voter registration will close on Feb. 19 for the March 19 general primary election.
If you are physically able, you may register to vote by going to the county clerk's office, Room 20 in the Logan County Courthouse, 601 Broadway in Lincoln. Hours are 8:30 a.m. to 4:30 p.m. Monday through Friday. You will need to show two forms of identification, one with your current address on it.
For people with physical disabilities and the elderly, election judges will be available at the polling place on election day to assist voters when a friend or relative is unable to help. Handicapped-voter booths will be available for your convenience. Physically impaired or elderly persons may be eligible to vote absentee. Please contact the Logan County clerk's office for information.
For any information concerning voter registration or voting for the elderly or disabled, please call the Logan County clerk's office at (217) 732-4148.
[Sally J. Litterly, Logan County clerk]
---
Are you registered to vote?
The March 19 primary is rapidly approaching. The close of registration is Feb. 19. If you have moved, or if you have married and changed your name, it is necessary that you change your voter registration with our office in order to cast your vote in the election.
If you have questions about your voting eligibility, please contact our office at (217) 732-4148.
{Sally J. Litterly, Logan County Clerk]