Lincoln Daily News.com
601 Keokuk St.
Lincoln, IL 62656

TEL: (217) 732-7443
FAX: (217) 732-9630
Lincoln Daily News publishes daily news about the Lincoln/Logan County area on the Internet at www.lincolndailynews.com. (We are not a print publication.) All subscriptions are free!
Our mission:
The mission of Lincoln Daily News is to tell the stories of Logan County in a contemporaneous manner, with lively writing and a predilection for simple truth fairly told. Lincoln Daily News seeks a relationship with the good people of Logan County that is honest, neighborly and never patronizing. Lincoln Daily News presents news within a full context that contributes to understanding. Lincoln Daily News is more interested in the marketplace of ideas than the competition of personalities. Without shrinking from the bold delivery of unvarnished fact, Lincoln Daily News operates from the premise that God's creatures deserve the presumption of right motive. Lincoln Daily News eschews malice and cynicism; it approaches every person with dignity and every subject with equanimity. In short, Lincoln Daily News informs, stimulates and entertains.
Content:
The articles published in Lincoln Daily News are the result of research, interviews and news releases submitted. Any opinions expressed are those of the writers.
Corrections:
Please contact us by phone, fax, mail or e-mail with any information about mistakes, typos or erroneous information. If the error is in an item which is still in the paper, we will correct it online immediately.
Our services:
Lincoln Daily News provides daily news, sports, features and commentary on Lincoln, Logan County and the surrounding area.
To promote local businesses, we offer display advertisements at very reasonable rates, and links to business websites. Call (217) 732-7443 or e-mail ads@lincolndailynews.com.
"Happy ads" are a special feature to enable our readers to celebrate birthdays, graduations, anniversaries and other good news. Call us for details.
For employment information, contact Lincoln Daily News at their offices.


Our staff:
In the office
Managing editor: Jan Youngquist
ldneditor@lincolndailynews.com
Office assistant during vacations:
Technician, writer: Gina Sennett
Technician: Don Buckner donbldn@lincolndailynews.com
Copy editor: Mary Krallmann
Advertising sales and promotion staff
Lucky Eichner: ldn@lincolndailynews.com
Mike Fak: mfldn@lincolndailynews.com
---
2-2-02
To the editor:
On 1-31-02, both The Courier (Lincoln) and The State Journal-Register (Springfield) printed a story by Adriana Colindres. Part of this article addresses the problem of reporters using objective data — a rarity in this continuing issue. Colindres reported data comparing the average reported incidents of reported abuse at nine state-operated facilities for the developmentally disabled between 1992 and 2000. She must be commended for including this information in her story.
The data essentially shows LDC's rate per year (0.89) fifth out of the nine centers. The rate at Kiley Developmental Center (4.00) in Waukegan was more than four times higher. The rate at Howe Developmental Center (1.60) in Tinley Park was nearly two times higher. One has to ask why the governor is not investigating these facilities and threatening them with closure with the same zeal? Why also are people from these facilities monitoring the safety of LDC?
The real weakness in this article is that it goes from citing objective data to reporting the seven-year-old subjective memory of former Inspector General C.J. Newbanks. Why was it necessary to contact her in Virginia to get quotes that are not based on anything but one individual's personal opinion — which is speculative and biased at best? Why not interview the current inspector general?
Newbanks discusses the supposed "code of silence." Did she say a "code of silence" existed at Ludeman Developmental Center (Park Forest) or at Mabley Developmental Center (Dixon), which had the lowest two reports of abuse during the same time frame? Exactly what was the reporter trying to accomplish by including these totally unsubstantiated remarks with analysis of official reports comparing all the centers?
Apparently there are editorial differences in the two newspapers. The State Journal-Register version included a very informative bar graph showing the comparisons. Did The Courier think that this is not important enough to carry in their issue? The Courier also printed a quote from Newbanks in bold print. It said, "Whatever that (code of silence) is, it appears to be alive and kicking very strongly in Lincoln Developmental Center." Why does The Courier wish to emphasize this spurious remark? It has absolutely no factual basis and is irresponsible and unprofessional speculation.
If there was a "code of silence" at LDC, how did enough abuses get reported to place LDC in the middle of the centers? If the alleged code of silence exists, why wasn't LDC lowest in reported abuse cases? Many of these are questions that Newbanks could have been asked by the reporter.
John Pokrzywinski
Lincoln
---
Alcohol and tobacco vendors thanked
2-1-02
To the editor:
There were over 40 people representing area businesses at Thursday evening's alcohol and tobacco vendors class at the Lincoln Police Department.
The Lincoln Police Department, along with the Secretary of State Police, "We Card" and the Illinois Liquor Control Commission, would like to thank the businesses who came to the alcohol and tobacco vendors class. Their attendance showed that they are concerned about preventing minors from buying alcohol and tobacco products. Thank you.
Tim Butterfield
Community Policing Officer
---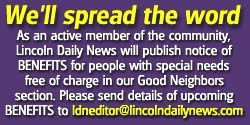 ---
.
Please send your letters by e-mail to ldneditor@lincolndailynews.com or by U.S. postal mail to:
Letters to the Editor
Lincoln Daily News
601 Keokuk St.
Lincoln, IL 62656
Letters must include the writer's name, telephone number, mailing address and/or e-mail address (we will not publish address or phone number information). Lincoln Daily News reserves the right to edit letters to reduce their size or to correct obvious errors. Lincoln Daily News reserves the right to reject any letter for any reason. Lincoln Daily News will publish as many acceptable letters as space allows.