Marty Neitzel named
to seat on city council
[NOV. 5, 2002] Martha "Marty" Neitzel, 525 Southgate, has been appointed to fill the city council seat left vacant by the recent death of Alderman Joseph Stone. Mayor Beth Davis announced the appointment Monday evening, and Neitzel was sworn in by city attorney Bill Bates.
Neitzel said this is the first time she has held public office, but when she was called by Davis to fill the post she did not hesitate. "I just wanted to get involved," she said.
"Iím a Lincolnite," she added. "I want to keep Lincoln people in Lincoln. Iíd like to see Lincoln grow."
She said she needs to "get my feet wet first" and has no particular agenda to work for as yet.
Davis has appointed Neitzel to fill several empty committee slots. She will serve as chair of the sanitation committee and will also sit on the grounds, buildings and local improvements committee; the insurance committee; and the police committee.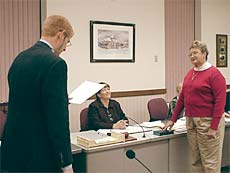 [Photo by Joan Crabb]
[Marty Neitzel (right) is sworn in by Bill Bates]
Also, she will serve on the Mayorís Commission on Disabilities, Minorities, Seniors, Veterans, and Youth, serving as chair of the Seniors division, as well as on the City of Lincoln Beautification Commission, established by the mayor this spring.
Neitzel, 65, retired several years ago from the insurance industry, where she worked as a claim adjuster. She and her husband, Arthur, have two sons, both grown.
In other business, Davis said that at the next regular meeting, Nov. 18, she would announce a candidate to the fill vacancy on the Lincoln Planning Commission.
Alderman Glenn Shelton commented favorably on "Sunday Tea at the Lincoln T," a Nov. 3 event that brought many visitors downtown.
"It was good to see that number of businesses open and that number of people downtown. We should encourage whoever started that to keep on doing it," he said.