The competition at Redbird practices has Yopp projected at 40 percent undecided, 60 percent fairly sure, heading into the Redbirdsí first exhibition game, at 2 p.m. Sunday against the Ohio Premier All-Stars.
Junior point guard Taren OíBrien, sophomore forward Katie Donovan and 6-foot-5 junior college transfer center Zora Skrabalova appear to have three jobs in hand.
The other two spots ó a wing position and a post ó are the subject of daily practice battles. Senior Steph Reichle and sophomore Jaci McCormack are battling for the guard spot, while Skrabalovaís companion in the post will come from among sophomores Erin Keeney and Michelle Harakas as well as junior Sharon Blade.
Not only does Yopp have more players battling for starting spots, the depth and experience is allowing the Redbirds to play the "94-40" (94 feet for 40 minutes) style their coach favors and has been building toward since she arrived in Normal.
"The great thing is that all 15 of our players play well together," said Yopp, whose team opens the regular season Nov. 23 at Western Michigan. "And the depth we have enables us to apply the kind of defensive pressure Ö that we believe in."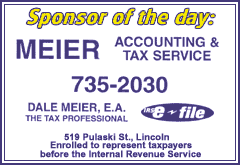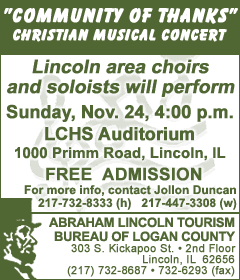 Better athletes and better depth has impacted the offense as well, according to Yopp.
"We have added some new things to our offense that fit with the added height and athleticism of this team," said Yopp. "As far as getting to play an opponent, Iím sure our team is just as excited as I am to see an actual opponent out there. Our scrimmages and practices have been exceptionally competitive, but this will be a real challenge. Iím sure our fans will be just as interested as I am to see how we play."
And, as for establishing starters?
"Even on a team without a Ďstar systemí like ours, itís important to eventually decide who will be our igniters and pacesetters for the long term," said Yopp. "That will help set up our depth and give everyone an opportunity to understand, within the team mentality, what their roles are and when they will be called upon."
[Todd Kober, ISU director of media relations]
Coach of the week
My coach of the week could very easily be my coach of the year, and that is none other than LCHS head football coach John Oaks! Coach Oaks told me and a LIVE TV audience on "FANdamonium" BEFORE the season began that he had high hopes and high expectations for his gridders. They reached several of those lofty dreams and goals. It took some of the hardest work and patience that you can ever imagine, but this man and his team got the job done and turned in what I believe is the best record in some 11 years. And thatís not the half of it! The freshmen may have had their best season ever, or at least one for the ages, as well. And the sophomores had their moments too! Iím compelled to give John and his staff the award as just a grateful fan.
Thanks, you guys, for beginning to restore some of the pride back into the program. Perhaps this season will serve as a launching pad to greatness! The LDN salutes you!
Team of the week
Staying with this same theme, Iím picking the Lincoln High School football team (on all levels) as my team of the week. Seldom will you see me reward a team on this side of the ledger, but you have to start somewhere. And this is a special team. First of all, I commend EVERY kid who just stuck it out! Especially those of you who went through it all for four years! And then to all of you who talked your friends into going out for the team. And then to you guys who went out amidst pressure NOT to do so from friends, family or whoever. You guys showed what hard work, determination and teamwork can do when no one cares who gets the glory! Hopefully our city and county officials are getting a glimpse of this picture.
At any rate, we here at the LDN salute your performance, and weíre proud of your accomplishments. May those of you who return next year, pick up the baton and head straight for the playoffs!
With deepest sympathy
The LDN wants to take this opportunity to extend condolences to the family of coach Ed Butkovich. Coach had some exciting days and I believe has at least one Class A state title in his rich legacy.
He was especially good to me in my early days as the coach out at LCC. He allowed his players to come to our summer camp.
(You might be surprised that SOME coaches donít let their kids come to our camp or any camp other than their own for that matter. I can STILL remember the scathing letter I received from one of the coaches from Jacksonville, questioning the methods I employed. History shows that some of the kids from THAT area needed more than just ONE week of our camp experienceÖ BUT I wonít go into that now. Let me just say that our graduates went on to win many A and AA regional, sectional and a few state titles. I THINK that speaks for itself).
Anyway, coaches Butkovich and Rucks and Gasaway and others in Mount Pulaski always supported me and my program, and Iíll never forget that. I will always be loyal and grateful for that kind of friendship, especially when it comes from an unexpected source like that.
Other area teams had and have just as much at stake and have every opportunity to be supportive of LCC and other area colleges but choose to focus solely on themselves. That is their option.
Iím glad coach Butkovich wasnít like that. He came as a favor to watch my teams practice every year and then offered me tremendous insights and suggestions. If you donít know much about basketball, let me just say that few things could be worth more to you than having someone with his expertise helping someone like me who was REALLY struggling at the time.
And more than that, Ed was just a good guy. Whenever I saw him in public, he always had a kind or gracious word for me.
I was sad and stunned to hear the news of his passing. He was an icon in and for this area.
Thank you, Coach, for what you meant to me and for countless others. Godspeed!
Bears let another one slip away
Yes. The Bears had another chance to win a game in the waning moments. And unlike last year, when no matter who threw the ball it would always end up in a Bearís hands, thatís NOT the case this year!
The thing that this reporter is amazed by is that whenever a Bears coach states that heís content to always have at least a chance, I have to ask, "What???" I donít want just a CHANCE. If I can kick the tar out of you and win by two or three touchdowns, thatís what Iím going to do (my apologies to those of you who thought I was a nice guy).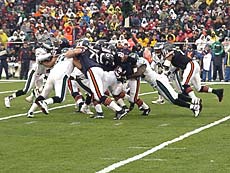 [Photos by Tom Seggelke]
Take for instance the score tied in the fourth quarter with the Bears possessing the ball just inside their 20-yard line. They run a pitch or a toss play that theyíve run six to eight times already during the game (which begs the question, is their playbook really THAT small?). On top of that, they try to run it this time to a wide-out. Is it just my imagination or are wide-outs suppose to run down the field and catch passes? When you run something like that you deserve to fumble and lose the game. I will never be able to figure out that kind of stuff!
Even just before half they ran some vertical passing offense and were able to jet down the field in less than a minute in time to get a last-second 53-yard FG from Paul Ettinger! I realize that the zone was a little softer in that situation, but do we KNOW that for sure? There was no attempt to go back to that except in third and long situations and in desperation mode.
On the other hand, I did feel that the Bears defense played well. With the exception of two or three runs by Donovan McNabb (and folks, this guyís going to break away every once in a while; heís just that good), the Bears held them in check. Great pursuit by Urlacher and others gave the Bears at least a CHANCE to win (I STILL donít like that phrase!).
But when the offense didnít put up even positive yardage in the second half until the last desperation drive, thatís what happens. I know the schedule is tougher this season, but Iím just not sure this group can get it done.
Click here for more Bears photos.
Illini woes continue
Our own Greg Taylor tried to help Illini coach Ron Turner. Greg suggested that coach Turner stick with QB Jon Buetjer, but Turner didnít, and by the time Jon was inserted into the game he didnít have enough time to incite a comeback, as the Illini dropped an 18-7 ugly one to Penn State!
And whatís up with the tackling? Or lack thereof? I havenít seen such sloppy technique since guys used to run over me!!!
My mom used to say not to say anything if you canít say something niceÖ THEREFORE, this subject matter is closed!!!
Lady Railers move on
The Lady Railer volleyball girls just keep winning. Now they will travel to Rantoul for a Tuesday night showdown with who we believe will be the Champaign Central Chargers at 6:30. Good luck, ladies!
Thatís the only other sports news thatís been turned over to me. If youíve got something else, get it to us as quick as you can. You can reach us at ldneditor@lincolndailynews.com.
"FANdamonium"
Tonight our guests include the LCHS swimmers of George and Ruth Sloot, fresh off a fourth-place finish at the CS8 meet.
Stray shots
Illini assistant coach Billy Gillespie has accepted the head coaching position at UTEP. I hate to see him go!
Why didnít Illinois give Donovan McNabb a better recruiting pitch when he was in high school?
Lincolnís Brian Cook and Jerrance Howard will have to miss the first two games of the season because of playing in a non-sanctioned summer tourney. Donít get me started with the NCAA and the IHSA againÖ Letís just leave it alone!!!
Cook is featured in the new issue of Slam magazine. (Click here for details.)
Lincolnís Greg Alexander and his ISU Redbirds get things started tonight versus SIU-E at 7:05 in Normal. Plenty of good seats STILL available!!!
LCC opens their season this weekend with a tourney in Cincinnati. LC dropped two tough ones on the road in their openers.
Have a great week, everybody!