CONTACT US
E-mail to Ads
LDN is best viewed with
Internet Explorer 5.0 or 6.
---
LDN AWARDS
from Logan County:
Dec. 16, 2001
Local Emergency Planning Committee
Jan. 25, 2001
Logan County Healthy Communities Partnership
from Illinois
Oct. 1, 2001
Illinois Public Health Association
posted daily OVER THE NOON HOUR (CsT)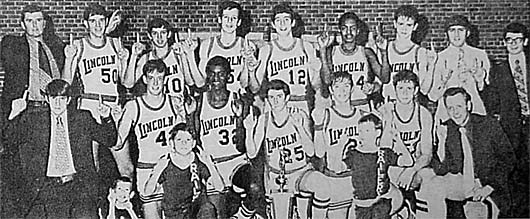 1972-1973 Railers "Elite Eight"
Back: Coach Jim Jost, John Bunner, John Williamson, Steve York, Jeff Boss, Clayton Reed, Greg Ely, Coach Bob Guy, Mgr. David Schrader. Middle: Mgr. Rick McCabe, Tim Bushell, Norman Cook, Mike Schneider, Mike Swingle, Dale Ritchhart, Coach Duncan Reed.
Front: Billy Reid, Steve Reid, Mike Reid.

LETTERS TO THE EDITOR









Bill Self scheduled to appear on 'Fandamonium'

The kettles are coming! The kettles are coming!

Coming tomorrow: What was famous as 30-1, 14-0 and has a 30-year anniversary

Looking for Lincoln
Lincoln video premiere set for Jan. 11

Sesquicentennial group funds band, souvenirs and battle re-enactment

Hartsburg-Emden athletes earn letters

LCC men's basketball

December card party and luncheon for ALMH project

December meeting of Lincoln Writers' Club

Serving in the military

Preparing for holiday cooking

Check turkey cooking times

Low-fat stuffing for Thanksgiving

Crowd-pleasing pumpkin pie

Low-fat turkey talk
LDNs of the past week: