Lincoln Daily News publishes letters to the editor as they are received.
The letters are not edited in content and do not necessarily reflect
the views of Lincoln Daily News.
Lincoln Daily News requests that writers responding to controversial issues address the issue and refrain from personal attacks. Thank you!
.
You may also send your letters by e-mail to ldneditor@lincolndailynews.com
or by U.S. postal mail to:
Letters to the Editor
Lincoln Daily News
601 Keokuk St.
Lincoln, IL 62656
Letters must include the writer's name, telephone number, and postal address or e-mail address (we will not publish address or phone number information). Lincoln Daily News reserves the right to edit letters to reduce their size or to correct obvious errors. Lincoln Daily News reserves the right to reject any letter for any reason. Lincoln Daily News will publish as many acceptable letters as space allows.
To all the good citizens of Logan County:
On Monday, Dec. 1, the Abraham Lincoln Memorial Hospital Auxiliary wrapped up their campaign for the purchase of a new Care-A-Van. We are happy and proud to announce what a great success it has been. Through the support of the many auxiliary members, local merchants and corporate sponsors, we have raised a total of nearly $20,000, which will be donated to the hospital for use in transporting special needs and elderly patients to doctor's appointments, therapy, etc. at a fraction of cost of other specially equipped vehicles.
Last year, our auxiliary donated $20,000 toward this cause and will again donate an additional $20,000 for the final payment of the van. This van is expected to be delivered in the early part of 2004.
[to top of second column in this letter]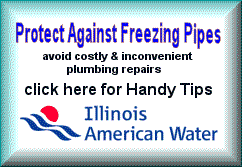 Our thanks goes to Barbara Dahm and her staff for the wonderful help and support during this campaign.
My thanks to the ALMH Auxiliary governing board for their tireless effort in making this worthwhile cause such a huge success.
Thank you to all that donated or provided door prizes. Our community is truly blessed with caring and sharing citizens.
Have a blessed holiday season.
Linda Martinie
ALMH Auxiliary president
[posted 12-5-03]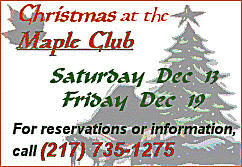 To the editor:
As I travel with my son on Lincoln's city streets, it pleases me that some of the roads are being repaired and are easily traveled upon. Today I had to go to Community Action on Fifth Street, and for as long as I have lived here (since 1997) and have been a client of Community Action, the road leading back to their building is in much need of repair.
The city could save money in the long run if they would repair that road. There would be less repairs on employees' and clients' vehicles, and the Head Start bus and their van if this problem was taken care of.
I am not sure if this has been brought up at city council or who I would need to contact regarding this problem, but my son Chris suggested that I start here by writing this letter.
Shocks on a vehicle can be badly damaged by traveling on roads like this. Thank you.
Debbi G. Thompson
[posted 11-28-03]