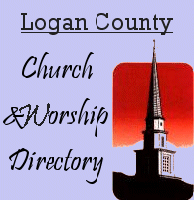 Holy Family Parish
316 S. Logan
217-732-4019
Priest:
Msgr. E. Edward Higgins
Associate:
Rev. Thomas Taylor
Mass:
Sat. 5:00PM
Sun. 7:30AM, 9:00 AM
& 10:30AM
Lincoln Christian Church
204 N. McLean
217-732-7618
Preaching minister:
John Castelein
Worship:
8:30AM & 11:00AM
Website: www.lincolnchristianchurch.org
Trinity Episcopal Church
402 Pekin St., Lincoln
217-732-7609
Pastor: James Cravens
Worship:
7:30 & 9:45AM Sunday
9:00AM Tuesday-Friday

Kingdom Life Ministries
620 Pulaski St., Lincoln
217-732-1466
Pastor: Joe Bennett
Worship:
10AM & 6:30PM Sunday
7PM Wednesday
Lincoln Bible Church
2316 N. Kickapoo St., Lincoln 217-735-5959
Pastor: Don Hoover, phone 217-735-4641
Worship: 10AM Sunday
Sunday School: 9AM
Home Bible class: 6:30PM
Overcomers in Christ:
7PM Tuesday
Teen Club (7th-12th grade); Kids in Christ's Service (1st-6th)
7PM Wednesday
Lincoln Church of Christ
800 Pulaski St., Lincoln
217-735-1130
Minister: Harold Driskell
Worship:
11AM & 6PM Sunday
Bible study:
10AM Sunday
7PM Wednesday
TV program, "In Search of the Lord's Way," Channel 19 WHOI
7:30AM Sunday
Good Shepherd Lutheran Church Association of Free Lutheran Congregations
1140 N. State St., Lincoln
217-735-9320
Pastor Roger David
Worship:
10:00AM Sunday
Sunday School:
9:00AM
E-mail: gslc@ccaonline.com
Immanuel Lutheran Church ELCA
1409 Pulaski St., Lincoln
217-732-6777
Pastor Dan Wissmann
Worship:
9:00AM Sunday
Zion Lutheran Church
Lutheran Church-Missouri Synod
205 Pulaski St., Lincoln
217-732-3946
Pastor Mark Carnahan
Worship:
8:00 & 10:30AM Sunday
Radio, WLLM-AM 1370:
8AM Sunday
TV, Cable Channel 15:
10:00AM Sunday
5:00PM Monday
First United Methodist Church
302 Broadway St., Lincoln
217-732-2204
Pastor: Jame Hahs
Worship:
8:30AM Traditional
11AM Contemporary
Sunday School:
9:45 AM
website: www.gbgm-umc.org/
lincoln1stumc/index.html
To inquire about listing your congregation's worship information, please e-mail us at ldn@lincolndailynews.com or call us at (217) 732-7443.
---
Church members lament --
minister is leaving too soon
[JAN. 4, 2003] The last Sunday in December, members bid farewell to smiling Mike Drake, minister of Elkhart Christian Church. Drake, who is officially retiring after some 25 years of ministry, has been at Elkhart 20½ of those years.
One of the church's elders, Ron Davis, was overheard to say, "You can't retire. You haven't buried me yet!" Davis was expressing his expectation that since Pastor Mike had been with them for more than half his lifetime, they expected he would be with them even until their deaths.
The congregation was taken by surprise in late November when he announced his upcoming retirement. One little 10-year-old girl asked if the church was going to close since Mike Drake was retiring.
A large crowd packed the little church building to hear Drake's last sermon and last lesson. He preached on the supremacy of Christ, emphasizing that it is Christ, not "Mike," who had brought them to this point in their spiritual lives.
Many members of the congregation, as well as the elders, asked him to reconsider his decision and continue his ministry there. Drake was reminded that he could even reconsider this last Sunday, and they would gladly take him back.
Lincoln Christian Seminary professor Dr. Robert Kurka has accepted the call to be interim minister for the Elkhart flock while they begin the arduous task of finding a new preacher. Dr. Kurka has been to Elkhart many times, and the congregation enjoys his energetic style. Dan White continues to do an outstanding job with the youth of the congregation and preaches each fifth Sunday.
Seth Hall, a lifelong member of Elkhart Christian Church, said what was going through the minds of most of the congregation: "It's going to take someone really special to take Mike's place."
Drake, 53, is retiring to spend more time on the family business. He and his wife, Connie, are both looking forward to spending more time visiting with their grandchildren. They will continue to live and work in Elkhart and will worship there when they are in town.
---
Lincoln Christian Church
to offer Alpha Course
[DEC. 7, 2002] Lincoln Christian Church will introduce the Alpha Course on Tuesday, Jan. 14, at the church's Fellowship Center, at the corner of Pekin and Hamilton streets. This 10-week practical introduction to the Christian faith offers answers to some key questions.
Each weekly session begins with an informal dinner followed by a large-group learning time and ends with small-group discussion. Attending the Jan. 14 introductory evening does not obligate individuals to continue the course.
Alpha began in London, England, and is now offered in thousands of communities around the world. Join the millions who have found answers about life and God. To learn more about the course, call 732-7618 or visit the church's website, lincolnchristianchurch.org.