[Click here for January and February news]
[Click here for March and April news]
[Click here for May and June news]
[Click here for July and August news]
September
Lincoln city
A petition to rezone two lots on Fifth Street across from the new Casey's General Store from residential to commercial use so Steven and Cynthia Goodman could open a flower shop was rejected by the city council 6-4. Since the petition had also been rejected by the planning commission, it needed seven yes votes to pass. Neighbors who reside adjacent to the property had strongly argued their opposition to the request to rezone. Aldermen Benny Huskins, George Mitchell, Joe Stone and Dave Armbrust voted no. The property remains residential.
The council also voted to authorize issuing up to $620,000 in general obligation bonds, with First Midstate as underwriters. The bonds are normally renewed every three years, but this time, because the interest rate is good, the renewal is for four years. The money will be used for capital projects such as road work.
The council also unanimously passed a zoning ordinance amendment that will allow the Alan G. Ryle Companies to build group homes for the developmentally disabled in areas zoned R-1. The city was facing a federal lawsuit because it would not issue the company a building permit to put a group home on an R-1 lot in the Stonebridge subdivision. The lawsuit will now be dropped, a company spokesman said. However, the council did not agree to give the new CILA a tax exemption.
Bids for work on the upgrade to the Lincoln wastewater treatment plant came in just under the wire in September and were submitted to the Illinois Environmental Protection Agency in time to get the $9.8 million low-interest loan and start construction this year. The upgrade will increase the plant's operating capacity from 3.5 million gallons per day to 5.2 million and help it meet higher standards for ammonia required by the IEPA. The upgrade is necessary if the IEPA is to approve any more hookups.
The city also approved a four-way stop at Seventh and Union streets at the request of District 27 Superintendent Robert Kidd. The new Central School now under construction will face Seventh Street.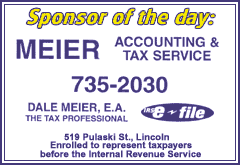 County board news
In spite of concerns of nearby residents, the Logan County Board granted a request by Bradley Lee Luckhart to rezone 13.452 acres on 840th Avenue, in the north half of Section 28, West Lincoln Township, from agricultural to country homes use. Nearby resident Mike Leslie objected because he believed that building more homes in the area might cause a water shortage. He said Luckhart had originally planned only five-acre lots in his subdivision, but with a possible 15 new residents digging wells, area homeowners could end up hauling in water. Four of the 13 board members voted against the zoning change: Clifford Sullivan, Roger Bock, Lloyd Hellman and Rodney White. White has previously objected in principle to the country home zoning, which is less strict than R-1 zoning, and has said the board should rework its 30-year-old zoning ordinances. Board president Dick Logan also said the zoning ordinances need to be reviewed, but he added that Luckhart has met all the requirements specified in the ordinance as it presently stands.
In other business, finance chairman Rodney White reported that the county will be looking at a deficit budget next year, and the deficit for the current year will probably be even greater than anticipated. For fiscal 2002, which ends Nov. 30, auditor Gary Hetherington anticipates expenses will be $400,000 more than revenue, instead of the $300,000 predicted. The fiscal 2003 budget looks even worse, with expenses of $700,000 over revenue. The problem, which is nationwide, is decreasing revenue. Low interest rates cut revenue from investments, and lower sales cut tax revenues. "All revenues are down, across the board. There is no bright spot to look for. The only way to significantly increase revenue is to increase tax levies," White said. The county does not levy the maximum amount it could by law for the general fund.
White said requests from various departments for money from the general fund are up for fiscal 2003. Last year's funding totaled $4,701,200, and this year's requests are $4,779,800 -- $78,600 more. The finance committee has been trying to whittle the budget deficit for 2003. They agreed to present a 0.5 percent increase in the hotel/motel tax to the full board in October. By law proceeds must be spent on tourism. If the board passes the 0.5 percent increase, the levy is expected to raise about $10,667 new dollars. This represents an 11 percent increase from the current $96,000 in annual proceeds. Though raising the hotel/motel tax rate would bring new money to the county, it would not affect the critical general fund, which is used to run most county business. Its principal sources of revenue are sales and property taxes, interest income, and fees levied by county offices.
Volunteers turned out to help install the first batch of playground equipment for Scully Park in downtown Lincoln Saturday morning. The equipment includes a fire station with a plaque commemorating the victims and rescue workers of the Sept. 11, 2001, terrorist attacks. A new swing set will also be installed. Equipment for the second phase will be purchased later this fall. Local businesses, clubs and individuals have been very generous in contributing to this project, noted Dick Logan, who is a member of the playground committee and chairs the county board's committee on buildings and grounds.
School and college news
A record number of students have enrolled for fall classes at Lincoln College -- almost 800 full-time and part-time students at the Lincoln campus. The figures show an enrollment increase of 10 percent over last year, and the number of students living on campus is up by 19 percent compared with last year's figures. Lincoln College President Jack Nutt says the growth reflects the college's personal approach to helping students work toward an associate degree.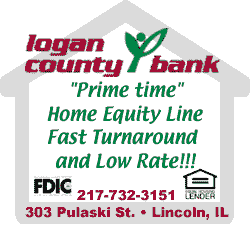 Sept. 11 remembered
Lincoln Community High School students did not forget Sept. 11, 2001. At a moving and inspiring assembly, the beginning and advanced choirs, the LCHS band, the speech classes of Ms. Carrie Schreiber, and members of the student council helped retell the story and reaffirm the students' faith in a united America. Lincoln firefighters, paramedics and police officers also held a memorial observance to honor the fallen, as did many schools and other Logan County communities.
Other September news
At the 32nd annual Abraham Lincoln National Railsplitting Contest and Crafts Festival Sept. 14 and 15, visitors experienced old-time entertainment and crafts on the Logan County Fairgrounds. The Indian village and 1800s settler encampment peacefully coexisted, displaying authentic crafts, cooking foods and mingling. Visitors could stop and try their hands at crafts such as dipping candles. Steam engines drove small carts about the grounds, whistling to each other. Antique tractors and antique cars sat on display. Larry Hill and his partner, Marty Yount of Missouri, came in first in several events, including the team split. Hill has been participating in the contest for 17 years. His family participates too. His two sons won second in the team split. This is one contest in which Missouri dominates Illinois, by far.
A street dance on Sept. 21 was the first of a series of fund-raisers for the sesquicentennial celebration next August. McLean Street in front of the courthouse was blocked off and stages set at either end of the block. Bands provided six hours of dance music.
The body of 18-year-old Brian Bobb of Lincoln was found in Kickapoo Creek Park at approximately 9 a.m. Friday, Sept. 27. He was found in a remote area on the north perimeter of the park. Logan County Coroner Chuck Fricke pronounced him dead at the scene at 9:34 a.m. An autopsy was performed Saturday morning at Memorial Medical Center in Springfield. The forensic pathologist determined the cause of death was due to blood loss causing an air embolism in the lung due to neck trauma. The incident is being treated as a homicide.
Business news
Johnson Brothers Liquor Company, new wholesale wine and liquor distributor on North Kickapoo, expects to employ 35 or 36 people in Lincoln. These include one temporary and three permanent office workers, five drivers and 12 sales representatives. The Lincoln facility supplies wine and spirits to grocery and convenience stores, package stores, bars, and restaurants in an 80-mile-wide belt across central Illinois.
Sports news
The Lincoln Lady Railers volleyball squad made short order of the Peoria Richwoods Knights last night in their home opener. In a match that lasted barely a half an hour, LCHS chalked up its first win of this new season by scores of 15-0, 15-9. Not to be outdone, the junior varsity came out strong, winning their match 15-0, 15-8. The LCHS freshmen squad also won, by scores of 15-12, 15-11. Their next game was not so easy. It was a tough, seesaw battle where the outcome was in question to the very end. The match time was almost two hours. The final box score for the match looked like this: 15-6, 8-15, 16-14 in favor of LCHS over a scrappy and talented team from Morton. The Lady Railers improve to 2-0.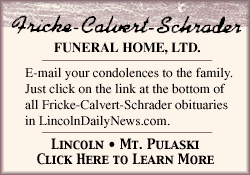 October
County board files next year's budget
The Logan County Board placed on file a fiscal 2003 budget with a general fund property tax increase of 1.6 percent and a deficit of $188,000 in the general fund. The property tax increase, at the 1.6 percent maximum allowed by tax caps, is expected to yield $40,000, bringing the total general fund levy to $874,000. On a $90,000 home, that would mean $1.68 more in property tax next year. In the draft on file in the county clerk's office, expenditures for all funds total $4.7 million. Revenue projected from all sources totals $4.34 million.
Before Thursday night's meeting the board's finance committee had cut $300,000 from general fund budget requests. In addition, a net of $250,500 was shifted from other funds to the general fund. The board added $25,000 to general fund expenditures to be used for raises for nonunion employees. Department heads are to distribute the money at their discretion. The cost is expected to be about $25,000 for 31 full-time and seven part-time employees.
A cut was made and then restored for the Economic Development Council. In 2002 economic development received $25,000 but was allocated only $12,000 this year. Bobbi Abbott, executive director of the Lincoln/Logan County Chamber of Commerce, made an impassioned plea for more than the $12,000. "I really do appeal to you to invest in the future of this community," she said. "We absolutely need to increase tax-producing revenues," such as through the commerce park backed by the EDC. Board EDC representative Terry Werth and member Dale Voyles amended the motion to allocate $25,000 again this year. The board voted 8-4 in favor of the amended motion. Roger Bock, Doug Dutz, Lloyd Hellman and Rod White dissented.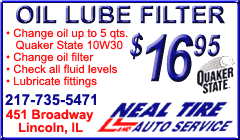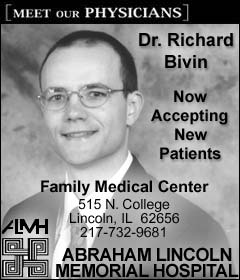 In other business, the board approved a conditional use permit enabling Leslie and Karen Hoagland to operate their motor coach restoration business from their home on 1200th Street in rural Lincoln. The board also approved a subdivision plat submitted by Brad Luckhart of Lincoln. County engineer Tom Hickman said Luckhart and his engineer have corrected all deficiencies and complied with provisions of the subdivision ordinance. A state hydrologist has confirmed that sufficient water is available on the property.
The board also voted to raise the county hotel/motel tax by 0.5 percent. The tax increase, effective Dec. 1, is expected to raise about $10,000 in new money. The finance committee recommends granting $4,750 to the J.H. Hawes Grain Elevator Museum in Atlanta to pay for renovating and restoring a wooden boxcar and extending the railroad siding it sits on.
Lincoln city news
City council members offered a moment of silence and a prayer for 5th Ward Alderman Joseph Stone, who died suddenly Oct. 7.
Assistant Fire Chief Mark Miller was named the Lincoln Fire Department's Officer of the Year, the first time the department has presented such an award. Miller said he was surprised to win and believed much of the credit should go to the firefighters on his shift.
City Attorney Bill Bates announced that the city and Firefighters Local 3092 have reached an agreement on contracts, in negotiations that were generally amicable. The contract includes a 9.75 percent raise over three years. The city has also reached an agreement with its clerical workers. Now all four unions representing city workers -- police, firefighters and street department workers
-- have approved three-year contracts.
The council also adopted the proposal to put a referendum for a sales tax increase of 0.5 percent on the November ballot. The extra money, perhaps as much as $550,000, will go for infrastructure, mostly road repair. Low rates of interest and low sales tax receipts have put the city in a budget crunch, and there is no money to restore city streets. Aldermen emphasized that the sales tax would not be imposed on food products purchased for home use or prescription drugs and would not be charged on the sale of motor vehicles that are licensed by the state of Illinois.
Rich Montcalm, Lincoln police chief, announced the department is using a new program designed to help arrest more drug users and dealers. When scheduling allows, Montcalm pulls an officer from each of the city's four shifts and gives them flextime to work solely on drug enforcement. So far they have made 70 traffic stops and 15 arrests.
School and college news
The backbones of Central School's new building are going up. The structural steel frame brought a dramatic change to the appearance of the building in just a few days. The District 27 board saw preliminary plans for the new junior high building at their October meeting. The plans show a three-story academic wing on the east end, administrative and general use areas in the center, and a gym on the west. Like Central School, it will have a stage facing both ways between the cafeteria and the gym. Also like Central, it will be a brick veneer building with a pre-engineered frame.
The Chester-East Lincoln school district is hoping for a favorable vote on the referendum for a tax increase that is on the ballot Nov. 5. New Superintendent Robert Bagby said the board worked hard to cut the budget -- cutting one administrator, leaving only one administrator on the staff, reducing teaching staff, cutting supplies and materials, and also cutting the music program and the reading recovery program. If the referendum does not pass, there will be more cuts in the spring. The referendum requests an increase in the education fund tax rate from $1.40 to $1.90. Of that 50-cent increase, Bagby said it is likely they will use only about 38 cents. C-EL holds the lowest comparative school tax rate in the area. West Lincoln-Broadwell is at $1.45, and District 27 is at $1.93.
Lincoln College President Jack Nutt has announced his intention to retire from the college at the end of May 2003. President Nutt says his decision is based on chronic health problems he's faced over the past several years. Executive Vice President Ron Schilling will assume full responsibility for the direction of the college. For the balance of the current school year Dr. Nutt will continue to direct the activities of the Advancement Office and work on special projects. Dr. Nutt recently celebrated his 20th anniversary with the college. Over 20 new building projects have been added under his leadership, and Lincoln College enrollment numbers have steadily increased over the past years.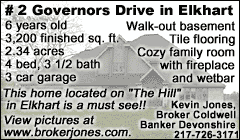 Looking for Lincoln video completed
Shooting the Looking for Lincoln video was wrapped up in late September and early October. The video, which will be used to promote tourism, has been over two years in the planning stages as promoters first sought and then awaited funds from an Illinois Legislature Member Initiative Grant. When the check arrived, it took only two weeks for shooting to begin, thanks to prior selection of sites, key actors and cinematographer Dean Williams of Springfield to direct the film.
Scenes in the video represent documented activities of Abraham Lincoln in Logan County and take place at either authentic sites or accessible sites that retain the feel of the mid-1800s. In one scene Lincoln rides on horseback over Elkhart Hill, following the old Edward's Trace. The route was part of the 8th Judicial Circuit that Lincoln traveled. Also authentic is the John D. Gillett house at Cornland. Lincoln drove himself there to invite Gillett to his inauguration in Washington, D.C., as a member of the president's honorary bodyguard. In another shot Lincoln socializes outside Postville Courthouse. Lincoln worked as a surveyor in Logan County, and the video scenes show him surveying for the town of Albany and for Musick's Ferry on Salt Creek north of Middletown. Both scenes were filmed at the Paulus-Conrady farm, also the site of the shooting of the christening of the city of Lincoln with the juice of a watermelon. The video must now be cut and edited.
Local citizens fight to stop drug use
The death of 16-year-old Sean Riggins, a Railer wrestler and football player, caused by a heart attack apparently brought on by the use of ephedra, has sparked a campaign to find some way to control sales of the herbal stimulant, or at least to limit its availability to young people. On Sept. 3 Riggins died at Abraham Lincoln Memorial Hospital after suffering flulike symptoms. A toxicology report showed that Sean had ingested ephedra. His father, Kevin Riggins, learned that many high school students took over-the-counter stimulants to pump up their energy for sports events. The stimulants are readily available in gas stations and convenience stores for a very attractive price -- $1.29 or even 99 cents.
The Riggins family and Logan County Coroner Chuck Fricke were contacted by Sen. Dick Durbin and appeared before a U.S. Senate subcommittee to testify about the dangers of these products. Often they contain not only ephedra but other stimulants such as caffeine. Because these products are considered herbal supplements and not drugs, the Food and Drug Administration has no authority to regulate them or check on their quality.
Kevin and Debra Riggins believe the young people who take these drugs, like their son, have no idea of the danger posed. They have asked stores and gas stations in the Lincoln area to put the stimulants behind the counter so customers will have to ask for them; they are also requesting that local governmental agencies pass ordinances limiting the sale of these substances. In addition, Sean Riggins' parents are lobbying lawmakers and planning to establish a nonprofit foundation to educate young people about the dangers of both legal and illegal substances.
Concerned about the growing evidence of drug and alcohol abuse by area young people, Stacey Martin, herself a mother of teenagers, called for a community time of prayer. An estimated 300 to 400 people answered the call and met at Scully Park on Saturday, Oct. 7. She said the object of the meeting was not to point the finger of blame at anyone but "to help our children and their friends." She said the community had lost nine young people to drugs and alcohol in the last year. Several young people spoke about overcoming an addiction to drugs. Among those attending were Police Chief Rich Montcalm and Mayor Beth Davis.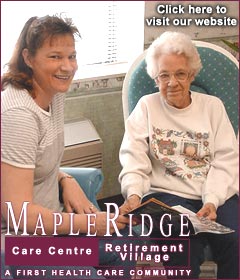 Other October news
As part of their training, state and federal Emergency Management Agencies mandate regular exercises that simulate some kind of local emergency. One of these simulations, called a tabletop exercise, took place recently in the lower level of the Logan County Safety Complex on Pekin Street, where 52 emergency responders gathered, not knowing what they would have to cope with. So, at approximately 12:45 p.m. on a pleasant September Sunday, a 727 Air Freight jet plane with a crew of three and 12,000 gallons of fuel on board crashed into downtown Lincoln. Part of its cargo was liquid oxygen canisters, which would become an accelerant for the fire. The "crash" occurred in one room, where a large tabletop layout showed Lincoln streets and buildings from Sangamon to Kankakee and from Pekin to Pulaski streets. In another room, various local agencies set up an Emergency Operations Center, where representatives of fire and rescue services, police, health care systems, local government, and a disaster intelligence team worked to get the on-site team the help they needed and protect Lincoln residents. When the exercise was done, emergency responders had learned another lesson in how to cope but were glad the disaster was only a simulation.
An auction was held on the now-empty campus of the Lincoln Developmental Center, when the Illinois Department of Central Management Services auctioned off surplus property still remaining at the institution. No plans for the empty 80-acre campus have been announced. First the property must be transferred to the CMS, which is expected to take awhile. Then state agencies will be allowed to bid on it. If no stage agency wants the property, it will be offered to local governmental agencies; if none of them bid it will be put up for public auction.
Kerosene contaminated by gasoline was blamed for two fires in the Lincoln area, one serious. On Oct. 23 Lincoln Rural Fire Department assisted the New Holland Fire Department with a fire at the Jessie Mosier residence. Mosier reported that the kerosene heater exploded as he was refueling it. He suffered burns on his hands and foot. The house was a total loss. Just barely back from New Holland, Lincoln Rural got a second call. The fire at the Joe Coffman residence at 714 1700th St. was not nearly as intense as the New Holland fire. Coffman had put it out by the time firefighters arrived. Again, a kerosene heater was the apparent cause of the fire. Illinois Clark stations, where the kerosene was purchased, stopped selling it at all Illinois locations until the contaminated product could be removed.
Customers at Saturday's Harvest of Talents at Lincoln Christian Church successfully broke past records by raising over $66,000. The fund-raiser includes a 5K run and a craft show and auction. The funds are donated each year to International Disaster Emergency Services. Though fund-raising is not complete until the end of December, the money raised brings the total donated to over $800,000 in 19 years.
A man apparently jumped from the U.S. 66 bridge over Salt Creek on Tuesday. The body of Gary R. Shull, 59, of Lincoln, was found in the creek by a motorcyclist just after noon. Shull had last been seen about 10:30 a.m. He was declared dead by Logan County Deputy Coroner Warren Rogers at 1:45 p.m. Evidence and interviews with the family led the investigators to believe that there was no foul play involved with this incident.