Lincoln Daily News.com
601 Keokuk St.
Lincoln, IL 62656

TEL: (217) 732-7443
FAX: (217) 732-9630
Lincoln Daily News publishes daily news about the Lincoln/Logan County area on the Internet at www.lincolndailynews.com. (We are not a print publication.) All subscriptions are free!
Content:
The articles published in Lincoln Daily News are the result of research, interviews and news releases submitted. Any opinions expressed are those of the writers.
Our staff:
In the office
Managing editor: Jan Youngquist
ldneditor@lincolndailynews.com
Technician, photo editor, graphic designer:
[Click here]
Text processing: Mary Krallmann
Advertising sales and public relations:
Lucky Eichner: ads@lincolndailynews.com
For employment information, contact us.
Our mission:
The mission of Lincoln Daily News is to tell the stories of Logan County in a contemporaneous manner, with lively writing and a predilection for simple truth fairly told. Lincoln Daily News seeks a relationship with the good people of Logan County that is honest, neighborly and never patronizing. Lincoln Daily News presents news within a full context that contributes to understanding. Lincoln Daily News is more interested in the marketplace of ideas than the competition of personalities. Without shrinking from the bold delivery of unvarnished fact, Lincoln Daily News operates from the premise that God's creatures deserve the presumption of right motive. Lincoln Daily News eschews malice and cynicism; it approaches every person with dignity and every subject with equanimity. In short, Lincoln Daily News informs, stimulates and entertains.
Corrections:
Please contact us by phone, fax, mail or e-mail with any information about mistakes, typos or erroneous information. If the error is in an item that is still in the paper, we will correct it online immediately.
Our services:
Lincoln Daily News provides daily news, sports, features and commentary on Lincoln, Logan County and the surrounding area.
To promote local businesses, we offer display advertisements at very reasonable rates and links to business websites. Call (217) 732-7443 or
e-mail ads@lincolndailynews.com.
To submit classified ads, click here.
"Happy ads" are a special feature to enable our readers to celebrate birthdays, graduations, anniversaries and other good news. Call us for details.
The Lincoln Daily News publishes letters to the editor as they are received.
The letters are not edited in content and do not necessarily reflect
the views of Lincoln Daily News.
Lincoln Daily News requests that writers responding to controversial issues address the issue and refrain from personal attacks. Thank you!
.
Submit a letter to the editor online
You may also send your letters by e-mail to ldneditor@lincolndailynews.com
or by U.S. postal mail to:
Letters to the Editor
Lincoln Daily News
601 Keokuk St.
Lincoln, IL 62656
Letters must include the writer's name, telephone number, mailing address and/or e-mail address (we will not publish address or phone number information). Lincoln Daily News reserves the right to edit letters to reduce their size or to correct obvious errors. Lincoln Daily News reserves the right to reject any letter for any reason. Lincoln Daily News will publish as many acceptable letters as space allows.
Dear Editor:
We hear and read so much "negative print" these days, it is so refreshing when we hear or read something "positive."
If possible, I would appreciate Lincoln Daily News sharing the attached letter [at right] with your readers.
The letter is self-explanatory as it expresses our family's gratitude to the Abraham Lincoln Memorial Hospital management and staff for their care and "caring"!
Sincerely,
Marilyn J. Klockenga
Lincoln
(posted 7-9-03)
[to top of second column in this section]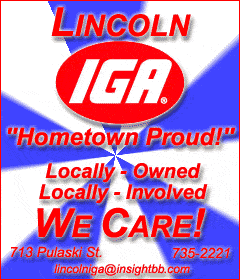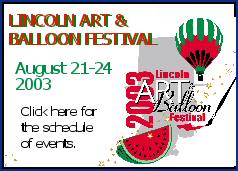 [Copy of letter to ALMH]
July 3, 2003
Abraham Lincoln Memorial Hospital
Woody Hester
President and CEO
Abraham Lincoln Memorial Hospital Board of Directors
315 Eighth Street
Lincoln, IL 62656
It is with profound gratitude to ALMH and staff that I am writing this letter. Words cannot adequately express our gratefulness to the entire staff at ALMH.
Since my stay was lengthy, I met at least 30 professional caregivers plus many volunteers in their respective capacities. Each was extremely professional, which -- of course -- is expected, however their "caring and compassionate spirit" shown through like a "bright star." We cannot say enough good things about ALMH as a hospital and all my caregivers.
We especially thank Dr. Ken Sagins for his hard work to get me on the road to recovery. We appreciate so very much the time he takes to keep the patient and family updated. We know from experience this is not always the case, and he is to be highly commended for his "bedside manner."
We also want to thank the nurses and nurse techs on Med/Surgical second floor for all they did to help get me on the road to recovery. "Thank you" does not adequately express our "heart's feelings." However, THANK YOU!!
The city of Lincoln has every right to be so very proud to have ALMH in our midst. It's a real bonus to Lincoln to have the BEST HOSPITAL AND STAFF to be found anywhere.
Thank you again.
Sincerely,
Marilyn J. Klockenga and family
1235 Richland Ave.
Lincoln, IL 62656