---
Submit letter to editor online
---
Contact us
LDN is best viewed with
Internet Explorer 5.0 or 6.
---
LDN Awards
Local:
Dec. 16, 2001
Local Emergency Planning Committee
Jan. 25, 2001
Logan County Healthy Communities Partnership
State:
Oct. 1, 2001
Illinois Public Health Association
posted daily OVER THE NOON HOUR (CDT)

=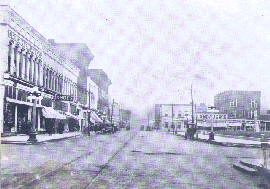 From a bygone era, this is Lincoln's Kickapoo Street looking north. Notice any difference? (From "Illustrated Lincoln," published by Henry R. Fish. Date unknown.)
Click on picture for larger image.







Council says goodbye to Osborne and attends to other business

County and chamber building and rebuilding bridges

Oasis update

Book Look: 'Lord of the Kill'
LDNs of the past week: