David Alexander, who contributes organizational skills to the firm established by his wife, Sonnie Alexander, in the mid-1980s, noted that the prints integrate well with the view of Scully Park from their first-floor facility at 303 S. Kickapoo. The 17 prints displayed throughout the office depict varying activities and seasons in a public park. Acquired years ago from a business that was closing, they offer a pleasant "walk in the park" that helps create a comfortable atmosphere in the new quarters.
Space is the reason the firm relocated. Sonnie Alexander said the number of people and amount of activity grew beyond the confines of their former site at 410 Pulaski St. The new quarters provide approximately three times more space. In addition, the firm has access to the conference room on the second floor of the bank building.
The larger size has made possible a division into three functional areas. Like the bank the Alexander & Company office has two front doors, one at the corner of Clinton and Kickapoo, the other off the parking lot. Immediately inside the door from the parking lot is the client interaction area. Before, the firm lacked reception space, so most of the new furnishings are here. "You see how clean and nice this is," quipped David Alexander, meaning that any mess created by agents while doing their work is elsewhere. Screened off, on the side toward Scully Park, is the area where agents make calls, do certified market analyses and pull data from the Multiple Listing Service database. Finally, to the left of the parking-lot entrance is a private conferencing area. Equipped with a few toys and a TV, this room is a good place for working with families with young children.
David Alexander said they were lucky in how well furniture already owned and pieces purchased from the bank work together within the new space. The office was created last year when an area formerly included in the bank was walled off.
Alexander & Company moved the weekend of May 11. Interestingly, business did not come to a standstill to facilitate the transfer. In fact, Sonnie Alexander said, agents wrote several contracts while furniture was being carried in.
She described the current real estate market in Lincoln as "Great! Fantastic!" For the first four months of this year, her husband stated, each month has been the firm's historically best month. Many houses are moving immediately, although higher-priced homes may take longer.
The couple attributed the sound market partly to the excellent financing available, to the point that many people are buying houses with no money down. A lot of clients can afford payments but do not have money for a down payment, David Alexander said, and the current business climate enables them to become homeowners.
Sonnie Alexander, who has worked in real estate for 30 years, said she has never seen a time when the market was truly bad. The whole society is never in a slump at one time, she explained: "When some need to sell, others need to buy." She sees her job as creating solutions tailored to her clients' varying situations.
Besides the two Alexanders, six associates currently work at the firm -- John Ford of Atlanta and Randy Squire, Greg Shook, Carla Anderson, Leanna Culp and Keith Knutilla, all of Lincoln. They are independent contractors, not employees, and set their own hours. In addition, two prospective agents will take their state exam next week and another two have begun studying for it.
[to top of second column in this article]
The business provides in-house training and coaching, which David Alexander oversees. Sonnie Alexander attributes the firm's growth to his organizational ability. Educated at the University of Illinois-Urbana with a degree in architecture, he has been with the firm two years.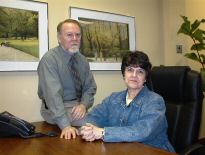 The staff also includes a closing officer, Ally Roeder, whose position may be unique in Lincoln. Her task is to gather information needed for the closing, beginning as soon as listings or sales are secured. Sonnie Alexander said agents benefit from the presence of a closing officer because they have more time to work with prospects.
"It's easier to solve problems if they are discovered early," she continued. So she believes in collecting information as soon as possible. At the other end of the process, the day before closing, the agent goes over everything on the standardized closing statement, called the HUD, so clients are comfortable with all the numbers.
Two interesting problems were a person who sold a piece of property actually owned by another member of the family and parents who deeded property to their underage children, then tried to sell it. In Illinois, David Alexander explained, underage children can own property but cannot sell it except with a court-appointed guardian ad litem. Sonnie Alexander said this is the kind of situation in which it is important to gather information early so as not to be surprised.
She described real estate as "the only industry where competitors agree to agree... and work together... and do so effectively." The Logan County Board of Realtors and Multiple Listing Service cooperate locally and have established reciprocity with surrounding cities. Sonnie Alexander explained one reason for the positive relationship: "Our competition are our sales force. We appreciate their showing our listings."
Alexander said her agents see themselves as an education company, teaching clients about such topics as financing, credit and marketing. She believes real estate transactions are more fun and comfortable when clients understand the background and elements of each step.
She also sees her business as family-friendly and relational. "When people feel comfortable with you, when they have a real estate need, they trust you to take care of it." David Alexander said one associate established Wednesday as her day off but found herself coming to the office every Wednesday anyway. What she eventually realized was that her leisure activities brought her into comfortable contact with people she knew, and they then responded by requesting her help with real estate transactions.
Sonnie Alexander said one reason the business is family-oriented is that the Alexanders themselves have a large family. That includes four children -- Michelle Squire, Greg Shook, Edie Doehring and Katie Alexander -- and 13 grandchildren.
Although there is still some searching for needed items in the new office, the move has already proved to be a benefit. Sonnie Alexander expressed elation: "We just feel so blessed. It's hard not to feel kind of giddy."