Submit a letter to the editor online
CONTACT US
E-mail to ads
LDN is best viewed with
Internet Explorer 5.0 or 6.
---
LDN AWARDS
Local:
Dec. 16, 2001
Local Emergency Planning Committee
Jan. 25, 2001
Logan County Healthy Communities Partnership
State:
Oct. 1, 2001
Illinois Public Health Association
posted daily OVER THE NOON HOUR (CDT)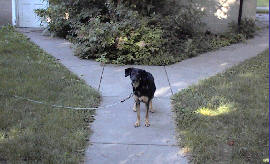 Not everyone got to go to Dog Daze and walk in the grand parade. Here columnist Don Todd's dog watches as her master leaves to have a day out with the other dogs.







Wanna learn to cook coon? Unique reading found in Knapp Library

Illinois EPA issues toxic chemical report
Total releases and transfers down 13.5 percent

Governor reinforces Prevailing Wage Act

Give blood

Marriages and dissolutions

Weekly court reports
LDNs of the past week: