Review by Bobbi Reddix
In "Six Easy Pieces," Walter Mosley takes six short, interconnected stories as a prequel to the (hopefully) soon-to-be-released and much anticipated next installment in his "Easy Rawlins" series.
For those readers unfamiliar with this series, it is one that I recommend you become acquainted with. Easy Rawlins is an African-American trying to make his way in the turbulent decades of the late '50s and early '60s. He makes his way by doing "favors" for people (mainly African-Americans) who have a fear of the police and a general distrust for people in authority.
Easy's best friend Mouse is his unofficial partner and brute force on most of these errands, which consist mainly of finding those who have become lost and, in some cases, wish to remain lost.
Throughout this series we watch as the changes in the decades and small advancements made throughout the years in the civil rights movement allow Easy to become a prominent citizen, owner of a home and several rental properties, and the head of the maintenance department at a local school. During the series Easy has acquired an adopted son and daughter who were rescued (in two separate books of the series) from unfriendly circumstances. Easy has also added (in a more recent book) a common-law wife to his self-made family and finds himself, until this recent book, living some semblance of the American dream.
Easy is a best friends with Mouse. In "A Little Yellow Dog," Mouse is shot trying to save Easy's life.
Before Mouse can be pronounced dead at the local emergency room though, his wife, Etta, takes his body and disappears from the scene and from the remainder of the novels in the series.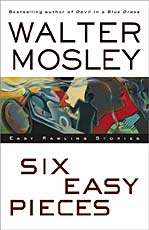 In the stories found in "Six Easy Pieces," we watch Easy's gradual slide from "living the African-American dream," back to being the doer of favors. We watch him struggle with the unacceptance of Mouse's death and in one instance take on the persona of Mouse to handle a hard situation. We watch as he slowly destroys the carefully pieced together family and life he has made for himself.
These six short stories allow first-time readers to get a glimpse of who Ezekiel Rawlins is, what he's about and why he is the way that he is as a person. It is a great book to read to become acquainted with the series and will definitely leave the reader wanting more. Fortunately for first-time readers, while waiting for the next installment, you can go back and start with the first book in the series.
Unfortunately for those of us who have been following the series, this appetizer leaves you wanting more. In the meantime, we will just have to be satisfied with his second installment in the "Fearless Jones" series, entitled "Fear Itself," due to be released this June.
[Bobbi Reddix,
Lincoln Public Library District]