"The only reason I'm leaving the council is because I'm moving out of the ward," Bill Melton says. He and his family are building their dream house out west of town, which they'll move into soon, so he didn't run again for his Ward 4 seat. He's lived on Burlington Street ever since he got married, and before that just around the corner on Sherman Street. Now the family will be living in the country, but Melton will keep his job as foreman of the maintenance department at the Logan County Highway Department.
Melton admits he's going to miss being an alderman, and he hasn't ruled out running for the Logan County Board one of these days. He comes from a family that has been active in local politics. His father, Dale, started serving on the city council in 1955 and was there until he died in 1981. Melton was appointed to fill his father's unexpired term and has been on the council ever since. Sometime in the mid-'70s, his older brother Jerry also served a term.
"The Meltons have been the only Democrats on the city council since 1955. That's not too bad in a Republican-dominated city. I kinda hate to break that tradition." he says. "But it shows me people here vote for the candidate, not the party, as far as local elections are concerned."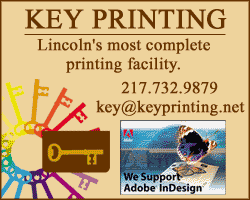 He remembers back when there were seven wards and 14 aldermen. Three or four years after he came on, the size of the council was reduced to the present five wards and 10 aldermen.
He's served under six mayors: Ed Malerich, Bill Wilson, Pete Andrews, John Guzzardo, Joan Ritter and the current mayor, Beth Davis.
In the early years, during Wilson's term, the council voted on hiring a city manager, but that vote was defeated. It hasn't been brought up again.
"I voted against it. I think it takes away too much of the voice of Mr. Taxpayer. If I have a problem, I want to talk to my alderman. If he doesn't listen, I can vote him out of office. Elected officials are more prone to listen to the taxpayer's wants and needs," he says.
He's always believed his No. 1 job was serving his constituents, and that's what he's proudest of in his 22 years on the council, though he can point to other achievements. He's worked many hours on a current project, the upgrading of city's sewage treatment plant. He's been chair of the sewer committee for the past six years and gone to a lot of meetings, many of them in Springfield.
"It had to be done if Lincoln is going to grow. I always felt we were doing the right thing upgrading the plant because the Illinois Environmental Protection Association had to approve everything. If they didn't think we needed it or if the plans weren't right, they didn't approve it. I also think EMC (the company that manages the sewer plant) is an honest company. They went above and beyond the scope of their duties to get this upgrade."
But serving the people in his ward, getting them help when they need it, has been his top priority.
"When a person from my ward wanted some little thing done -- a pothole repaired or a streetlight put in -- and I could help get it done, that gave me a lot of satisfaction. I think that's what it's all about."
A longtime railroad buff, Melton has always been an unofficial liaison between the city and Amtrak. He attended many meetings about the high-speed railroad concept and was always ready to talk to legislators to be sure Lincoln would be able to keep its passenger train service.
As presently projected, Lincoln isn't a stop for the high-speed trains, but Melton wants to be sure the city at least keeps the service it has: four trains daily, two southbound and two northbound. However, he's well aware that service isn't always what it should be.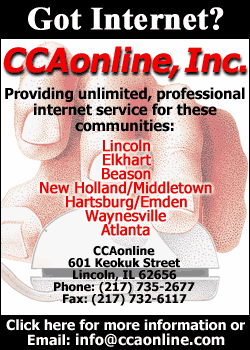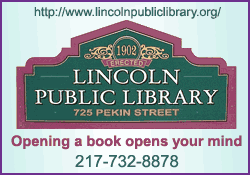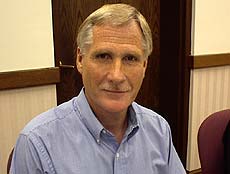 [photo by Joan Crabb]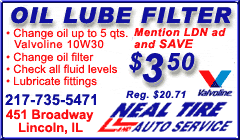 "One of the problems for Amtrak is they run on the same lines as freight trains, and freights have the right of way. Tracks are owned by several different railroads. Each time Amtrak gets on a different section of track, it has to get permission from that track owner.
"I think the biggest problem Amtrak has is running the trains on time. I would think if they could have regular trains running on time and get the riders' confidence, then they should go on to the high-speed trains.
"Another problem is you can't buy a ticket in this town, and you can't just go to the station and get on the train. You have to make a reservation a month ahead of time for the Chicago train. Why not just put on another coach? That's no way to run a railroad."
Another thing he doesn't particularly approve of is the new trend of "political correctness," or "PC."
"When my dad was on the council, a lot of things were said that would bring on lawsuits today. I agree that some of them shouldn't have been said. But today, there are so many special interest groups, you've got to be so careful about everything you say or do. The trouble is, you're apt to overlook what the majority of the people want. Sometimes the interest of the special groups isn't in the interest of the general public."
The recent economic slump has brought problems to the city. For two years in a row the council has had to make drastic cuts in the budget and this year had to lay off six city workers.
"Three years ago we thought we were all set; then the downturn in the economy knocked everything out. If interest rates hadn't done what they did, we'd probably be all right," Melton says.
Still, he's optimistic about the future of the city.
"We've made some tough decisions up there lately: the layoffs and the support of the industrial park. The council stuck together and proved we could work together on these tough decisions, and that's a very good sign."
He hopes to see the much-discussed north side industrial park, which the council voted unanimously to support, become a reality.
"The feedback I get from the general public is that we've got to get our heads out of the sand and do something to get Lincoln back on its feet," he says.
He has some advice for future council members. He wants to see them send delegates to Washington, D.C., regularly from now on. This year three aldermen, Melton, Steve Fuhrer and Verl Prather, along with Mayor Beth Davis and sewer plant manager Grant Eaton went to visit the area's senators and representatives, hoping for some financial help with the sewer plant upgrade.
"Durbin's office could not say enough about how important it was that we came out to see them. A lot of cities do that [send representatives to D.C.] We've never done it before. We also ought to do the same thing with the state legislature: send delegates to Springfield.
"You can write letters all day or sit on the phone, but it's not the same as sitting there face to face with a legislator," he said. "We've been waiting for these people to come to us, but we can't do that. If we don't go and ask for help, we won't get it."
Since he announced he was stepping down, he's had a lot of phone calls and cards from people throughout the ward, thanking him for all the years he worked for them.
One he particularly cherishes is from his former third-grade teacher. She complimented him on his common sense and said, "I'm a Republican and I don't live in your ward, but I'd have voted for you anyway."