A community cookbook offers numerous advantages beyond being a variety of locally tested and approved culinary delectables. It offers heritage. Each time the cook goes looking for just the right recipe for some special occasion or simply to break the monotony of everyday meal preparation, he or she is exposed to names that have a familiar appearance, sound or even face associated with them. Connections with those names never end. Some names associated only with the recipes often precede acquaintance in later years. And for those who move or are already living away from here, it is a way of staying in touch with our roots. The cookbook is a means of binding us as past, present and future friends in community.
The cookbook contains a whopping total of 988 recipes in all. "Nine hundred eighty-eight recipes is a wonderful effort by the community," said Zonta's Judy Awe. "Zonta Club of Lincoln is very happy with the response." The entries came from Zonta Club members past, present and future; Zonta Health Career Scholarship recipients; 2003 Lincoln school students; and community friends and family.
"I believe a lot of 'comfort foods' are in our cookbook," Awe said. "Many of the recipes are ones that include ingredients most cooks have in their pantry."
There are many "keepers" in this book. Just a few to mention:
Page 127 -- Chicken spaghetti
Page 256 -- Seven-layer salad. Not the usual seven-layered; must be the Parmesan cheese.
Page 256 -- Spinach salad with dressing. The dressing is good on other mixed greens too.
Pages 215-230 -- Soups. Glad the weather is cooling off. White chili is grrreat, different!
Page 164 -- Ham loaf
Page 50-51 -- Fresh apple cakes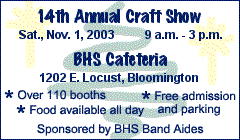 The children's section has been a plus. Kids always like to see their name in print. Award-winning divider pages were designed by Washington Monroe-School students. The dividers were randomly assigned to individual grade levels. Winners of the contest include Jon Burge, Brianna Dye, Bobby Dunovsky, Skylar Morgan, Darrin Watkins, Morgan Barrick, Steven Green, Kayla Hyde, Nate Kunkel, Ariel Staton and Joseph Papesch. Zonta awarded each winner a $10 gift certificate from Prairie Years in Lincoln and a copy of the new cookbook for their family.
The cookbook has a brief history of Zonta Club of Lincoln's annual turkey dinner and funnel cake fund-raisers, health career scholarship program recipients, and a review of the many community service projects that Zonta has help fund over the past 46 years.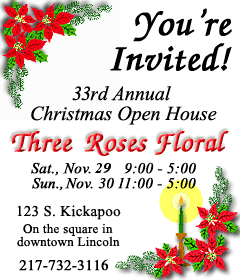 Awe said that the book was released in mid-August, and so far, "The response has been great!"
"Several cookbooks have traveled out-of-state, which is really exciting," she said.
They will make nice gifts for Christmas, birthday, anniversary, wedding or just because!
The cost of the cookbook is $15. Cookbooks can be purchased at the following locations: A.G. Edwards, Central Illinois Bank, Graue Inc., Illini Bank, State Bank of Lincoln, Towne House Beauty Shoppe, Union Planters Bank and Werth Realty.
Mail orders are available by sending $15 plus $4 shipping and handling to:
Judy Awe
123 Crestwood Drive
Lincoln, IL 62656-1360
Zonta is committed to making a difference in the community and world. Zonta Club of Lincoln thanks you for your continued support as the members strive to make a difference. Proceeds from the sale of cookbooks will be used to help fund community service projects.
The annual Zonta turkey dinner is coming up in November, and if any cookbooks are still available, the club will offer the books then as well.