---
---
Submit letter to editor online
---
Contact us
---
LDN is best viewed with
Internet Explorer 5.0 or 6.
---
LDN awards
Local:
Dec. 16, 2001
Local Emergency Planning Committee
Jan. 25, 2001
Logan County Healthy Communities Partnership
State:
Oct. 1, 2001
Illinois Public Health Association
posted daily OVER THE NOON HOUR (CDT)

=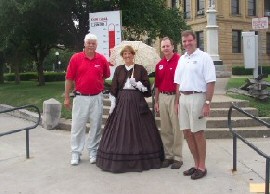 On Aug. 30, state Sen. Bill Brady and state Reps. Bill Mitchell and Rich Brauer presented Mayor Beth Davis of Lincoln with a House resolution commemorating the city's sesquicentennial. Pictured left to right are Brauer, Davis, Mitchell and Brady.







Lincoln blows out the candles

LDC task force targeting population

Wet weekend washes away August dry spell in Illinois

Letter: 'Who Let the Dogs Out?' art auction

Did Rube Goldberg ever invent anything worthwhile?

Gary Coers benefit

LC men's soccer vs. Kennedy King

LC women's soccer vs. SCI

LC volleyball at Danville
LDNs of the past week: