Oasis update

Send a link to a friend
[SEPT. 10, 2003] The Oasis, Logan County's senior citizen center, 501 Pulaski St. in Lincoln, is open weekdays (except holidays) from 9 a.m. to 4 p.m. The center is also open on Friday and Sunday nights for table games. Dominic Dalpoas is the executive director. Activities are open to all Logan County senior citizens, regardless of membership.
Potluck and bingo games
Join us Thursday at 11:30 a.m. for casseroles, salads and desserts for the monthly potluck. Music will be provided by Frances Murray.
Stay for the Oasis-sponsored bingo games that start at 1 p.m. Surprise prizes, companionship and laughter are all available for your enjoyment.
Monthly birthday party
Monday, Sept. 15, at 1:30 p.m. there will be games, entertainment, prizes, cake and ice cream for all September birthday celebrants. Join us -- no reservation needed.
Pinochle challenge
The Taylorville Senior Center is coming to town Sept. 16 to challenge local pinochle players. A $3 donation includes cards and a beef stroganoff lunch served at 11:30 a.m. Pick up your ticket before noon Monday, Sept. 15.
[to top of second column in this article]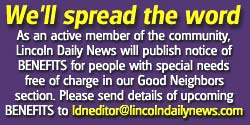 Petersburg van trip -- seats available
There is a trip planned for Harvest Fest in Petersburg on Sept. 20, with local departure at 9 a.m. Reservation deadline is Sept. 12. Cost for transportation is $10 for members and $12 for nonmembers. The meal is on your own at Gillmore's Cafe.
Game winners
Jean Cypher won weekly pinochle.
Newsletter
Friends of The Oasis members receive a bimonthly newsletter by mail. For more information, call 732-6132 or 732-5844.