Junior high teachers and students
tough out transition time

Send a link to a friend
By Ruth Halpin
[SEPT. 23, 2003] Lincoln Junior High School Principal Curt Nettles spoke to me about a few of the problems he and the teachers have experienced at the junior high school this year as they hold classes in the old Central School building. He said there are a lot of differences, a lot to get used to.
There are no lockers, and they have no gymnasium. The lack of lockers was a concern, but the students have adjusted fairly well, storing their bags and belongings in their homeroom classrooms. "We had to adjust the schedule to allow time to go back for books and things in between," the principal said.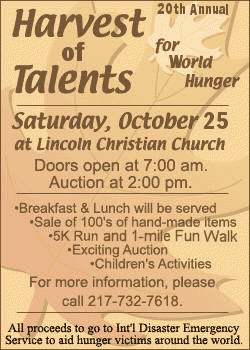 He said the students have not had to wear uniforms for physical education this year because there is no gymnasium and no locker rooms. The teachers are basically just letting them play outside and trying to get them a little exercise.
He also said that the band is playing on the stage because there is no band room in the building.
Lisa Cook, a special ed teacher, said that the main thing was finding the supplies they needed and unpacking everything in a short period of time. She said some things are still missing but nothing important. She also said that the school had experienced some electrical issues in connection with converting the former kindergarten classroom into the office. They tripped some breakers and had to call Albert Services to fix the problem.
Despite a few initial problems, though, it is not all bad. The heat will be less of a problem soon, and students are settling in and adjusting well. There is less congestion in the hallways since students are not stopping at lockers to talk or fix their hair, and Ms. Cook said it cuts down on tardiness issues also. She also said that the seventh and eighth grades are on separate hallways this year, which is new and seems to work out better for teachers and students as well.
The students don't seem to like this school very much. Alicia Baker said she doesn't like anything about it. Sixth-grader Ryan Irwin said it's hot and it needs air conditioning. Most of the students were in too big a hurry to leave school and wouldn't hang around and talk.
Despite the problems, though, staff members are looking forward to the light at the end of the tunnel, when the new building is ready.
"There is teaching and learning taking place," Nettles said. "The school is the people in it, not the building." As long as students are able to learn, the atmosphere is not as important as the content of the lessons.
[Ruth Halpin]