Citizens of Ward 2 in Logan County,

Hello, my name is Lawrence Harl, and I am currently seeking the office of alderman for Ward 2. I would like to take this time to tell you a little about myself and what I hope to achieve if I am elected to this office.

I am 33 years old and a father of two children: Larry Jr., who is 6, and Cora O'Dean, who is 3. I have been married for six years to Lorina Harl. I was born in Decatur, where I lived until 1998, when I made the choice to move to Lincoln because I liked what Lincoln had to offer in the way of schools and the politeness of the people in general. I am currently unemployed due to a medical condition; however, I am getting back to the point where I will be returning to the work force very soon.

I am currently the 52nd president of the Lincoln Jaycees, of which I have been a member for five years. In my Jaycee career I have held the offices of community local director for two years, internal vice president in 2004 and now president in 2005; and I feel, with what I have learned in the Jaycees, that will carry over to this alderman position.

[to top of second column in this article]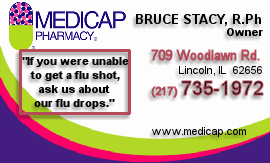 The reason I am seeking election is to give back to the community that has welcomed me and my family, to give the citizens in Ward 2 a voice. I do not have any prior political experience, but I am willing to learn and will do my best to represent the interests and concerns of the residents in Ward 2. I have ideas about LDC, our budget and the youth of our community. I am not saying I have the answer to everything, and for some things there may not be an answer, but I am willing to try and see what I can accomplish.
I would like to close by thanking the Lincoln Daily News for this opportunity to address the citizens of Logan County and residents of Ward 2. On April 5 I hope I can count on you to vote for Lawrence Harl as your alderman in Ward 2. A vote for Lawrence is a vote for change.
[Larry Harl]
Kathy Horn

404 S. Jefferson
Lincoln, IL 62656

732-3437

Age 51

Republican

Appointed to a vacant council seat in Ward 2 in August 2004

Employed as a file clerk and cashier at Kroger since the closing of Eagle, in September 2003, where I was a deli manager and the scan coordinator for 14 years. Also ran my own business as a home care provider for 14 years.

I have been a member of the Commercial Food Workers Union Local 536 since 1970 and have served as a union steward at both Eagle and Kroger. I spent two years on the union's executive board and have been on the contract negotiation team at both companies.
I have been a member of Holy Family Catholic Church since moving to Lincoln in 1969. I serve as a Eucharist minister and on the WATCH board. I am an active member with a history of involvement in church-related organizations, including two years as co-vice president of Carroll Catholic School Club.
[to top of second column in this article]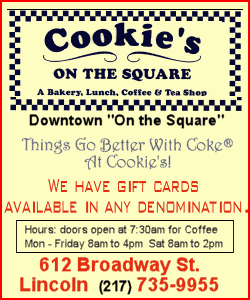 I'm a single mother of six boys, ranging from 29 to 17, and have one grandson and two step-grandchildren. As a single mother with the awesome responsibility of raising six children alone, I do understand the importance of a budget and how to work within that budget. As a former business owner I think I understand some of the problems facing local business owners. As a displaced worker, I do understand what it is to be without a job through no fault of your own. As a member of the union negotiations team, I have learned much about how to come to a fair contract between management and labor. 1 have enjoyed the past months on the city council and hope the people of Ward 2 give me a chance to put into action what I have learned during this time. It has been an honor and privilege to serve the city of Lincoln. As a homeowner and taxpayer I believe we have a right to say how we feel about how the tax dollars are spent in our city, and I want to give the people of Ward 2 an alderman they can feel comfortable talking over their concerns with and asking questions about just how local government is working for them.

Five of my boys are currently working here in Lincoln, and I would like to see the job market expanded in our community. Youth has always been a great concern of mine. We also need to make sure all of our city departments are working at full manpower. And make sure they have the best equipment to do their respective jobs.

We need to work with all government bodies, making sure we are all on the same page to work for economic development in our community.

I think the city council and the mayor's office have done great things to reverse some of our problems here in Lincoln and Logan County, and I would welcome the chance to again serve on the council to see more accomplished.
[Kathy Horn]
Wanda Lee Rohlfs is the Republican candidate for Ward 4 on the Lincoln City Council. She is a guidance counselor at Lincoln Community High School, has served as the government-education chairman for the Lincoln/Logan Chamber of Commerce for eight years, and is past president of the Kiwanis Club of Lincoln, the Lincoln Community High School Education Association and the American Business Women's Association.

Rohlfs pledges to be responsive to citizens' ideas while helping Lincoln reach its potential as a desirable place to live and do business.

"Having served as the chamber's government-education chairman and as president of various community organizations, I've listened to concerns residents have about the welfare and growth of the city of Lincoln," she said. "I want to help make Lincoln become what most of the citizens need economically and what they want in a community.

"As a counselor and former business teacher, I have the ability to listen to the people of Lincoln, whether they are business owners, employees, educators, retirees or young people. My work experience[s], in and out of education, have developed in me a strong sense of two-way communication. My commitment to what people are saying about not being informed citizens is to try to open those channels. I have the ability to open some avenues of communication and will work toward achieving that goal."

The many years she has spent in education have provided the opportunity to work with individuals in all walks of life. She believes every student has a right to participate in their school just as every resident has a right to participate in their community. She sees her role as one of bridging between citizens and the policies and procedures of city government. "This is an occupational role that I have developed and feel prepared to use in city council," she said.
"As a longtime resident and educator in Lincoln, I feel a strong connection to the city. Remembering the stories that my grandmother and parents told me about Lincoln, I get excited about the city as a hub of activity. The hub may have changed a bit, but I believe there is a community vision that will bring back the activity."
Rohlfs has been preparing for the position by attending council meetings since early last fall. "I do it as a part of making sure I understand and know what is going on before I leap into a situation," she said.
"It's my desire to strive for excellence on the city council. I'm willing to participate in endeavors which can make that happen, whether it be participation in the Academy for Municipal Excellence or helping update the city of Lincoln's comprehensive plan."
Rohlfs grew up in Emden and moved to Lincoln in 1968 after earning her bachelor's degree in a comprehensive business education and administration program. Since then, she has earned a master's degree in human development counseling and certification in educational administration from the University of Illinois in Springfield. She is married to Melvin "Gene" Rohlfs, and they have two children, Denise of Mahomet and Mercedes of Chicago.
Rohlfs would appreciate the challenge and opportunity to serve on Lincoln's City Council, but most of all wants to encourage everyone to exercise their right to vote.
[News release]
I am a millwright journeyman and a U.S. Army veteran. I belong to American Legion Post 263 and Voiture 985 of the Forty et Eight. At the current time I am serving as the 7th District cheminot for the Forty et Eight.
I am running for public office because I believe that every citizen, at least once in their life, has an obligation to be part of making their community a better place to live. Lincoln needs public servants who are observant and listen to the needs of the people. Also they need a clear vision of what the future can be. They must prove themselves strong leaders who are responsible and willing to work hard. There is no shame in being a public servant, but it must be more than just lip service to the citizens at election time.
The top issues that are confronting Lincoln city government start with the need for jobs that bring good pay, health care and retirement benefits for our families. Because Lincoln does not have them, we are rapidly losing the ones we do have. The current strike at MII is directly related to the poor work environment of Lincoln. It will take time and hard work to turn things around. There are problems with law enforcement concerning drugs in our community and the safety and welfare of our youth. The past 10 years our youth have pleaded for constructive things to do. Our current administration has been dragging its feet on this issue because of two things -- money and a lack of vision. I believe I have an answer to this problem and would like the opportunity to set the wheels of change in motion.
You have known me for many years, as I knocked on your doors and asked for signatures during my campaigns. They have always been about YOUR freedom to CHOOSE and YOUR need for CHANGE. On election day remember to vote, choose wisely, and please vote for CHANGE! Thank you.
[Fred Tabor]