"The essays written by these students carry messages of hope, freedom and equality," Mrs. Blagojevich said. "Their empowering words inspire us all to remember the greatness of the country in which we live and remind us of how the words and views of one person alone can affect a nation. I cannot think of a better way to recognize these students than have them share in the opening of the Abraham Lincoln Presidential Library and Museum, a place dedicated to the man whose inspiring words helped shape the nation we live in today."

The 10 students were the winners among 5,400 entries submitted from all 50 states and the District of Columbia for "Lincoln and the Gettysburg Address: An Essay Contest for Middle and High School Students." The contest challenged the students to craft their own thoughts about a "new birth of freedom" in an essay not exceeding 272 words, the length of President Lincoln's Nov. 19, 1863, Gettysburg Address. This is the largest number of entries ever submitted for a C-SPAN essay contest.

The grand prize winner is Mihan Lee, an 11th-grade student at Georgetown Day School in Potomac, Md. She will read her essay, entitled "A New Country, A New Century, A New Freedom," during the dedication ceremony Tuesday for the Abraham Lincoln Presidential Museum. Mihan will receive $1,500 in cash, while the nine first-prize winners will each receive $750 in cash.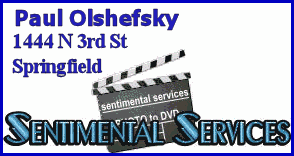 The nine first-prize winners are:
Mary Bax, 12th grade, Parkway West Senior High, Ballwin, Mo.; "The Journey Home"
Brett Brown, 11th grade, Kapaun Mount Carmel, Wichita, Kan.; "America and Freedom"
Lauren Cairco, 12th grade, Fort Mill High School, Fort Mill, S.C.; "A New Birth of Freedom"
Julia Ishiyama, eighth grade, Castilleja School, Palo Alto, Calif.; "A Message of Unity"
Karolina Kalbarczyk, eighth grade, University Laboratory High School, Urbana; "A New Birth of Freedom"
William Marks, eighth grade, Pine Crest Preparatory School, Hollywood, Fla.; "The Wireless Address"
Joshua Pohl, seventh grade, Pohl Academy of Learning Home School, San Antonio, Texas; "A New Birth of Freedom"
Michael Prince, 11th grade, Carlton J. Kell High School, Marietta, Ga.;"A New Birth of Freedom"
Courtney Williams, eighth grade, Heritage Christian School, Indianapolis, Ind.; "A New Birth of Freedom"
[to top of second column in this article]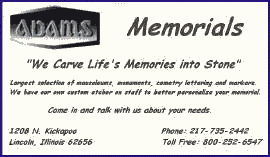 The 10 winners, each accompanied by a parent or legal guardian, will receive a private tour and attend the dedication of the Abraham Lincoln Presidential Museum and Library as part of an all-expenses-paid five-day Looking for Lincoln tour of central Illinois. The journey will take the students to numerous locations with ties to Abraham Lincoln. The itinerary includes:
April 15: Lincoln's New Salem State Historic Site, Petersburg; David Davis Mansion State Historic Site, Bloomington; Under the Prairie Archaeological Museum, Athens; Mount Pulaski Courthouse State Historic Site, Mount Pulaski; Lincoln Home National Historic Site, Springfield.
April 16: Lincoln-Douglas Debate Museum, Charleston; Lincoln Log Cabin State Historic Site, Charleston vicinity; Rock Springs Center, Decatur.
April 17: Luncheon at executive mansion with first lady Patti Blagojevich and visits to the Old State Capitol, Lincoln-Herndon Law Offices, Great Western Depot and Lincoln Tomb historic sites, all in Springfield.
April 18: A special breakfast hosted by C-SPAN, a private tour of the Abraham Lincoln Presidential Museum and official welcome by Gov. Blagojevich.
April 19: The dedication ceremony for the Abraham Lincoln Presidential Museum.
The opening of the Abraham Lincoln Presidential Museum features four days of activities April 16-19. The current schedule of events includes a 5K race, a two-day Looking for Lincoln block party, a two-day scholarly conference featuring some of the world's top Lincoln experts, a re-creation of Lincoln's Farewell Address and an 1800s political torchlight parade, an outdoor concert complete with fireworks and a laser show, a Lincoln Bicentennial Commission breakfast, a re-created White House state dinner fundraiser, and the public dedication ceremony at 11 a.m. Tuesday.
The Abraham Lincoln Presidential Museum brings Lincoln's story to life like never before with exhibits and shows that immerse visitors in his life and times, making them fellow passengers in his journey from log cabin to the White House. It is the largest presidential museum in the country and offers for the first time a chance to display Illinois' 47,000 original Lincoln artifacts. The adjacent Abraham Lincoln Presidential Library, which opened in October 2004, is the world's foremost research facility about all aspects of Illinois history.
[News release from the governor's office]