What do you see as the strengths of this community?
Voyles: Education institutions; community and unity.
Davis: Named for A. Lincoln; is a hub for other smaller communities; has amenities, colleges, hospital, colleges, schools. Rail and taxi services. Need to retain businesses.
O誰eill: Education; the people of this community; Route 66. We need to decide what kind of community we will be. We should choose to be a bedroom community - are we ready?
Major challenges?
Davis: Are we ready for the opportunities? For 30 years tried to put in industrial park.
O誰eill: Decent-paying jobs. 1. MII strike - support from fellow unions in area. 2. Fifth Street Road project.
Voyles: Reverse a very bad trend: revenues coming up short from state, sales taxes. Tax limitation - tax caps. We have to set priorities: age of sewer systems, erosion of roads. Need to attract people to pay taxes. Crime and drugs - better law enforcement and street lighting.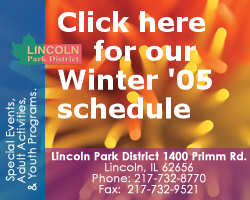 Keep department heads the same?
O誰eill: Cannot make judgment until I become mayor.
Voyles: Can address these once I'm elected. System to recruit, hire and train. Confident we currently have good people.
Davis: Have well-honed group of individuals currently. Bring up from among ranks. No reason to make changes.
Response to proposed county board increase in sales tax:
Voyles: County did not, city did. New revenues are much needed. Public safety costs. Need to keep county government going. County will need to make cuts if not passed; 25 percent across-the-board cut.
Davis: For infrastructure. Have received $504k. Costs to transport juveniles; crime has increased. Increase would be good.
O誰eill: Strongly against. Highest paid county employees; not fair to ask taxpayers to pay more. Leaders saw it coming but did nothing about it.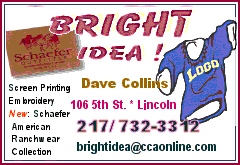 County coordinator - good for city to get one too?
O誰eill: Need full-time mayor. I can be a full-time mayor. This eliminates the other candidates. Until we get full-time mayor, we must work to eliminate waste. Eliminate $25k paid to chamber to get part-time manager; then get full-time mayor.
Voyles: Huge budget for county: need someone to steer the ship. O誰eill dld great job with animal control, but all the money is gone. Will retire to be full-time mayor.
Davis: Did retire in October and since then has been full-time mayor. Lincoln would benefit from full-time mayor. Against city manager.
Comment - Ethanol plant had no city or county person at Knights of Columbus meeting.
Voyles: Have had many meetings with those people. Was a fund-raising meeting. County has made economic assurances.
Davis: Have also been involved. Good for community. Ethanol plant will not need anything from the city.
Does Lincoln have firefighting equipment for ethanol fire?
O誰eill: Not up-to-date on equipment; assured training level of personnel sufficient.
Voyles: Ethanol plant in county, not city. Reciprocal agreement with all area fire departments. Have lead time to develop before plant finished. Need to think long-term.
Davis: Excellent trained department. Something could be arranged.
Will Lincoln do noneconomic impact study about ethanol plant?
Voyles: Economic impact will be huge. Noneconomic on services, schools, community. Not 100 percent that they are coming to this area until funding is secured.
Davis: Much to do, but city is not involved.
How should the mayor respond to city employee who is accused of criminal conduct?
Davis: Recently was. Went through proper channels.
O誰eill: Same as I handle this issue as a union rep: suspend without pay; follow the whole procedure; come out with procedure for handling this kind of problem.
Voyles: Seek city legal advice. Investigate and determine facts. Suspend with or without pay. Take time so as not to violate anyone's rights.
Job opportunities at new LDC above minimum wage: What will you do as mayor?
O誰eill: Need unions. Support all fellow unions. Without unions we will all be working for minimum wage.
Voyles: Involve economic partnership. Have discussed LDC: 4 CILAs, $7m. A good start. Need to keep heat on state government. If there is not a plan soon, then declare the LDC campus as surplus property. Give or sell it to city, county. As mayor, form task force to determine the course for the economic team.
Davis: Appointed by governor to serve on LDC board. AFSCME board to call back employees. Plans for physical facilities and services.
How will you reach out to students as mayor? (They are 10 percent of registered voters.)
Voyles: I talk to everyone. Don't check to see if they are registered. Represent all citizens. Input welcomed. I'm a good listener.
Davis: Welcome LC, LCC and Heartland. Get input for solutions, join commission. Open-door policy.
O誰eill: Youth are future and No. 1 resource. Trying times. Need adult influences. We need jobs that pay and have benefits. Teen task force. On commission. Be role model for our young people. Written platform available.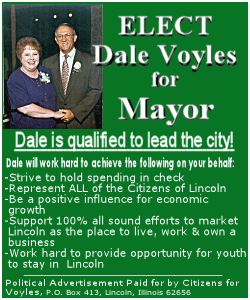 What plans to combat rising crime?
Davis: Live in hub. Meth production and distribution. We have a fully trained and equipped police department. Live in agricultural community with anhydrous available. Hard to combat.
O誰eill: People need to get involved. Neighborhood watch, block meetings to help police. Drugs No. 1 issue. Need to get rid of bad influences.
Voyles: I don't have all the answers. I brought this to the forefront in county government. Need input from state痴 attorney, judges, probation officers, representatives of clergy, school system. Need street lighting - does not meet minimum standards for safety and crime prevention.
As mayor what will you do to end MII strike?
O誰eill: Challenged CEO to sit down in negotiations till agreement is signed. Would sit in on negotiations if asked.
Voyles: Experience lengthy. On both sides. Sad situation. All good people, good workers. Don't know if any one person could help. Would step forward if asked to help. If not, would not interfere. Use federal mediation as we have in the county.
Davis: On advice of city council. Private business. Tried to use mayor's office to help resolve. City should not take sides.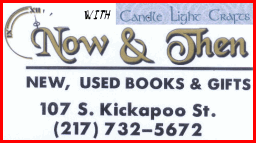 Use city dollars for street parties or events?
Voyles: Street parties, no. Need to use funds carefully. Sesquicentennial soon.
Davis: This question is for me. $10k given by city for 150th. Huge success. Heritage Day, July 4th - should get this started again. Community is too serious - need to have fun. Other communities commented on how wonderful sesquicentennial was.
O誰eill: Time to celebrate and not to celebrate. Was not good timing with layoffs, deficit budget.
What to do about abandoned buildings and litter?
Davis: Lincoln is not dirtier than other cities. I started beautification commission to help Les Last.
On record only two layoffs: street department, fire department. Two scheduled who went to other departments. Police department two retired.
O誰eill: 38 uninhabitable houses. Many landlords who live outside community. Tax breaks for beautification. Lack of available housing.
Voyles: Complex question. Do a good job and look like good community. Good zoning, enforcement. Citywide cleanup. Deteriorating buildings detract. We have to look good. Empty houses do not look good. For sale signs - we need those houses to sell and people to move here.
Is city generating revenue from racetrack?
Davis: From sales tax. Have talked about entertainment tax.
Concerning the last question: City attorney and Les Last short of help. This administration acquired many problems from last administration. Cannot just bulldoze; don't have the money.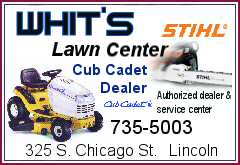 What can be done to generate revenue?
O誰eill: I am strong motivator. For years tried to develop $2m industrial park - wasted time. Need to develop as bedroom community. Fifth Street development. Will save taxpayers $.
Voyles: We need to work together to promote growth. Tax caps. How do you grow your community? Work with both colleges to tie in meeting their needs with their growth.
Davis: Have taken positive steps: sales tax, pursuing federal grants.
Should the council direct or mayor direct city?
Voyles: I am a strong leader and can work with city council. It's a together thing.
Davis: Proud of current city council. Mayor cannot vote except to break ties. All councilmen head committees.
O誰eill: Need to earn everyone's respect. Mayor doesn't know everything. Need to pull together.
Closing remarks:
Davis: Want another term. All these things require money. We are just getting in a position financially where we can afford to make some of the necessary changes.
O誰eill: I am a man of action. I may not be the best qualified, but no one will over-work me.
Voyles: These are both good people. Think I am the best prepared. We cannot stand any more years of high unemployment. Want to bring hope and vitality to our community.
The primary election is Feb. 22. The general election will be April 5.
CITV Channel 5 recorded the debate in its entirety and will begin airing it next week. Watch LDN for those scheduled times.
CITV airs over cable, but anyone with a computer, an Internet connection and audio will be able to view and hear it through the CITV website media player. LDN will provide a link to that address.
[LDN]