In a previous column I already spoke of LCC's Hall of Fame weekend and its festivities. I will add that the weekend tournament was really well-organized.

I submit my early apologies to those CITV-5 viewers who have already grown weary of my voice… Greg Taylor had a funeral, and that's why you'll have to hear me as the play-by-play voice (not my strong suit) on the Angel broadcast. I got to greet most if not all of the returning Hall of Fame inductees and players who were back for the alumni game.

And yes, I played in the alumni game. And yes, we use the term "play" rather loosely at the LDN! I was just happy to get up and down the court a few times without getting injured. Craig Zastrow and I remarked after the game that now that we're getting older we don't seem to get as many "touches" as we used to get… What's up with that?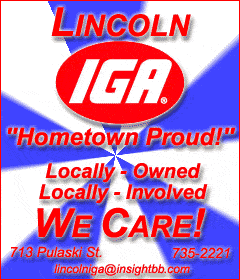 All in all it was a great weekend of festivities. Our congratulations once again to all the inductees. Hopefully the weekend will spur the Preachers and the Angels on to the national tourney once again! By the way, both of LCC's teams looked good in wins this weekend!
As you can see by my itinerary, I missed most of the festivities at the U of I this week. And what a special weekend they put in place. They had in attendance over 350 players, coaches, managers and support staff who have been associated with the university's hoops program over the last 100 years. They also introduced all players and had a special tribute and ceremony for the 20-player All Century team as voted by the fans. That team included Lincoln's Brian Cook, who got a huge ovation and was represented by his mom, Joyce Cook. Other members with local roots are Bill Rucks Jr., Dave Downey, Gene Vance, and there were others.
My reflections…
As an alum of both LCC and the UI, I can't tell you how proud I am of both schools. And what an emotional experience both of these events were! I realized this week how blessed I was to be able to play college basketball and how privileged I was to coach it. Other than the vocation I am trained in, there may not be a closer-knit community or fraternity than the one that exists in basketball.
People tell me that I waste a lot of time on it since it's "only" a game. I find those comments insensitive and offensive. Many of my basketball friends' best character traits are those they learned and honed through basketball. If I have any good ones, I'm sure I got the majority of them through my hoops experience as well.
No, it's more than a game. It's way more than a game. It's an environment that transforms selfish little boys into unselfish, team-thinking life conquerors. If you think I overstated it here… you probably never played college basketball.
Taking care of business
When Bachman Turner Overdrive penned the song "Taking Care of Business," they might have had the Illinois Fighting Illini in mind. Many members of the media were concerned that with so much hoopla going on around the Assembly Hall this past week that the Illini players would not be very focused. They further contended that after the huge, emotional win at Wisky that snapped Bucky's 38-game home-court winning streak that the Illinois players would come out flat and have a huge letdown.
Well, if you call coming out of the gate on a 10-1 run to start the game, coming out flat, then so be it. The Illini didn't mess around and never let what's so far the surprise team of the Big Ten ever have a hint that they would be in the game. Williams, Powell and Augustine took it over early and often and seemed to send a message to visiting dignitaries and the crowd alike: You can keep on celebrating because… "we do this!"
Illinois shot 56 percent from the field for the game, outrebounded the physical Gophers 37-31 and out-assisted them 21-11. They put four players in double figures, but they gave Luther Head some time off for good behavior and made him contribute only 10 points in this 89-66 contest.
The game was played before one of the largest crowds ever at the Assembly Hall, as 16,694 patrons crammed in and partied all afternoon. Kenny Battle and Kendall Gill got huge ovations, but Lucas Johnson really rocked the house when he came out of the tunnel. It was hard for Cook to get that same kind of love. However, in the midst of perhaps the most special season in Illini history, is it coincidence or not that this year's team is 21-0 and No. 1 in the nation during the school's 100th season? Who cares! I'm celebrating basketball!!!
Speaking of Cook...
Lincoln's only current NBAer tickled the twine for 13 points and seven rebounds as the Lakers put away the Bobcats of Charlotte. And talk about efficiency… Cook did all of that in only 15 minutes of action.
L.A. hosts Portland on Tuesday night and San Antonio on Thursday.
ISU's valiant road effort
It seems as though the Redbirds are not satisfied playing in the Illini shadow. So, for an encore Saturday night they nearly shocked the basketball world by just failing to upset Wichita State, falling late 78-72. For those just tuning in, the Shockers are rated by many as the top mid-major in the country. The 'Birds never got that memo and made a case that they themselves should be considered in that category! Lincoln's Gregg Alexander did all he could do by nailing three 3s on his way to nine points, but it wasn't enough to carry ISU to victory. The loss moves ISU to 14-6 in front of Tuesday night's game at Drake.
Railers: All they do is win
You can question and second-guess LCHS coach Neil Alexander all you want. Maybe you don't like him. Maybe you don't like the way he goes about his business. Maybe you don't like the ball press or his zone defense. Maybe you don't like a lot of things.
But if you doubt him, then maybe you don't see the genius behind yet another 20-win season. I think that he'll never be fully appreciated until long after he's gone. Someone will pick up a program or see the records and say, "Who was this Alexander guy who won 20 games every season?"
The Railers roll on as a finely oiled machine, taking care of Sacred Heart-Griffin on Friday and Canton on Saturday… Who's next?
I should have more girls' sports reports and should be able to update you on many other sports endeavors, but I can't. I can tell you about a phenomenal tennis match I stayed up and watched the other night between the Aussie Molik and America's Lindsey Davenport. It was one of the greatest matches I have ever viewed, as Molik repeatedly fought off match points to extend the fray. Davenport did too, but in the end she was just too powerful to be defeated. If you missed it, you missed one of the best Grand Slam matches in Australian Open history. Wish I were in better shape to spend some time on the court.
That's a whole 'nother story… but I'm still too busy celebrating basketball. Have a great week, everybody!