Postcard from the park
Rock Cut State Park
Note: Each week, Joel Brunsvold, director of the Illinois Department of Natural Resources, sends a postcard profile of a different Illinois state park, natural area or trail. This week, the director is writing about Rock Cut State Park, located in northern Illinois.

Send a link to a friend
[JUNE 4, 2005] LOVES PARK -- Greetings from Rock Cut State Park,
I am standing on another sandy beach of Illinois. This beach is at Rock Cut State Park, in Winnebago County. Olson Lake, a landmark of the park, was specifically designed for swimming. While it's fun to visit a pool, there's something about stepping into the cool water of a lake, with sand squishing your feet, that says summer. I enjoy watching the kids approach the water's edge. On days before the sticky heat of summer, when the winter chill moderates the lake temperature, some children ease in inches at a time, while others run full-force into the depths of the water. Each strategy has its own advocates -- and its pros and cons.

The two lakes are a centerpiece of Rock Cut State Park's 3,092 acres. Still, this is a park to explore beyond the waterfront. The network of trails here adds up to 40 miles for hiking, 23 miles to explore on horseback and 23 miles for mountain bikers. The park is also popular among those who enjoy a more traditional style of bike riding. Rock Cut offers access at the Pierce Lake spillway, to the Willow Creek Bike Trail and Perryville Path, a paved trail system connecting the local communities of Loves Park and Rockford to Rock Cut State Park. Trail users will find updated trailhead and information signs at picnic areas and trail access points.

The wildlife here at the park is remarkable. Rock Cut is on the Mississippi Flyway for migrating birds. This time of year, all sorts of birds that winter in Florida and summer in Canada are stopping off here. I even spotted a pelican. Year-round, bird-watchers can count on seeing turkeys living in the wild, as well as bluebirds nesting in boxes in the prairie area of the park.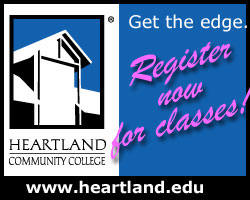 This park is special because of a unique prairie restoration project. In the past few weeks, sod was excavated from privately owned South Beloit Prairie and moved to Harlem Hill Nature Preserve in Loves Park, a satellite site of Rock Cut State Park. The reason for the extreme measure: efforts by the Department of Natural Resources to purchase the land were unsuccessful. As those avenues of preserving the 5 acres through purchase and management failed, the plan was conceived to move pieces of sod. Three threatened rare plants grow there, including the federally listed prairie bush clover and the state-listed plants kitten tails and hill's thistle. IDNR plant biologists believe they can nurture these plants, and one day, a piece of history will thrive here because of this stewardship.
Rock Cut State Park provides the perfect representation of the mission of the Illinois Department of Natural Resources. Visitors find a host of recreational opportunities. Also here, IDNR's stewardship of resources is evident, from wildlife to prairie grasses. What a great place to plunge into nature, or ease in a little at a time!
Yours truly,
Joel Brunsvold
Director, IDNR
Directions:
Follow Interstate 90 or 51 to Rockford. Take the East Riverside Boulevard exit. Follow signs off tollway.
Also in the parks:
Illinois Free Fishing Days
, June 10-13. Anyone may fish in Illinois without a sport fishing license. For information, visit www.ifishillinois.org.
Volunteer Fire Assistant Grant
applications available. Grant information is available at www.dnr.state.il.us.
Montreal Canoe Weekend
, Starved Rock State Park, June 11-12.
Massiac Marines Living History
, Fort Massac State Park, June 11-12.
Grand Illinois Trail and Parks Ride
, June 12-18.

[Illinois Department of Natural Resources news release]