You haven't heard that story? Well, after playing a second half the night before against Tinley Park-Andrew and looking perhaps as bad as any Lincoln team I have seen in a while, it all carried over the next night against the Braves. Give Mount Zion some credit. They are extremely well-coached by Jay Driscoll. They are strong, rugged and play smart. But the ball our guys were playing was not classic Railsplitter basketball.

That all changed Friday night. Actually it changed before that. My son and I stopped by practice a couple times last week, and our guys were both loose and as focused as I have seen them in a while. Isn't funny how that correlates to wins?

This time even a late comeback by Mount Zion wasn't enough to deny the Railers. Lincoln owns overtimes. And when this one was over, Lincoln was on top 46-45 for one of the sweetest wins I can ever remember. I don't know if I've ever heard Railer coach Neil Alexander as pleased on a post-game show as he was on Friday night.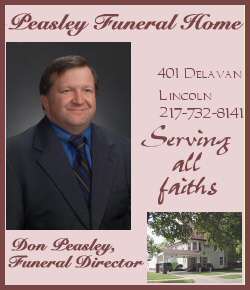 Lincoln will now advance to the sectional round, where they will be pitted against Champaign Centennial. The Chargers upset the No. 1-seeded Champaign Central squad. The area basketball experts will all point out that Lincoln is too small and not strong enough to upend the Chargers. Our tip of the week -- don't bet against Lincoln!
End of the world?
I hardly think so. I've been telling you loyal readers since the first Big Ten game of the year that Thad Matta could flat-out coach and that the Buckeyes were somewhat underrated. I felt they were capable of not only beating us, but of beating anyone! For all of you suckers who wanted Illinois to lose one -- no, that said they must lose one before the Big Dance -- I hope you are happy now! However, in the grand scheme of things is this really a major calamity? I think not.
The Illini had already won the Big Ten title "outright," and so in that regard this game was meaningless. Before that, they had gone a perfect 14-0 in the non-conference portion of the schedule and beat a lot of impressive teams along the way, including the former No. 1 team, the Wake Forest Demon Deacons.
And while we're discussing No. 1 teams, the Illini should STILL be No. 1 this week! One loss should not derail them and diminish what this team has accomplished. Sure, the media has a chance to elevate their darlings, the North Carolina Tar Hills, and I expect that they might; but they would be wrong to do so. They've been wrong before, so I won't be shocked if it happens.
However, don't worry about the Illini. The sun came up today, and there are still games to be played. This is one of the strongest-willed, toughest-minded groups of kids that I have ever been around, and they will respond positively to this situation. Mark it down.
One last thing on this topic… I just got a call from Bobby Straface. For those unfamiliar with him, he was the star of McNeese State's team a few years ago. He finished his career playing both baseball and basketball at Lamar University. Anyway, to make a long story longer, I conned him into coming up and helping us run the Lincoln Christian College summer basketball camps (if you're looking for the top hoops camp in this area and there's a better one than LCC's, I haven't seen it), and so some of you area residents got to meet Straface.
At any rate, he says that Illinois' loss is the final piece. He says regardless of what you heard, the pressure on the kids over the last three to four weeks was immense. He says losing now takes the weight of the world off their shoulders, and now they can just go out and do what they do best. I always liked that Starface kid, and I think he is right about this call too!
Lincoln College to championship game
The Lincoln College Lynx advanced to the championship of Region 24 with a stirring 67-63 semifinal victory over Rend Lake. With a sparkling record of 25-7 the Lynx will host Shawnee at Lincoln Christian College tonight at 7. At stake is a trip to the National Juco Tournament later this week in Danville. Good luck, Lynx!
The Lady Lynx saw their season come to an end at the hands of John Wood at Illinois College. Lincoln finishes an improved campaign at 18-15.
Illinois State, on the other hand…
…has seen its season come crashing to the ground. They lost something like six of their last seven heading into the MVC tourney, and once they got there, it was a rematch with the Creighton Bluejays. I pleaded with the MVC just like Apollo Creed did with anyone that would listen after the first Balboa fight. "Ain't gonna be no rematch… don't want one." I was hoping to be wrong, but I had a bad feeling about playing them again. The Bluejays pulled away early in the game, and the Redbirds couldn't forge any kind of a comeback whatsoever. It was a sad way for the season to end, but they finished with a winning record nonetheless -- a tribute to senior Gregg Alexander and the other seniors.
National League kiss of death
According to ESPN baseball expert Peter Gammons, the National League pennant will once again run through St. Louis. Talk about the kiss of death. Has he forgotten how tough Houston was the last month of last season? And what about Los Angeles, San Francisco and Atlanta? And shouldn't he also have the Mets on his radar screen?
I'm not fallen for the bait. I STILL see the Chicago Cubs' starting rotation as the best in baseball. And even though I don't work for ESPN, I was always taught that the edge has to go to the team with the best starters, and that's the Cubs hands down.
I do like the Cardinals' everyday lineup. I like their pitching if it stays healthy. However, I'm not yet convinced that the Birds are better than they were a year ago. Heck, I'm not even sure that they are as good as they were last season. But whatever, I'm ready for the games to begin as soon as possible.
But wait…
…hockey action? That's right. Thanks to Dr. Robert Kidd, many of us representing Lincoln Elementary District 27 got to take in a Peoria Rivermen game yesterday afternoon at the Civic Center (which, BTW, is a great venue for hockey, while not so much for hoops). The Rivermen played great defense and threw three goals on the board in the third period to beat Trenton, N.J. (I think it was Trenton?) 3-0! I know they're going through a reorganization and that they haven't had a very good season, but minor league hockey is STILL great entertainment for the entire family. I know our family enjoyed it.
Angels at nationals
Congrats to LCC's Lady Angels for taking ninth place in the women's basketball nationals in Clearwater, Fla.
"FANdamonium" salutes West Lincoln-Broadwell…
…the state 7A boys basketball champions. Be sure to catch Wolverine coach Brian Brackney and the boys later this week on CITV-5.
There's lots of other sports news, but I'm out of time. Have a great week, everybody!