"We are highlighting National Women's Health Week here in Illinois to increase awareness and educate women about potentially life-threatening diseases that are more likely to affect them," Gov. Blagojevich said at a May 12 event at the Capitol. "We are proud to be one of only 15 states in the country to have an Office of Women's Health to address these issues and strengthen our commitment to improving the health of women throughout the state."

As part of a daylong women's health fair in the Capitol rotunda, the state celebrated the 10th anniversary of the Illinois Breast and Cervical Cancer Program. The program provided nearly 19,000 women with free screenings in fiscal 2004 and has served a total of 57,000 women since the inception of the program. The Illinois Department of Public Health's Office of Women's Health contracts with 26 lead agencies that work with 2,100 providers to offer free mammograms, breast exams, Pap tests and pelvic exams to low-income women ages of 35-64 who have no health insurance. At the anniversary event all 26 lead agencies were presented with an award for their efforts.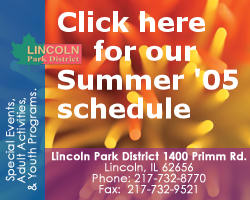 Pamila Schmidt, 50, of Logan County credits the program for saving her life. Two years ago, Schmidt's daughter urged her to sign up for the program since she was uninsured and needed a mammogram. Her free mammogram detected a cancerous lump.
"If it was not for this program, I would not be here today," Schmidt said. "My breast cancer was so aggressive that I would have died if I didn't catch it early. So many women go undiagnosed unnecessarily because they don't reach out to programs like this for help." Schmidt was able to get her treatment covered through Medicaid, and her oncologist recently gave her a clean bill of health.
Louanner Peters, the governor's deputy chief of staff for social services, spoke at the event in Springfield to discuss the administration's commitment to addressing women's health issues, from cardiovascular disease to mandatory insurance coverage for birth control.
Last year, Gov. Blagojevich signed landmark legislation that requires private insurance providers to cover all FDA-approved birth control drugs and devices for not only men, but women as well. To ensure women have access to the contraceptives their doctors prescribe, he issued an emergency order in early April that requires pharmacies that sell contraceptives to fill orders for birth control without delay. The governor's action came in response to reports that some Illinois women with signed prescriptions for FDA-approved birth control were turned away at a pharmacy.
Since taking office, Gov. Blagojevich has proven women's health is a priority by adding an additional $4 million in state funding to support breast and cervical cancer screening and education. The administration's support for community and faith-based groups, such as the Stand Against Cancer Initiative, resulted in 7,500 screenings. The initiative works to target the hardest-to-reach minority women throughout Illinois by partnering with neighborhood organizations, churches and federally qualified health centers. In fiscal 2005 the total amount of funds supporting breast and cervical cancer programs is $11.45 million, including $6.15 million in state dollars. Over the last two years, investments toward breast and cervical cancer screening and education programs in Illinois total more than $21 million. Gov. Blagojevich also signed legislation in December creating a 12-member Cervical Cancer Elimination Task Force to help educate the public about cervical cancer and develop a statewide comprehensive prevention and control plan.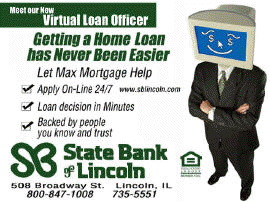 "We are making great strides in addressing women's health issues, with the support and commitment of Gov. Blagojevich," said Dr. Eric E. Whitaker, state public health director. "The work he has done has allowed us to aggressively respond to women's health concerns with educational tools, access to cancer screenings for low-income women and implementing programs that make a difference."
Another health issue facing women is the No. 1 killer, heart disease. According to 2002 Illinois data, nearly 22,000 females died from cardiovascular disease, which includes heart disease and stroke. The Illinois Department of Public Health has provided funding to local health departments and community-based agencies for the development of cardiovascular programs like the Heart Smart for Women Program, a 12-week program that helps women improve nutrition and increase physical activity. Some 3,000 women will benefit as a result.
The Department of Public Health has also expanded the Well-Integrated Screening and Evaluation for Women Across the Nation program to 20 Illinois counties, so women in the Illinois Breast and Cervical Cancer Program now have the opportunity to reduce their risk of heart disease, stroke and diabetes. The expanded program, known as WISEWOMAN, aims to lower heart disease and other chronic disease risk factors through screening and a lifestyle intervention program that guides women toward healthier eating and adequate exercise.
The department kicked off its own Public Health Out Walking campaign to encourage employees to stay active and healthy. Dr. Whitaker challenges Department of Public Health employees to take 10,000 steps per day during a 12-week period.
Another important health issue women need to be aware of is osteoporosis. An estimated 10 million Americans over the age of 50 have osteoporosis, and one in two women over 50 will suffer a fracture because of osteoporosis sometime during their lives. Osteoporosis can be prevented by getting adequate amounts of calcium and exercise starting at an early age. Illinois' Building Bones Program, a grant program offered through local health departments and community-based agencies, educates and provides screenings to women for risk assessment. The program allows nearly 7,000 women to be educated about osteoporosis. This year, the Department of Public Health will take its awareness campaign a step further by working on a pilot project with elementary, junior high and high school students. The students will have an opportunity to learn more about the importance of exercise and the health benefits of calcium.
In April 2004, Gov. Blagojevich launched the Illinois Healthy Women program under the Department of Public Aid. The free program offers low-income women who are leaving the Medicaid program the tools to prevent unplanned pregnancies and to assist in making a successful transition from welfare to work. As of Nov. 5, 2004, more than 80,000 women have participated in the program.
To learn about these programs and more, the Illinois Department of Public Health invited women's health exhibitors to hand out informational materials at the James R. Thompson Center in Chicago on May 10, in addition to the Springfield event on May 12.
For more information on women's health and programs offered through the Department of Public Health, visit www.idph.state.il.us or call (888) 522-1282. The TTY number, for hearing-impaired use only, is (800) 547-0466.
[News release from the governor's office]