Crop updates

Send a link to a friend
Weekend freeze damages crops
By John Fulton
[MAY 12, 2005] Much of our corn crop seems to have dodged a bullet, as the warm weekend weather brought out green leaf tissue from new plants and plants that had been frozen off. Concern was expressed about corn being in the ground for over a month with no green tissue making food for the crop. The corn plants have been living off the seed until they were able to actually have green tissue.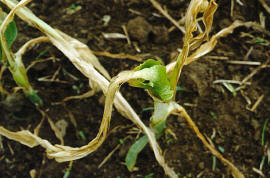 Currently, about 95 percent of the corn crop in Logan County is planted. About 80 percent of the corn planted is emerged, or re-emerged. After a flurry of weekend planting, about half the soybean crop has been planted.
With record cold temperatures in the Logan County area, the damage from the cold was the big story last week. We had some temperatures as low as 24 degrees. The soil was dry, and that didn't allow very good transfer of cold air temperatures into the soil, so freezing occurred only about a quarter inch below the soil surface.
The growing point was well below the soil surface on corn that had not yet reached the five-leaf stage. Most area corn was in the one- to three-leaf stage, if it had emerged.
There are potential problems even with viable plants and regrowth. Growers need to make sure they are not getting a constriction in the dead material that will cause buggy-whipping of the plants. Most plant material was allowing for regrowth.
[to top of second column in this article]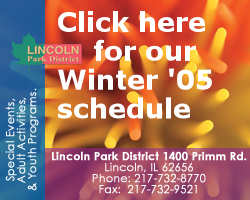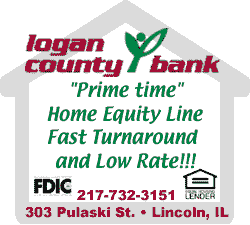 The addition of growth regulator chemicals should probably be delayed a while to allow for normal growth to resume. Injured plants may have trouble metabolizing certain types of herbicides due to the lack of stored energy and cold damage.
Soybeans that were emerged are probably a "do over." Even if some of the leaf material survived, the growing point was probably killed. This will cause side branches to grow and may lead to breakage as weight is added to the branches later in the season.
[John Fulton, unit leader, University of Illinois Extension, Logan County Unit]