Five CIEDC staff attend Region V Head Start Conference

Send a link to a friend
[NOV. 3, 2005] Last week, five employees of the Central Illinois Economic Development Corp. attended the Region V Head Start Conference in Columbus, Ohio. Executive Director Angela Stoltzenburg attended the conference with the CIEDC Head Start director, Sarah Puls of Lincoln; the assistant director, Lindsay Wilken of Petersburg; and two area supervisors, Michelle Schulte and Sandy Wommack of Havana.
The Head Start program is administered by the Head Start Bureau of the Administration on Children, Youth and Families of the Administration for Children and Families of the U.S. Department of Health and Human Services. In 2004, 905,851 children were enrolled in Head Start programs throughout the United States.

CIEDC has 15 Head Start sites in its six-county service area. Head Start serves over 330 children annually throughout Fulton, Mason, Menard, Logan, DeWitt and Piatt counties. Head Start provides children with health and dental screenings, family services, and a curriculum to prepare them for kindergarten.

[to top of second column in this article]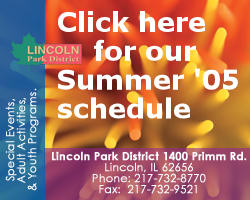 "I'm glad that our staff was able to attend such a great conference," Stoltzenburg said. "Head Start is celebrating its 40th anniversary, so it is an exciting time to be a part of Head Start. The Head Start program works as intended to get America's poorest and most at-risk children ready to learn in kindergarten and later in school. Our Head Start staff is dedicated to keeping a high level of services available to the children in our community. Attending conferences like this one is part of staying ahead of the curve."
CIEDC is a nonprofit Community Action agency headquartered at 1800 Fifth St. in Lincoln. Any parents interested in learning more about enrolling their children in Head Start should contact CIEDC at (217) 732-2159.
[Central Illinois Economic Development Corp. news release]