Lincoln Daily News publishes letters to the editor as they are received.
The letters are not edited in content and do not necessarily reflect
the views of Lincoln Daily News.
Lincoln Daily News requests that writers responding to controversial issues address the issue and refrain from personal attacks. Thank you!
.
You may also send your letters by e-mail to ldneditor@lincolndailynews.com
or by U.S. postal mail:
Letters to the Editor
Lincoln Daily News
601 Keokuk St.
Lincoln, IL 62656
Letters must include the writer's name, telephone number, and postal address or e-mail address (we will not publish address or phone number information). Lincoln Daily News reserves the right to edit letters to reduce their size or to correct obvious errors. Lincoln Daily News reserves the right to reject any letter for any reason. Lincoln Daily News will publish as many acceptable letters as space allows.
Related article
* * *
Dear Editor:
Wal-Mart will have to do more than raise wages to improve their image in Everytown USA. Let's be honest. Wal-Mart has made its fortune on the backs of its many employees. The meager wages, the lack of adequate health care coverage and the lack of other benefits of any kind allow this mega giant to enjoy record profits year after year.
Wal-Mart is not a friendly competitor or business neighbor. Wal-Mart has virtually wiped out all small mom and pop establishments all across this country. Small-business folks cannot compete with the buying power of this superpower of retail. Wal-Mart simply scopes out the small business and begins to undercut the small-business owner until the business goes belly up. "Perfectly legal but lethal to any would-be entrepreneur."
[to top of second column in this article]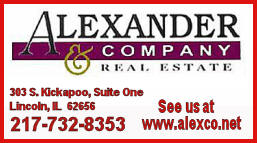 If Wal-Mart wants to remain an unorganized, nonunion entity, then indeed they need to step up to the plate. Wal-Mart should give all of their employees a better living wage, affordable health care insurance options and realistic advancement opportunities, as well as a retirement plan that can offer a little peace of mind to those nearing the retirement age.
Happy, fairly treated, well-paid employees are better employees, and better employees will remain loyal to the company for many years. I am certain if Wal-Mart employs these things I have mentioned, their image will dramatically improve.
Thanks.
Bill Treakle
Lincoln
(Posted Nov. 5, 2005)
Click here to send a note to the editor about this letter.