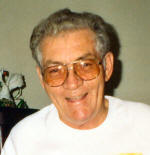 Harold Cates
Send a link to a friend
LINCOLN -- Harold Dean Cates, 73, of Lincoln died Saturday, Nov. 12, 2005, at 11:40 a.m. at Memorial Medical Center in Springfield.
Visitation will be from 5 to 7 p.m. Wednesday at Fricke-Calvert-Schrader Funeral Home in Lincoln. His funeral will be at 10:30 a.m. Thursday at the funeral home, with Tim Searby officiating.
Burial, with military rites, will be in Zion Cemetery.
Mr. Cates was a retired truck driver. He had been employed by Barrick Transfer, Lincoln; Sturm Freightways, Decatur; Hyman Freightways, Morton; Stetson China Factory, Lincoln; and Firestone, Decatur.
He was a U.S. Air Force veteran of the Korean War.
He was born Nov. 9, 1932, in Hopedale to Hubert F. Cummings and Mary Louise Cates Cummings. He married Betty Mae Depoister on Jan. 9, 1954, in Atlanta.
He is survived by his wife, of Lincoln; one daughter, Melissa (and George) White of Lincoln; one brother, Darrel (and Sheila) Cummings of Lincoln; two sisters, Elaine (and Michael) Fitzhenry of Lincoln and Linda (and Ernest) Frost of Waynesville; four grandchildren, Matthew Graham of Lincoln, Marissa White of Lincoln, Adam White of Lincoln and Jennifer White of Springfield.
He was preceded in death by his mother.
He was of the Christian faith.
He was a member of Teamsters Local 916.
Memorials may be made to Logan County Paramedic Association.
Click here to send a note of condolence to the Cates family.