Verna Gentry

Send a link to a friend
LINCOLN -- Verna Virgia Gentry, 85, of Lincoln, formerly of Clinton, died Tuesday, Nov. 15, 2005, at 7 a.m. at her home.
Visitation will be from 2 to 4 p.m. Sunday at Peasley Funeral Home. Her funeral service will follow at 4 p.m., with the Rev. Marty Biggs officiating.
Burial will be private and will be at a later date.
She was born Aug. 20, 1920, in Hoytville, Ohio, to Ada Mae Vise. She married Herbert Le Gentry on Feb. 4, 1950, in Clinton. He died March 23, 1991.
Mrs. Gentry is survived by three children, Adora Kay McGhee of Clinton, Dee Ann (and Michael) Guile of Lincoln and Larry Lee Gentry of Lincoln; five grandchildren; and six great-grandchildren.
She was also preceded in death by one sister.
Memorials may be made to the Alzheimer's Foundation.
Click here to send a note of condolence to the Gentry family.
---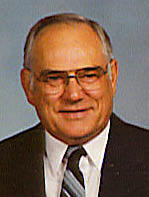 Norman Hellman

Send a link to a friend
EMDEN -- Norman H. Hellman, 72, of Emden died Monday, Nov. 14, 2005, at 6:15 p.m. at Abraham Lincoln Memorial Hospital, surrounded by his family.
His funeral service was Thursday morning at St. Peter Lutheran Church in Emden, with the Rev. David L. Hofer officiating. Visitation was at the church on Wednesday and one hour prior to the service on Thursday.
Burial is in Hartsburg Union Cemetery.
Holland and Barry Funeral Home in Lincoln handled arrangements.
Mr. Hellman owned Fink Chevrolet in Emden.
He was born May 6, 1933, in Logan County to Harold A. and Margaret Bruns Hellman. He married Loretta Fink on Oct. 24, 1950, in Keokuk, Iowa.
He is survived by his wife, of Emden; two sons, Dennis (and Sharon) Hellman of Foristell, Mo., and Linn (and Lorita) Hellman of Princeton; two daughters, Diane (and Bob) Meeker of Emden and Lorenda Hellman of Lincoln; one brother, Donald (and Donna) Hellman of Lincoln; eight grandchildren, Andrea (and Andy) Danes of Pleasant Plains, Molly (and Andy) Hayes of Emden, Heather (and Mark) Wilt of Shelbina, Mo., Michelle Hellman of Columbia, Mo., Adam Hellman of Bloomington, Robby Meeker of Emden, Meggy Meeker of Emden and Austin Hellman of Princeton; and two great-grandchildren, Nathan and Auburn Hedrick, both of Pleasant Plains.
He was preceded in death by his parents and two brothers, Melvin and Lloyd Hellman.
He was a member of St. Peter Lutheran Church.
Memorial donations may be made to his church or to the Emden Rescue Squad.
Click here to send a note of condolence to the Hellman family.
---
Mildred Adams

Send a link to a friend
LINCOLN -- Mildred Ethel Adams, 95, of Lincoln died Monday, Nov. 14, 2005, at 2:35 a.m. at Maple Ridge Care Centre.
Her funeral will be at 2 p.m. Thursday at Hurley Funeral Home in Mason City. Visitation will begin at 1 p.m.
Mrs. Adams worked on the farm until she and her husband retired and moved into Easton.
She was born Oct. 8, 1910, in Hydro, Okla., to Chance and Nina Brent Stone. She married Roy "Cy" Adams on June 8, 1932, in Havana. He died June 12, 1998.
She is survived by one son, Ronald E. Adams of Easton; three sisters, Nela Sielschott and Erma Davis, both of Havana, and Jesse Stone of California; one brother, Cecil Stone of Chanderville; two grandchildren, Ronald of Lincoln and Kathy of Oakland, Ore.; and three great-grandchildren.
Three brothers, two sisters and a grandson preceded her in death.
She was a member of Easton Baptist Church and the Royal Neighbors of America.
---
Harold Cates

Send a link to a friend
LINCOLN -- Harold Dean Cates, 73, of Lincoln died Saturday, Nov. 12, 2005, at 11:40 a.m. at Memorial Medical Center in Springfield.
His funeral was Thursday morning at Fricke-Calvert-Schrader Funeral Home in Lincoln, with Tim Searby officiating. Visitation was on Wednesday at the funeral home.
Burial, with military rites, was in Zion Cemetery.
Mr. Cates was a retired truck driver. He had been employed by Barrick Transfer, Lincoln; Sturm Freightways, Decatur; Hyman Freightways, Morton; Stetson China Factory, Lincoln; and Firestone, Decatur.
He was a U.S. Air Force veteran of the Korean War.
He was born Nov. 9, 1932, in Hopedale to Hubert F. Cummings and Mary Louise Cates Cummings. He married Betty Mae Depoister on Jan. 9, 1954, in Atlanta.
He is survived by his wife, of Lincoln; one daughter, Melissa (and George) White of Lincoln; one brother, Darrel (and Sheila) Cummings of Lincoln; two sisters, Elaine (and Michael) Fitzhenry of Lincoln and Linda (and Ernest) Frost of Waynesville; four grandchildren, Matthew Graham of Lincoln, Marissa White of Lincoln, Adam White of Lincoln and Jennifer White of Springfield.
He was preceded in death by his mother.
He was of the Christian faith.
He was a member of Teamsters Local 916.
Memorials may be made to Logan County Paramedic Association.
Click here to send a note of condolence to the Cates family.