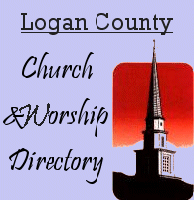 Holy Family Parish


316 S. Logan
217-732-4019
Pastor:
Rev. R. Anthony Lee
Liturgy schedule:
Sat. 5:00PM
Sun. 7:30AM, 9:30AM
& 10:30AM
Website:
www.holyfamilylincoln.com
E-mail: info@holyfamilylincoln.com
Lincoln Christian Church


204 N. McLean
217-732-7618
Preaching minister:
John Castelein
Worship:
8:30AM & 11:00AM
Website: www.lincolnchristianchurch.org
---
Prairieland Christian Church


P.O. Box 108, 1st St. Hartsburg, IL 62643
217-642-0415
Minister:
Vance Russell
Sunday School: 9:30AM
Worship: 10:30AM
Trinity Episcopal Church


402 Pekin St., Lincoln
217-732-7609
Pastor:
James Cravens
Worship:
7:30 & 9:45AM Sunday
9:00AM Wednesday
Kingdom Life Ministries


2500 Woodlawn Road
217-732-1466
Pastor: Joe Bennett
Worship:
10AM & 6:30PM Sunday
---
Lincoln Bible Church


2316 N. Kickapoo St., Lincoln
217-735-5959
Pastors:
Don Hoover
Ron Denlinger
Worship: 10AM Sunday
Sunday School: 9AM
Home prayer meeting (call for location): 6:30PM
Overcomers in Christ:
7PM Tuesday
Good Shepherd Lutheran Church Association of Free Lutheran Congregations


1140 N. State St., Lincoln
217-735-9320
Pastor: Blair Kasfeldt
Worship: 10AM Sunday
Sunday School: 9AM
E-mail: gslc@ccaonline.com
---
Immanuel Lutheran Church ELCA


1409 Pulaski St., Lincoln
217-732-6777
Pastor: Dan Wissmann
Worship: 9AM Sunday
Sunday School: 10:15AM
Praise Service:
5PM Saturday
First United Methodist Church


302 Broadway St., Lincoln
217-732-2204
Pastor: Jame Hahs
Worship:
8:30 & 11AM Sunday
Sunday School: 9:45 AM
Website: www.gbgm-umc.org/
lincoln1stumc/index.html
To inquire about listing your congregation's worship information, please e-mail us at ldn@lincolndailynews.com or call us at (217) 732-7443.
Three lectures to be presented under the theme 'An Integrative Evaluation of Scientific Naturalism'

Send a link to a friend
[SEPT. 24, 2005] Lincoln Christian College and Seminary is pleased to announce that Dr. J.P. Moreland, distinguished professor of philosophy at Biola University in La Mirada, Calif., and director of Eidos Christian Center, will present the annual James D. Strauss Lectures on Oct. 4 and 5. Moreland will deliver three lectures under the theme "An Integrative Evaluation of Scientific Naturalism."
One of the best-known Christian apologists of our time, Moreland has authored, edited or contributed to over 20 books, from Oxford, InterVarsity, Zondervan and others. Among his books are "Christianity and the Nature of Science," "Scaling the Secular City," "The Creation Hypothesis," and "Love Your God with All Your Mind." He has also published over 40 magazine articles in such publications as Christianity Today and Christian Research Journal and over 60 articles in academic journals such as Philosophy and Phenomenological Research, American Philosophical Quarterly, Religious Studies, and Faith and Philosophy.
Moreland has a bachelor's degree in chemistry from the University of Missouri, a master's degree in theology from Dallas Theological Seminary, a master's in philosophy from the University of California-Riverside and a doctorate from the University of Southern California.
He served for eight years as a bioethicist for PersonaCare Nursing Homes in Baltimore, Md. He has also planted two churches, served with Campus Crusade for Christ for 10 years, spoken and debated on over 200 college campuses and hundreds of churches, and appeared numerous times on radio and television as a spokesman for a Christian worldview.
The times, titles and locations of the lectureship activities are as follows:
Oct. 4
9:30 a.m. -- "Worldview Integration and the Crisis of Our Age"; Earl C Hargrove Chapel Auditorium

10:30 a.m. -- Coffee and cookie bar, book signing; campus bookstore

Noon -- Brown-bag lunch, question-and-answer session; Restoration Hall, R49

7 p.m. -- "On Behalf of Non-Empirical Knowledge"; Restoration Hall, R49
Oct. 5
For more information, see www.lccs.edu or contact Lora Clements at (217) 732-3168, ext. 2254.
[Lincoln Christian College and Seminary news release]
---
BibleGrasp -- an 'everybody welcome' Wednesday series

Send a link to a friend
[AUG. 23, 2005] Does the Bible really intrigue you? Are there many parts of the world's most important book that are difficult for you to grasp? Yet, do you believe that the Bible somehow is addressed by God to you as his word to guide, comfort and encourage you in all your relationships?

If so, regardless of whether you're a member at Lincoln Christian Church or some other church -- or not a member of any church, Pastor John Castelein, preacher and Bible professor, can help you grasp the historical setting of each and every Bible book as well as its message for your life and family today.

These Wednesday evening courses, starting at 6:30 p.m. from Sept. 7 on, will provide you with maps, charts, outlines and your own BibleGrasp notebook. All you need to bring is curiosity, your own study Bible and your questions. A 5:30 p.m. meal and child care are provided. In this fun and relaxed atmosphere, no one will be called on to read or answer questions.
---
Send your church announcements and articles to ldneditor@lincolndailynews.com.