Lincoln Daily News publishes letters to the editor as they are received.
The letters are not edited in content and do not necessarily reflect
the views of Lincoln Daily News.
Lincoln Daily News requests that writers responding to controversial issues address the issue and refrain from personal attacks. Thank you!
.
You may also send your letters by e-mail to ldneditor@lincolndailynews.com
or by U.S. postal mail:
Letters to the Editor
Lincoln Daily News
601 Keokuk St.
Lincoln, IL 62656
Letters must include the writer's name, telephone number, and postal address or e-mail address (we will not publish address or phone number information). Lincoln Daily News reserves the right to edit letters to reduce their size or to correct obvious errors. Lincoln Daily News reserves the right to reject any letter for any reason. Lincoln Daily News will publish as many acceptable letters as space allows.
To the editor:

Does Lincoln downtown deserve any less? No, it does not. [Related letter]

Last summer, I brought my family back to Lincoln to see where I grew up. It looked very dead, even during the day, from what I remembered it from about 20-plus years ago. You are very right when you say that downtown is still the heart of Lincoln. When you have a lot of swap-meet-looking shops, a few good eateries and a Hallmark store, these stores just won't do the job by themselves.

Downtown used to be a great place to meet friends, family or just to hang out at! When the square shut down for the night, we would go to the shopping center that had Wal-Mart in it and Kmart behind it.

Down the street you have an old strip mall (an old shopping center) that had a 5 and dime store, IGA, a pizza shop. Now what's there? Not much, just like the square.

[to top of second column in this letter]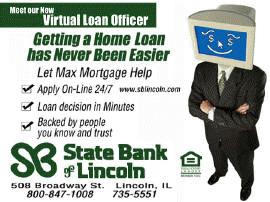 People have said that the malls were the reason why people stop shopping downtown. Well, shopping malls are like small towns: If you don't keep them up or replace the stores when they move on, then you have nothing to go to or shop at, just like the square.
Bring in the investments that will help rebuild the square and bring in the jobs. Then the tax base will be better for everyone, like better jobs, which would keep more of Lincoln's shoppers in Lincoln, and your Main Street project will be a great success. Good luck to you.
Jann Nash
(Posted April 29, 2006)
Click here to send a note to the editor about this letter.